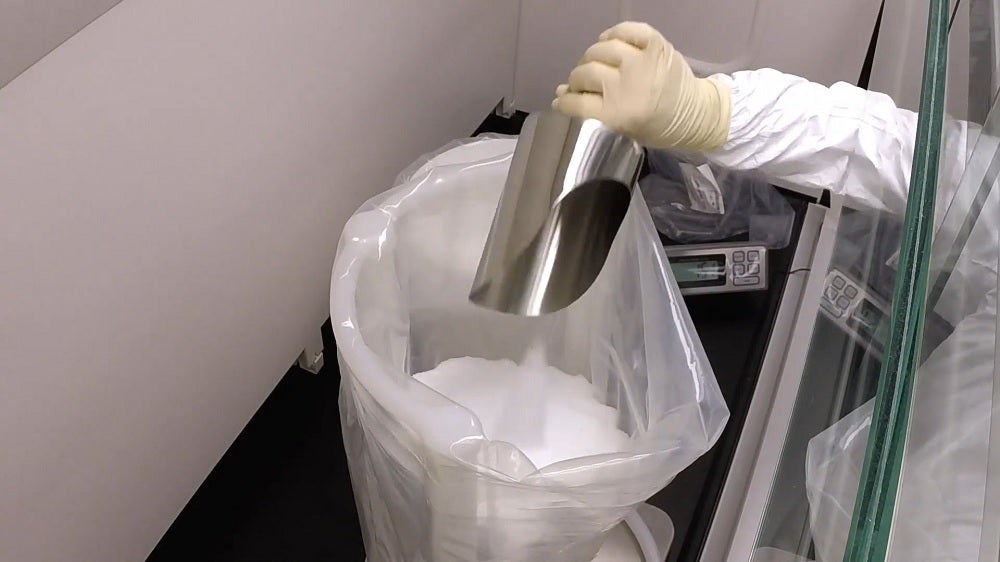 For pharmaceutical manufacturers to achieve both minimal loss of products and an optimised bottom line, a highly efficient powder transfer and containment system is required — one that is designed exclusively for powders and not adapted from a liquid transfer system.
Waste during powder transfer results in poor overall efficiency, not only in terms of loss of material but also in loss of production when time is wasted on inefficient systems. With operator safety and stakeholder investments at stake, how can manufacturers maximise profits while minimising product loss​?
Single-use powder handling systems have become increasingly common as a means to reduce the risk of cross-contamination and make cleaning processes easier. However, many of the 2D systems on the market are derived from an existing liquid handling system and thus do not take some issues associated with powder handling into account. This can lead to bag exteriors becoming contaminated due to product spills, overflows, or dust generation.
Optimising productivity and profitability
Powder being lost during filling and discharge, including product retention, adds up to lost profits, so one company stepped up to design a system optimised for productivity and profitability. ILC Dover provides flexible solutions for the pharmaceutical and biopharmaceutical industries, including its purpose-built powder transfer system, EZ BioPac.
Compared to competing 2D bags, the 3D simple-to-use BioPac bag has minimal product retention with its separate discharge outlet and antistatic polymer, which is proven to leave residuals of 2g or less in a 5kg bag.
The bag's unique design involves the utilisation of a stand, protective skirt, and zip ties to prevent product loss on the bag exterior, as well as significantly reducing clean-up requirements. The 3D stand maintains a large diameter top-opening which permits easier filling and fine-tuning of final weight, and split butterfly valve technology enables a more secure dispensing of powder. Lifting bars that are compatible with the EZ BioPac help operators to raise the single-use powder bags in order to discharge media, buffers, and other powders while keeping them safely in place.
By significantly reducing the risk of spills or powder dispersion, ILC Dover's easy-to-use BioPac lowers the risk of cross-contamination, reduces change-over time, and minimises clean-up time, so manufacturers are not wasting product or time, but optimising productivity and profitability instead.
As a leading global supplier of powder containment solutions for pharmaceutical manufacturers, ILC Dover is committed to designing powder containment solutions that maximise productivity, as well as eliminate capital and cleaning costs without compromising safety or reliability.
Download the whitepaper below to find out more about ILC Dover's flexible solutions for protecting the entire value chain.