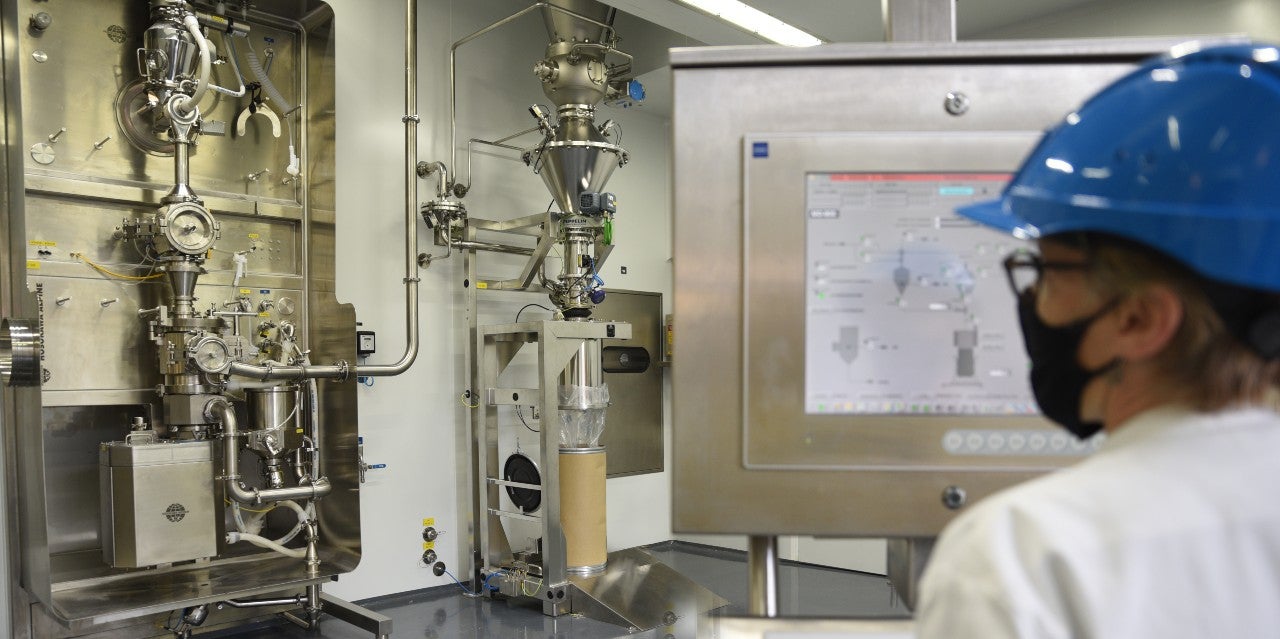 Micronization is an important technology in the pharmaceutical world and is used widely in oral formulations. By using dynamic high-pressure homogenization, the process of micronization reduces the particle size of an active pharmaceutical ingredient (API) down to the micrometre, or in some cases nanometre, level. In turn, relative surface area is increased, thus improving the drug's solubility. This is known as oral bioavailability and is integral to drug performance; what good is a high-potency API if the gastrointestinal tract can't absorb it in time?
In addition to this huge benefit, there are many advantages to the process, including its high yield, speed, efficiency, low cost, and scalability, from pre-formulation development up to commercial-scale production. From a regulatory standpoint, micronization is a proven, viable technology for improving bioavailability and producing better content uniformity in low dose drugs.
Very small particle sizes are of particular importance when developing inhaled formulations used to treat respiratory conditions. While particle diameters between 5-300µm are suitable for capsules and 5-10µm for tablets, sizes down to 2–5µm are typically required in inhaled formulations to ensure the drug effectively reaches the lungs. Too small, however, and the product can go straight to the bloodstream before impacting the lungs.
Growing demand
Micronization demand has steadily increased since it was first introduced in the 1960s. One factor is the growing number of poorly soluble drug candidates. According to the American Pharmaceutical Review, in the 1970s as few as 5% to 10% of drug candidates were classed as poorly water-soluble. These days, the figure is as high as 70% to 80%. This rise is likely to have contributed to the growing need for more controlled and robust particle size reduction over the past 50 years.
More than 30% of today's APIs require micronization. Over the years, this figure is likely to grow due to the projected rise of high-potency APIs (HPAPIs), which will further the industry's usage of particle size reduction technologies. According to GlobalData, small molecule drugs account for approximately half of oncology therapy candidates in Phase III and pre-registration stages. The need for micronization across many of the high-growth areas of the pharmaceutical market is making it an increasingly attractive technology for CDMOs to offer, and many are investing in the technology needed to provide this service.
AGC Pharma Chemicals, the small molecules CDMO of Japan's AGC Group, is among the most recent examples. In 2019, the company acquired a manufacturing site in Malgrat, Spain (near Barcelona) to expand the capacity and global reach of its API manufacturing service. Following the acquisition, the company felt the immediate necessity to perform micronization in-house rather than outsourcing. This would enable it to broaden its service level for customers. Micronization is also offered as a standalone service.
Micronization technologies
There are two main technologies used for micronization. The most traditional is mechanical milling, which deploys moving parts such as hammers or pins that rotate and strike the particles, reducing their diameters to around 50-75µm.
When ultra-fine grinding is required, manufacturers turn to jet milling, which uses pressurised gas to create high particle velocity and high-energy impact. With jet mills, it becomes possible to achieve fineness down to <5µm. Because there are no moving machine parts, other advantages include no machine wear and no product contamination. There are two main types of jet mills, including spiral jet mills and fluidised bed opposed jet mills.
The micronizer market is currently very tight and requires one-year advanced orders. When AGC Pharma Chemicals made its purchase from particle processing solutions provider Hosokawa Alpine, the company opted for a dual system mill to enable wider applications. Thanks to the multi-process system including opposed bed jet milling and mechanical impact milling, the company is able to achieve both fine (e.g. 2µm) and coarse (e.g. 50µm) particle size diameters.
The unit includes a classifier wheel, which rejects the particles that are still too large and transports them back to the fluidised bed. An isolator is used for product loading while product discharge is done using continuous liner, with automated weigh adjustment and labelling system. The selected micronization unit from Hosokawa Alpine handles capacities of 20-30 kg/h (max 50 kg/h). In addition, the unit can operate HPAPI compounds with OEB4 (OEL band1-10µg/m3).
AGC Pharma Chemicals Europe will start offering this service to customers in December 2021 on top of its API manufacturing capabilities under cGMP conditions. To find out more about the company and its other API manufacturing capabilities, download the whitepaper below.