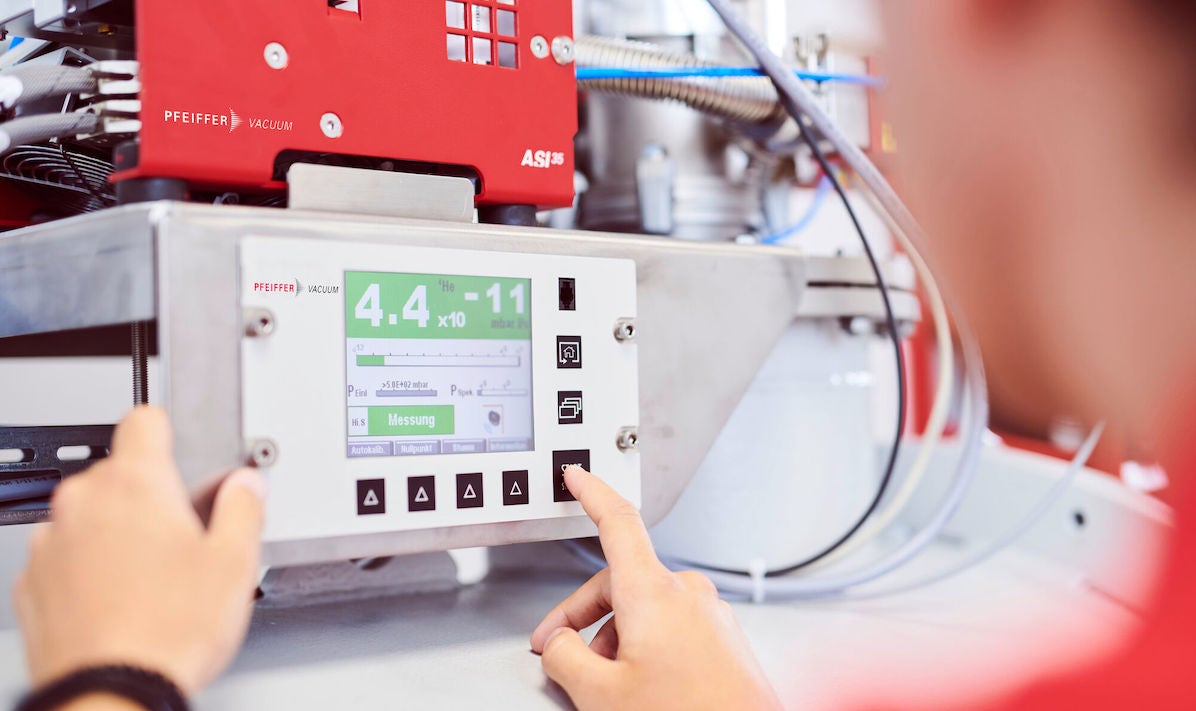 The quality and effectiveness of pharmaceutical drugs depends significantly on their proper packaging to maintain sterility throughout their lifetime. When it comes to container closure integrity, the packaging capabilities over the whole shelf life of a drug, which may be up to a couple of years, needs to be measured with proper technologies.
In Pfeiffer Vacuum's application labs, located in Annecy in France, and Indianapolis in the US, the company is equipped with all three of its high sensitivity container closure integrity testing (CCIT) technologies. These are Mass Extraction, Helium Mass Spectrometry, and Optical Emission Spectroscopy. By using customized chambers, all types of non-porous containers can be tested using these three methods.
Benefit from a feasibility study for CCIT
By conducting a specific feasibility study, Pfeiffer Vacuum can gain an understanding of your packaging needs and CCIT capabilities. We work with customers to determine achievable detection limits and cycle times on your packaging. Known leaky test samples, as well as positive control samples, prepared with artificial leaks like capillaries, micropipette or laser drilled holes, will be used. At the end of a comprehensive feasibility study, a report will be provided to customers summarizing how the test was set-up, and then executed. The report will include the test results and recommendations for your specific CCIT challenges.
Experience a hands-on demonstration in our laboratory
In our CCIT laboratory in Annecy in France, or in Indianapolis in the US, Pfeiffer Vacuum can offer your company extensive demonstrations of each of our three technologies – Helium Mass Spectrometry, Optical Emission Spectroscopy, and Mass Extraction – using the specific pharmaceutical packaging you want testing.
When you visit Pfeiffer Vacuum, and spend the day at one of our sites, you can:
Discuss your CCIT application in detail with us
Experience the capabilities of our technologies through demonstrations
Understand first-hand how our devices work with your packaging
Determine the level of support you need to meet your specific CCIT challenges
Discuss how we can help improve your container closure integrity testing
The on-site appointments take place under the highest hygiene standards. If a personal meeting is not possible, we will be happy to show you how our service can benefit your company in a live demonstration via video call.
Simply make an appointment with our Application Engineer, Lukas Engel, for further details: Lukas.Engel@pfeiffer-vacuum.de
Specific studies to assess the sensitivity of your dye testing
The first step towards moving away from dye testing, and upgrading to a deterministic CCIT method, is assessing the sensitivity of your current dye test. Pfeiffer Vacuum can support you in this process.
You will send us your samples, and we will set up a small study by preparing the samples with known leak artifacts, in different sizes. This service is subject to a fee. Then, we will provide you with a deterministic test result, having used our CCIT methods. Afterwards, we will send the prepared samples back to you and you will test them with your current dye testing technique. The results enable your business to determine the sensitivity of your dye ingress test. Also, they allow you to define a reasonable threshold for when it's time to upgrade to a deterministic CCIT method.
For a better understanding of the sensitivity of dye ingress testing, and how your firm may be able to move away from it, feel free to get in touch with Pfeiffer Vacuum and watch our free webinar below.