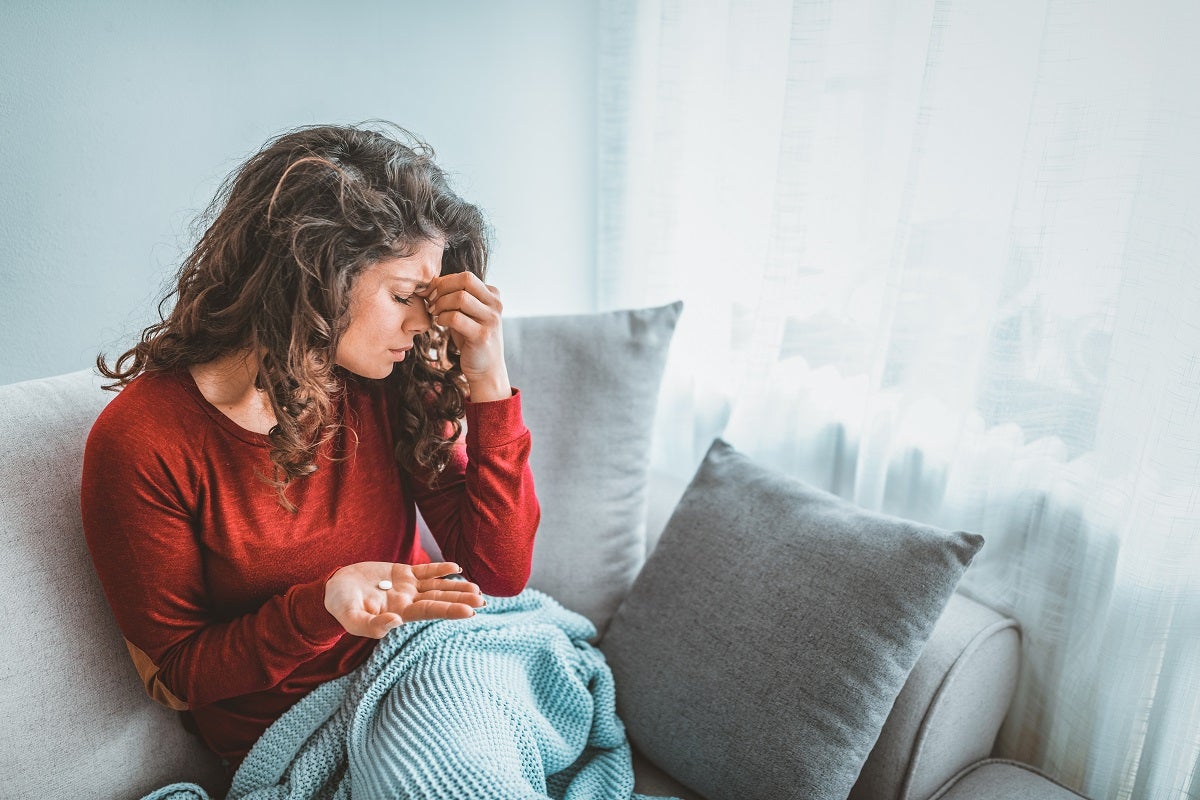 The increasing number of pain medications that are available over-the-counter (OTC) is changing the analgesics market landscape. Even when their pain is not severe or frequent enough to require prescription medication, consumers suffering from, for example, headaches, or the pain of a sports injury or common musculoskeletal condition, can now look to a variety of OTC analgesics to preserve their quality of life.
According to Allied Market Research [1], the pain medication market is expected to continue to grow significantly. In 2019, it was valued at $71.4 billion, and by 2027 it is projected to reach $91.6 billion, a compound annual growth rate of 3.8% from 2020 to 2027. Much of this growth is attributed to increasing global instances of lower back pain, headaches, neck pain and migraines.
Driving innovation in OTC analgesics
Changes within the industry, and the expectations and demands of ever more health and wellness conscious consumers, are driving innovation in OTC pain medications. For example, there is increased demand for pain products that are perceived to have fewer side effects, and for consumers who routinely use OTC drugs to manage persistent or recurring pain, there is a need for solutions that are better suited to long-term use.
With players in the analgesics space prioritizing reaction to consumers' changing needs, especially during the COVID-19 pandemic, innovation has sometimes focused on the drug delivery systems employed. As with their prescription counterparts, drug delivery systems can make a significant impact on how OTC products work, and on consumers' perceptions, so innovators have used them to gain or retain product differentiation.
In 2021, new analgesics launched have included oral gels for infants to address teething pain or stomach discomfort, and mouthwash to relieve inflammation and discomfort in adults.
Herbal and natural innovations pre- and post-COVID-19
Other notable areas of OTC growth include herbal and natural innovations developed as prototypes for new product launches. New products in areas such as natural remedies to promote joint health increased more than two-fold between 2013 and 2017, although this declined from 2019 (Figure 1). Naturally derived immune system stimulants saw investments in innovative prototypes too, and grew two-fold from 2013 to 2019, before jumping 1.5-fold in 2020 alone. Although the rate of innovation research into prototypes in 2021 decreased year over year, they were still greater than in 2019.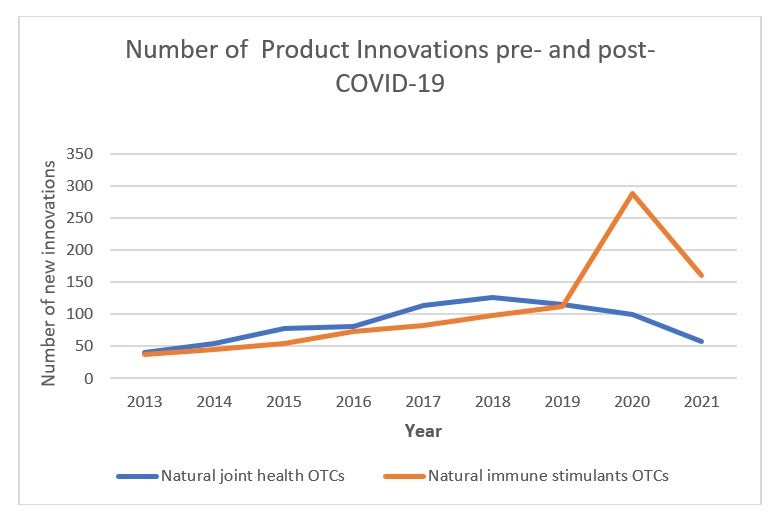 Figure 1. Number of new OTC product innovations by indicated year. OTC natural joint health innovations grew from 2013 to 2018 but declined just before and during the pandemic. Natural immune stimulant innovations steadily grew pre-COVID-19 but jumped during the pandemic.
The impact of COVID-19
During the pandemic, OTC pain medication became a more attractive option for patients avoiding healthcare clinics and hospitals because of perceived risks of exposure to COVID-19, or because appointments were harder to come by and wait times longer than usual. Further, mild pain symptoms that are often associated with COVID-19 can be relieved with simple analgesics such as acetaminophen, offering patients a more accessible alternative to prescription pain medication.
Summary
Catalent is a global leader in enabling consumer health partners to optimize product development, launch, and full life-cycle supply of innovative consumer health products. The company's 85 years of experience and broad and deep expertise in softgel, as well as fast-dissolve and oral solid dose formulation development makes Catalent a preferred industry partner to consumer health companies around the world.
To find out more about trends in the consumer healthcare landscape and how partnering with Catalent can increase your brand's competitive advantage, download the case study:
https://consumerhealth.catalent.com/expert-content/over-the-counter/brand-revitalization-with-rp-scherer-softgel-solutions-for-analgesics/
[1]. Pain Management Drugs Market 2022.
https://www.alliedmarketresearch.com/pain-management-therapeutics-market
---