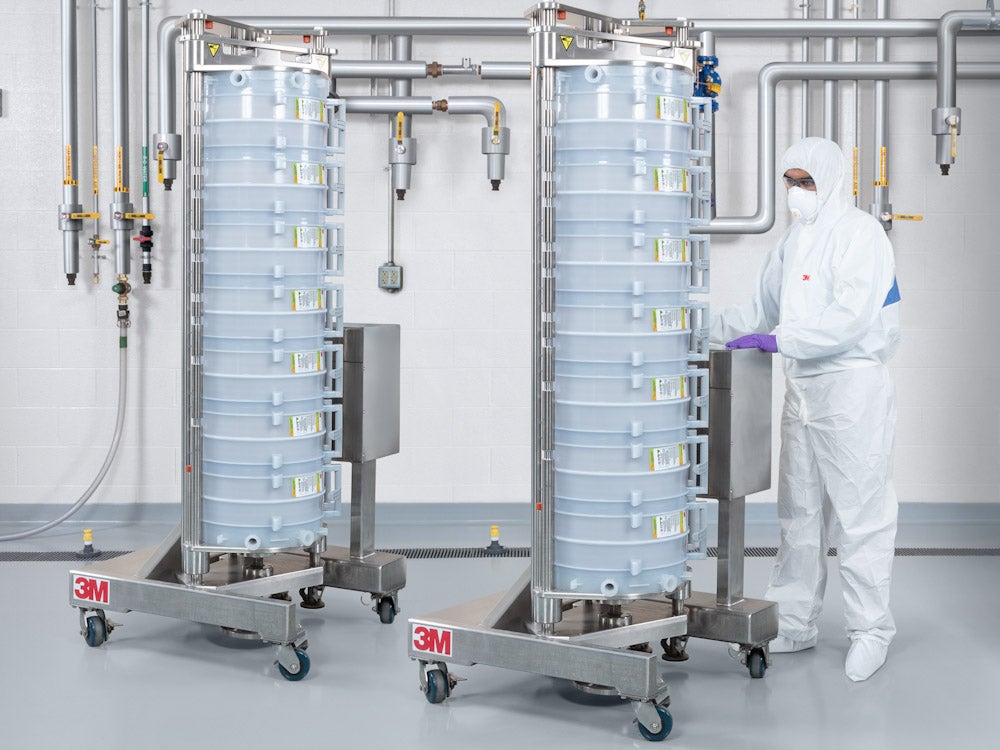 The demand for mAbs is increasing as they offer patients targeted treatments for a wide range of serious health conditions and diseases.
Since the first mAb therapy was approved in 1985, more than 100 mAb treatments are available globally, with hundreds more either in development or awaiting approval. Experts suggest that the current figure in the pipeline is well over 900.
To meet the increasing demand, production capacity must increase. However, scaling processes up to a manufacturing scale is far from straightforward. It is a complex operation that can prove very expensive and time-consuming.
Nevertheless, the potential for mAb therapies in treating medical conditions that have limited options means that biopharma companies are investing considerable resources in development.
The challenges with scaling up mAbs therapy production
When developing a mAb therapeutic, there has traditionally been inconsistency between early lab processes, pilot processes and commercial manufacturing. For example, using batch centrifugation and microfiltration for clarification during the discovery or high throughput process development phases of a project and then switching to either depth filtration or continuous centrifugation at a later phase, leads to inconsistencies in the impurity profile that the downstream process has to deal with.
"There are good tools for small-scale high-throughput development of cell culture and chromatography. But until recently, there wasn't anything for clarification. This problem is particularly evident for centrifugation, where the performance, in terms of particle removal and cell shear, in small batch centrifuges, is very different from the continuous centrifuges used at manufacturing scale," explains Dr Hani El-Sabbahy, Advanced Application Engineering Specialist from 3M.
"That can lead to problems because the impurity profile, of the clarified material, both in terms of insoluble particles and soluble impurities, that is used to develop your downstream process at small-scale is very different from that larger lab and pilot scale. Therefore, the goalposts are moving as you scale up."
These factors can create a range of issues, including problems with cell culture fluid stability, product quality (due to the release of degradative enzymes resulting from cell shear), and suboptimal downstream processes that are designed to clear unrepresentative impurity profiles.
"The downstream process is long and complicated because you're dealing with a complex mixture of biological molecules and, of course, a high degree of purity required to ensure that therapeutics are safe to administer to a patient," explains Dr El-Sabbahy.
"These processes are expensive due to their: length and complexity; limited automation, requiring a lot of operator time; and the fact that downstream processes are still predominately operated in batch mode and are not closed systems which necessitates a clean room environment," adds Dr El-Sabbahy. "In addition, batch processes need large hold tanks for buffers and product intermediates.
"There is a constant drive towards process intensification to reduce manufacturing costs. Process intensification is essentially producing more product with fewer resources. This can be achieved in a number of ways e.g., by operating continuously or semi-continuously or by using technologies that enable combining steps to reduce the total number of unit operations in the process."
Increasing efficiency and consistency in mAbs manufacturing
To address some of these challenges in mAb manufacturing, 3M has developed its 3MTM Harvest RC Chromatographic Clarifier, which is a purpose-designed single-stage solution that provides predictable performance across different scales.
Harvest RC also allows for a consistent approach to clarification from discovery and high throughput process development phases of a project all the way through to manufacturing, ensuring that work done at those early phases is on material with a representative impurity profile to that seen in manufacturing. It also reduces the number of steps required for clarification increasing yield, reducing footprint and reducing the amount of waste material.
"It's a different approach to clarification utilising fibre-based chromatography to capture cells, cell debris and soluble impurities. Novel single-use technologies such as 3M™ Harvest RC can help to intensify processes by reducing the number of steps required for clarification which reduces product losses, reduces the amount of operator time required, and decreases the footprint both in terms of the clarification unit operation itself and the volume of water required for flushing," adds Dr El-Sabbahy. "It's been specifically designed for high cell-density cell cultures, to deal with the quantities of cells that are becoming more common in manufacturing monoclonal antibodies as biopharmaceutical companies intensify their upstream processes."
To learn more about the ways that the 3MTM Harvest RC Chromatographic Clarifier can increase efficiencies in the production of mAb therapies, download this specially commissioned white paper.