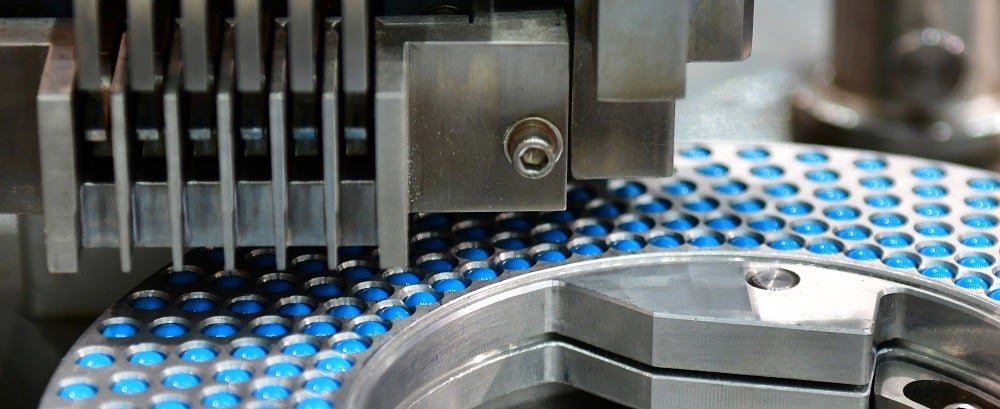 According to Adam Bradbury, GlobalData PharmSource analyst "[…] evidence indicates that containment facilities are in high demand and will be increasingly so in future as the oncology pipeline and the use of cytotoxic drugs continues to grow." But despite this surge in demand, research from GlobalData shows that many CMOs have decreased in-house, non-containment, small molecule manufacturing.
This means that CMOs with containment capabilities are likely to be at an advantage compared to those without. In order to plug the gap between demand and capacity and win back their competitive advantage, many pharmaceutical and fine chemical companies are turning to pre-engineered, end-to end providers to fulfil their API demand.
These turnkey solutions cover every process through the drug manufacturing life cycle. From transport and handling of raw bulk materials, monitoring milling and weighing, to transporting downstream for any supplementary processes that may be required such as additional milling or powder handling. Companies partnering with an expert turnkey provider can streamline their development processes without the burden of costs associated with in-house manufacturing.
Finding the right solution
Roy Housh, commercial director at expert milling company Frewitt, says factors driving the move to turnkey end-to-end solutions, include safety (due to toxicity of ingredients requiring elevated levels of containment) and products' complex sensitivities, such as temperature and humidity.
While pre-engineered and modular facilities are not a new idea, every turnkey project installation is unique. It is critical that a process-driven engineering company with in-depth knowledge of material science and bulk solid handling experience is chosen for the project. "The processes and subsequent installation must be adapted to the product," says Housh. "Pharma products cannot be modified to adapt to a standardised equipment setup. Their active properties must remain intact.
"Third-party engineering houses have sound engineering knowledge but lack product and process knowledge," Housh warns. Before an installation can take place, several key factors must be taken into consideration.
Worker safety
The toxicity of many active ingredients, such as cytotoxic products for cancer therapy, means that processes must be designed for containment at a specific OEB level to protect worker safety. Any protective measures required by the OEB level will have an impact on the design and execution of the installation.
Frewitt's expertise includes solutions to the API containment space, with both rigid and flexible isolators and customisation.
Products with low ignition thresholds require additional anti-explosion measures include: ATEX execution, nitrogen inerting, and oxygen level management, to name a few. The ATEX or NEC class/division requirements will play a deciding role in the execution of the installation.
Frewitt modules are designed to conform with the entire installation in terms of hazardous zones, ATEX, or NEC class/division. Complete N2 and O2 management modules are available and compatible with all Frewitt equipment, permitting the installation to respect hazardous zoning.
Protecting product characteristics
Factors that determine the optimal milling process, and therefore impact the upstream and downstream design, include friability, humidity, susceptibility to oxidation, hardness, softness, elasticity, bulk density, and the product's temperature sensitivity.
For Frewitt, obtaining a specific particle size distribution (PSD) while milling, while also protecting the product's active characteristics, is at the heart of all projects. Starting with the core process, Frewitt designs outwards to provide upstream and downstream engineering. By studying the customer's user requirement specification (URS) to determine if it is compatible with a successful process, Frewitt may make recommendations to improve the URS to achieve the optimal PSD and throughput requirements while protecting the active product characteristics.
Uniquely, Frewitt's state-of-the-art laboratories and expert material scientists, based in Switzerland, can quickly confirm that a process is ideal before elaborating the concept of any installation design. This is something that many third-party engineering firms are not equipped to handle and do not possess the laboratories and scientific expertise to choose and validate an optimal process.
Complete compatibility
Automation enables customers to achieve the process safety, quality, efficiency, and repeatability they require. Automation and management requirements of the above risk factors will need to be taken into consideration and will impact the conception and design of the installation.
Frewitt equipment is designed to be completely compatible. For material handling, the company offers proven technology that ensures controlled conveyance of product from any bulk container.
Additionally, high-precision dosing devices, controlled filtering, inline product sampling, bagging stations, and weighing scales are some of the key modules that complement Frewitt's renowned milling and crushing technology. Standard and customised WIP, CIP, and SIP designs are also compatible with the company's equipment, while all Frewitt components are controlled by their HMI/PLC.
Knowledge and experience
For the last 15 years, Frewitt has been offering turnkey solutions and delivering solid results for its customers. "The responses have been very satisfying," says Housh, who says reduced equipment and engineering costs, easier project management, faster delivery times, smooth and fast start-ups, and short validation times, are among the positive feedback received from customers.
Customers value the company's in-depth process knowledge and experience, which can have additional benefits. "There is a very good chance that Frewitt has already processed the same material or one with similar physical properties and risks," says Housh. "This allows for a faster, more comprehensive, and adapted proposal, most likely with fewer engineering hours, hence lower costs.
"We expect customised engineering solutions to become another pillar of our annual business. Process expertise and engineering expertise are synonymous with customer satisfaction."
To find out more, download the whitepaper below.