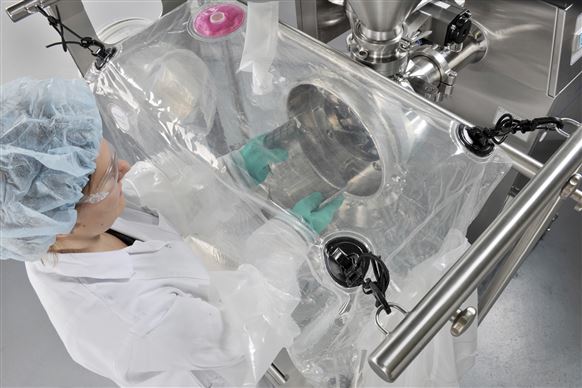 Evidence suggests that API manufacturing is gaining in complexity, as well as sophistication, and therefore adding to the risk profile of drug development. This is particularly relevant for small-and-medium sized pharmaceutical businesses, with the shift being driven in large part by the oncology drug pipeline, such as new cytotoxics, immunosuppressants, and kinase inhibitor approvals.
The ingredients used in these drugs are high potency, even at small doses, and pose a risk to both human health and cross-contamination with other drugs in a manufacturing environment. Containment and controlled substance capabilities are defining and necessary features for these manufacturing facilities, but not all contract manufacturers have the specialist equipment and capabilities required for high potency small molecule API production. Of 2,787 small molecule API CMOs analysed by GlobalData in 2021, only a third offered containment capabilities, and only 256 facilities (9%) featured controlled substance capabilities.
The GlobalData report 'Contract Small Molecule API Manufacturing Industry by the Numbers,' suggests that CMOs would be wise to invest in technologies and/or facilities that enable the manufacture of new molecular entities NME. Currently mostly outsourced, there are signs that CMOs are beginning to make investments in containment capabilities, to capture emerging opportunities.
This new market focus shines a spotlight on small molecule API manufacturers and their capacity for handling innovative NME sponsor requirements as well as the value-add services and technical and regulatory expertise they can offer as strategic production partners.
Best practices for ensuring API quality control
One of the biggest factors in efficient API manufacturing resulting in a safe product is the control process. Once set up and validated, the control process must guarantee constancy during production so that the results are as expected.
Assessing potential impurities, such as filter membranes or polymeric or elastomeric tubing (introduced from the interaction of the manufacturing process stream to manufacturing component materials) is one critical parameter that must be addressed for the successful completion of the chemical conversion process. Other parameters include temperature, pressure measurement, flow rate and rotation speed.
Each of these factors can impact the API and so must be analysed separately and classified according to the International Conference on Harmonization (ICH) Q7A guidance. Having effective measurement tools in place allows operators to react immediately in case of a problem and supports the storage of data in case of issues in the future.
A reliable and quality process analytical technology (PAT) is critical to the manufacturing process. Your operator should have expert knowledge of their milling systems and technology, which equipment will create products from the input materials, and what influences the unit operations will have over critical product quality attributes. If unsure which mill will provide the desired result, operators should work together with their sponsor to trial different machines to achieve the right conditions for success.
PAT principles usually begin with the raw materials, working through each unit operation before finishing with the final product. The first step is understanding the quality impact of the sources of variation in the raw materials. Traditional approaches to measuring the quality of raw materials are based around identity, chemical purity and pharmacopeial methodologies.
After that, the risks to product quality can be identified, quantified, and rated. Links between product quality and process quality are established, and the iterative process of steadily gaining knowledge as the new product formulation and manufacturing process are developed is started. Critical control points are established.
A robust manufacturing process that leads to a consistently high-quality product is a major business goal for pharmaceutical R&D. Another key objective is meeting the time-to-market challenges of ensuring that the product licence is created and approved as fast as possible, to exploit the revenue generation period given by the patent process. PAT, used correctly, should lead to better manufacturing processes and ultimately significant business benefits for the pharmaceutical company.
Trailblazing innovations in API milling
Latest innovations in the sector include a temperature measurement sensor compatible with systems from leading Swiss milling firm Frewitt, to detect overheating and shut down the machine if temperature threshold is exceeded. Frewitt has also launched two new modules, which improves the usage of machines in terms of cleaning, flow controls and overall stability in the milling process.
The 'Profi-Sample' is an inflatable gasket, which guarantees the seal between the grinding chamber and the sample chamber. This prevents contamination of the elements by the sampled powder. In addition, a flow of air or nitrogen injected precisely into an optimised space between the sampling spoon and the frame allows the two elements to remain clean and prevents them from becoming blocked, thus avoiding powder intrusions. The sampling device is suitable for operation in a vacuum environment. Trailblazing in the market, 'Profi-Sample' makes available a hammer integrated into the piston-spoon, which makes sure the product always falls off the spoon even if it is brittle or elastic.
A new weighing system for milling processes, specially designed for use with machines in the FlexMill-Prod range, the 'Profi-Scale' is a flexible, light module requiring no tethering. The container for the ground product (bag or drum) is simply placed on the measuring plate and grinding can commence manually or with advanced dosing functions as well as automatic detection of production disturbances, such as blockages and low input levels. The ultra-compact design of the scale requires a platform height of only 118 millimetres from the floor. A version with the same platform height as a Euro pallet is also available as an optional extra.
Designed for use in hazardous zones ATEX 1/21, the weight measurement is transmitted automatically to the machine's controller and the value is used for advanced process control functions such as dosage or the detection of process disruptions. The nominal load capacity is 130 kg, which allows for large production batches of up to 200 litres with flow monitoring.
Frewitt is an innovative manufacturer of premium-quality mills and a world leader in powder size reduction and powder handling technologies. For more information download the paper below.