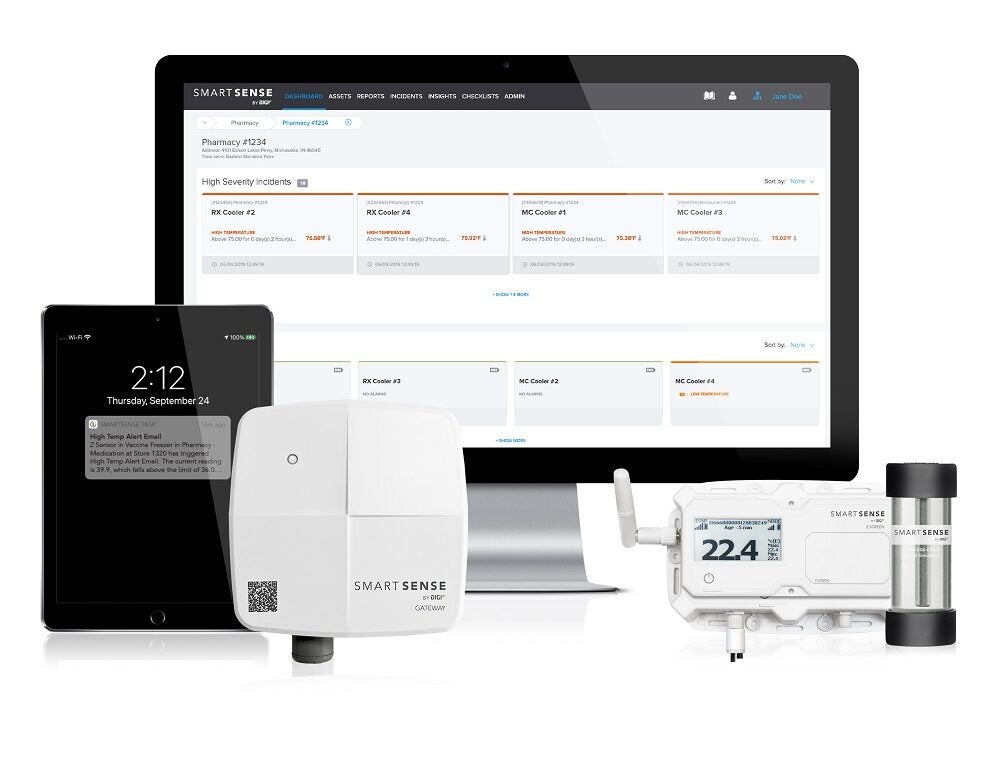 Backed by global internet of things (IoT) leader Digi International, SmartSense delivers IoT solutions for leaders in the retail, pharmaceutical, healthcare, transportation and logistics industries. The Boston-based company's solutions are currently in use at more than 75,000 facilities worldwide, collecting more than ten million sensor readings a day.
We spoke to the company's sales director Josh Griggs about what sets their sensors apart from those offered by their competitors, the range of applications they can cover and how they ensure regulatory compliance.
What is your role at SmartSense and what does the company do?
"I'm the sales director for SmartSense. We manage different subsets of the healthcare industry and temperature monitoring, from the distribution side to hospitals and clinics, also the retail end for pharmacy. We do some work within blood banks and labs as well, where compliance is crucial. Different monitors for different types of assets, from refrigeration to incubators to just ambient air and relative humidity."
What sets SmartSense apart from your competition?
"First and foremost, we are a global and publicly traded company and have been for more than 30 years. Our solution is deployed globally in just over 75,000 locations today. On top of that, our solution is very plug-and-play – there's no network required because we use cellular-driven technology to send the data to the Cloud."
Free White Paper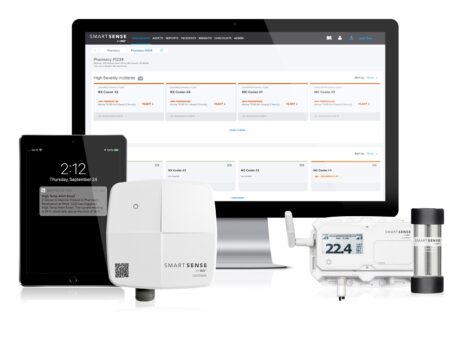 Q&A: SmartSense Sales Director Josh Griggs
By
Is your system Vaccines for Children (VFC) compliant?
"Certainly, yes. The VFC programme is very crucial when we're talking about federally funded vaccinations. This solution includes ISO 17025 NIST-calibrated sensors. We also provide thermal buffers, which are part of the CDC guidelines for vaccine storage. Part of the requirements also includes an alerting system – we send alerts by email, phone and text message. Then as far as the data retention policies and the display screen to show the current min/max readings, those are all part of the reporting tool."
Does your system meet the CDC guidelines on vaccine storage and handling?
"Yes. The system meets all of the requirements surrounding vaccine storage, including the latest addendum for the Covid-19 vaccine, which is included in the long 80-page guideline that was posted today [8 June]."
What types of applications can your sensors monitor?
"Our sensors can monitor a wide array of applications, not just temperature but also relative humidity, pressure differential, CO₂ and O₂. The different asset types that we typically monitor could be the standard refrigerator and freezer; we also monitor -70⁰ freezers, liquid nitrogen tanks, incubators, warmers and cleanrooms. We have probe attachments that have a wide array of temperature thresholds for different applications, but the temperature range that we can monitor is -328⁰F to 328⁰F."
How does your recalibration process work?
"That process is very easy, especially for the end-user. It's essentially a rip and replace at the two-year mark. At the end of the two-year period, recalibrated probes are sent to replace the probes that are set to expire. So once the new probe is installed, there's a microchip inside each probe that will automatically upload the new calibration certificate to the website."
Can the SmartSense system be used in other departments within the hospital?
"Yes. Our solution is widely used in the entire hospital, also within the clinics, maybe their central fill or pharmaceutical warehouse and even the blood bank. Inside hospitals, you'll typically find our solution within the pharmacy lab, surgery, blood bank, dietary clinics and sometimes in the morgue departments. So it's not just focused on pharmacy; it has a wide array of applications when it comes to just monitoring remotely. If there's temperatures or any environmental readings that need captured, our solutions will get the job done."
What network requirements does your system entail?
"That's a great question! The beauty of the SmartSense solution is the fact that it's all Cloud-based and cellular-driven. We're not tapping into the network, we're not using the wifi or ethernet. There's zero involvement from an IT department perspective because it is plug-and-play. Once the cellular gateway is plugged into the power, it automatically starts transmitting information to the Cloud."
How long is the battery life on your sensors?
"The battery life on each sensor is around four to five years, which is pretty remarkable in comparison to our past versions of sensors. The batteries are just off-the-shelf lithium batteries and those are simply replaced around the four to five-year mark. We will send alerts either by phone, email or text message when the battery life gets low, so it will give you enough time to replace them."
Do your sensors have probe wires?
"Unlike other vendors that have probe wires, we do not. [Our sensors] are wire-free ‒ there's nothing that wraps around the door seal, there's no holes drilled through the side walls that would compromise warranties on fridges and freezers. The sensor itself goes inside the fridge or freezer and then the display screen that's required by the CDC for vaccine storage, that is actually a magnet that goes on the outside. So they're not tethered together by any probe wires, the display screen is mirroring out the temperature that the sensor is capturing."
Does the SmartSense system require software to be downloaded on staff PCs?
"No, it does not. The SmartSense solution is entirely Cloud-based, so as long as the facility can access our website, the staff can view temperature logs, they can print off logs, they can enter corrective actions, all from the site that's accessible to them 24/7/365."