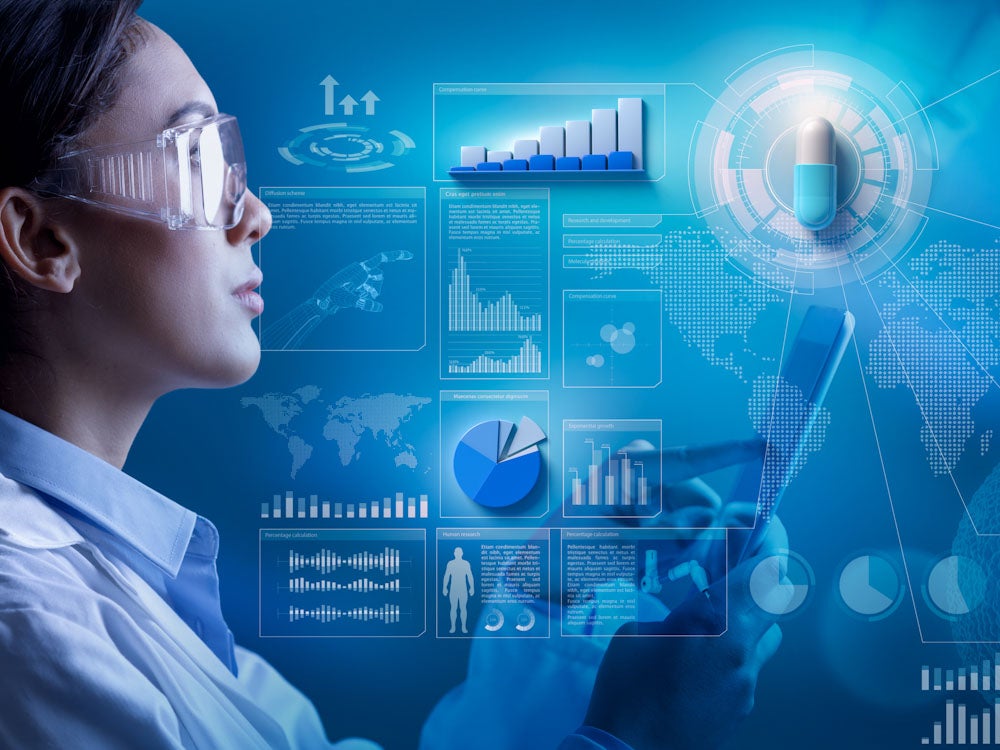 CPHI Sustainability Report 2023, Towards a Greener Future, identified that the pharmaceutical industry supply chain needs to transform to ensure greener processes throughout. According to a study published in the Journal of Cleaner Production, the global pharma industry produces 55% more greenhouse gas emissions than that of the automotive industry.
Similarly, GlobalData's Pharmaceutical Manufacturing Survey conducted in 2022 highlighted that the pharmaceutical industry must improve its environmental footprint by investing in technology and expertise and through better design of new drugs early in their development.
The report, Pharmaceutical Manufacturing ESG Survey – Towards a Sustainable Supply Chain (November 2022), revealed that most pharma industry insiders believe the sector is not doing enough to limit environmental harm. Survey respondents ranked societal sustainability as second in importance, reflecting the growing public and political awareness of the drug supply chain precarity following the Covid-19 pandemic.
Addressing pharma sustainability concerns
Sustainability, referred to as environmental, social, and governance (ESG), has assumed significance in recent times with people worldwide demanding action and accountability from the pharmaceutical industry. GlobalData's ESG framework identifies sustainability risks and areas to implement mitigating actions to improve companies' ESG performance.
Respondents to the survey identified the environment as the most important of the three ESG sustainability concerns to pharma manufacturing. Contributing factors to environmental problems include greenhouse gas emissions; air, water, and land pollutants; construction and deforestation; and overuse of natural resources such as fossil fuels, minerals, and water.
When it comes to pharmaceutical manufacturing specifically, problems also include the leaching of active pharma ingredients into the environment. This is a particular problem for highly potent drugs such as antibiotics.
The survey revealed the main challenges to achieving environmentally sustainable manufacturing being a lack of investment in expertise and technology, along with the need to identify a drug's environmental impact early in its lifecycle (Figure 1).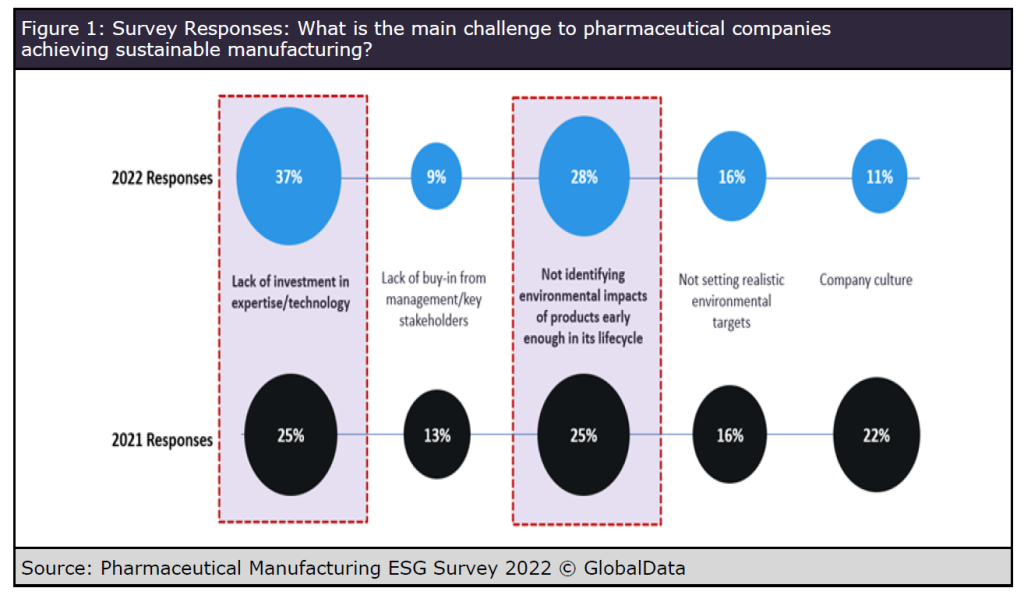 Life Cycle Assessments (LCA) are not yet common practice in the pharma industry, but they could help improve pharma manufacturing's environmental footprint. Further, the survey revealed that environmental problems are often displaced from pharma companies' headquarters to APAC regions where manufacturing takes place.
Regional differences in carbon emissions
A report by the non-profit My Green Lab released at COP27, on 10 November 2022, found that North American and European companies tend to have much lower carbon emissions than those in APAC.
"The regional difference may in part be explained by the tendency of North American and European headquartered companies to focus on research and development in-house while outsourcing manufacturing to Asia Pacific, particularly for active pharmaceutical ingredients. Companies with headquarters in the Asia-Pacific Region also tend to have more carbon-intensive energy grids, particularly in China and India, though this is improving." (Source: The Carbon Impact of Biotech & Pharma by Fiona Barry, GlobalData PharmSource Editor).
However, the situation is improving slowly in recent times. The continued evolution of biotechnology, which relies on different technologies, has gained immensely from modern discoveries in biochemistry, cell biology, and molecular biology. These technologies are already impacting diverse areas of life, including agriculture, food processing, medical technology, and waste treatment.
Similarly, pharma companies are also developing techniques to make the extraction of raw materials more sustainable to reduce emissions. Pharma manufacturing is being given a complete overhaul, and innovative technologies are being integrated to make processes greener and more efficient, including digitisation and specialist infrastructure. Water and waste management is also being improved to conserve water and the reduce carbon footprint.
Sustainability at Syngene
"Syngene considers addressing the environmental impact as a fundamental purpose to protect and restore the planet's health to protect and improve people's health. We are committed towards social impact and strive for sustainability across all functions, including sourcing and procurement." (Source: Sustainable Procurement Policy).
Syngene's sustainable procurement principles are as follows:
Ethically driven
Socially focused
Green inspired
Quality centred
Our Green products and process initiatives have been in place since early 2022, with a focus on:
a. Reducing carbon emission and water intake
b. Efficient systems and processes
c. Reducing usage of hazardous and toxic materials and substances
d. Disposal of toxic waste
In implementing the policy, there is a strong focus on collaboration with external sustainability rating agencies to ensure operational efficiency to the highest standards.
Green chemistry approach
Our Green chemistry approach starts at the project proposal stage with a special emphasis on identifying the opportunities around safety, environmental impact, alternative, eco-friendly routes, and cost reduction. It also involves telescoping reaction steps, catalysis, possible throughputs, usage of safer solvents, and auxiliaries to ensure processes are developed with a deeper understanding, including using environmentally benign chemical synthesis.
Our solutions span process design, development, execution, and disposal. The solutions also cover Green initiatives for raw material and solvent reduction, waste reduction, water usage reduction, and energy minimisation.
Waste management facility
Earlier in FY2020-21, as part of our focus on waste management, we inaugurated a dedicated 4,000ft2 waste management facility at our main campus in Bengaluru.
The facility's purpose is to handle non-hazardous, hazardous, and biomedical waste generated from operations. Further, as an emission reduction measure, electric vehicles are now collecting onsite waste. Solid and liquid hazardous waste is collected in leakproof containers and segregated based on compatibility and hazardous waste categorization. Hazardous waste that cannot be recycled is incinerated to avoid contamination.
As a result of all these measures, Syngene procured 86% of its energy from renewable sources, achieved 1.99 Mn KWh in energy savings through operational efficiency, recycled 92% of hazardous and non-hazardous waste, and recycled 20% of its water (Read our ESG report).
Conclusion
As a leading contract research development and manufacturing organisation (CRDMO), Syngene has always been agile in keeping up with advancements in  pharmaceutical research, development and manufacturing. Additionally, we ensure sustainable processes are  at the forefront when it comes to delivering scientific innovations that meet client requirements – without harming people or our planet.
References
1 Sustainability report 2023 CPHI.com. Available at: https://www.cphi.com/en/lp/sustainability-report-2023.html
2 Sustainable procurement policy – Syngene International Ltd. Available at: https://cdn.syngeneintl.com/2022/01/28202053/Sustainable-Procurement-policy-2022.pdf
3 Healthcare, G. (2022) Invest now to reduce manufacturing harms to environment, says pharma survey, Pharmaceutical Technology. Available at: https://www.pharmaceutical-technology.com/comment/manufacturing-environment-pharma/
About Syngene (boiler plate)
Syngene International Ltd (BSE: 539268, NSE: SYNGENE, ISIN: INE398R01022) is an integrated research, development, and manufacturing services company serving the global pharmaceutical, biotechnology, nutrition, animal health, consumer goods, and specialty chemical sectors. Syngene's more than 6,000 scientists offer both skills and the capacity to deliver great science, robust data security, and quality manufacturing at speed, to improve time-to-market and lower the cost of innovation. With a combination of dedicated research facilities for Amgen, Baxter, and Bristol-Myers Squibb, as well as 2.2 Mn ft2 of specialist discovery, development, and manufacturing facilities, Syngene works with biotech companies pursuing leading-edge science as well as multinationals, including GSK, Zoetis and Merck KGaA. For more details, visit www.syngeneintl.com or write to us at bdc@syngeneintl.com.