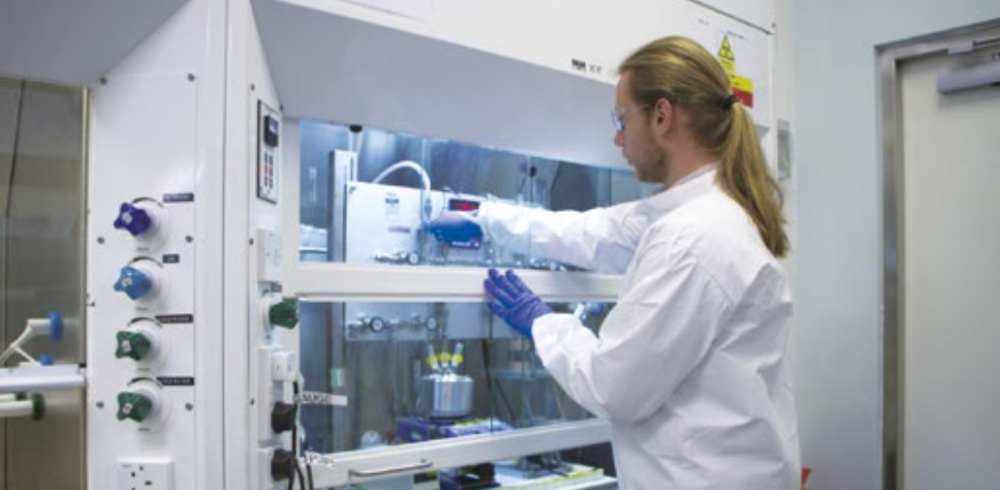 Understanding how a drug will act in the body, including how it is absorbed, distributed, and eventually eliminated, is a crucial component of drug research. Well-planned ADME investigations are conducted in the early stages of clinical research to generate this important data, which is needed for regulatory submissions.
ADME studies require the use of a radiolabeled version of the investigational drug. Typically, carbon-14 (14C) is selected for radiolabeling molecules because it is possible to successfully replace a specific 12C atom in a molecule with 14C to create a radiolabeled form.
The ADME study results form an important part of the Investigational New Drug (IND) approval process in the US and for the submission of a national Clinical Trial Authorization (CTA) in the EU.
Few contract development and manufacturing organizations (CDMOs) are able to provide radiolabeling services as part of a fully integrated pharmaceutical development program. This is due to the fact that the current Good Manufacturing Practice (cGMP) standards required for human studies involve a significant investment in infrastructure and quality systems in order to efficiently comply with all national and international regulations.
Interview
We talked to Iain Shaw, Senior Director of 14C Enabled Drug Development, and Eleanor Row, Executive Director of Commercial, at Quotient Sciences, a drug development and manufacturing accelerator.
We asked them to explain how the company has integrated its isotopic labeling and human ADME testing services to help streamline the drug development process and accelerate the time it takes to get drugs to market.
How are human ADME studies designed?
Iain Shaw and Eleanor Row: Human ADME studies are relatively simple to design. The vast majority involve the administration of a single radiolabeled drug dose to a small cohort of (usually) male healthy volunteers.
Study designs can be conventional, hybrid, or tracer studies, which can all generate the required data and be suitable to form part of the eventual regulatory submission data package. The difference between the designs is largely in the level of the radioactive dose administered and the instrumentation then used to analyze the samples collected.
Which study type is implemented depends on the drug and target radioactive dose, which in turn will dictate how to complete the mass balance analysis and metabolite characterization.
It is important wherever possible to be sure at the point of study initiation that the proposed study design will allow the objectives of the study to be achieved using whatever equipment is required.
Can you describe Quotient Sciences' expertise in radiosynthesis?
Iain Shaw and Eleanor Row: At Quotient Sciences, we offer isotopic labeling services to support the conduct of both non-clinical and clinical 14C ADME studies. Our team of expert synthetic chemists have extensive radiochemical knowledge and experience of isotopically labeling hundreds of molecular entities.
When developing radiosynthetic materials, the first thing we need to consider is the labeling strategy and determining the most appropriate place to incorporate the 14C. The positioning of the radiolabel in a metabolically stable part of a molecule is vital because an objective of the study will be to ensure that all key metabolites are identifiable.
It is this labeling strategy that really drives the timelines, as the duration is determined by the availability of the radiolabeled starting material, the number of synthetic stages, the complexity of the chemistry, and the ease of isolation.
The number of commercially available 14C-labeled starting materials is limited, and unlike the medicinal chemistry or process chemistry routes, we are restricted to a few very simple building blocks. As a result, when designing the synthetic route, it is often a trade-off between incorporating the radiolabel towards the end of the synthesis, to reduce time and costs, and having the radiolabel in the core or more metabolically stable position, to provide better data to the customer.
For human ADME studies, the radiosynthesis stage is considered the rate-limiting step, and careful planning is needed to ensure a smooth transition from initiating the radiosynthesis to having the GMP (Good Manufacturing Practice) radiolabeled drug substance available for clinical dosing.
At Quotient Sciences, our state-of-the-art facilities follow cGMP guidelines for the production of 14C-labeled pharmaceuticals for human investigations and are accredited by the UK Medicines and Healthcare products Regulatory Agency (MHRA).
How does your unique Synthesis-to-Clinic® offering streamline the drug development process?
Iain Shaw and Eleanor Row: Quotient Sciences is the world leader in 14C radiolabeled study conduct. We are experts in the design, conduct, and management of human ADME, intravenous microtracer (IVMT), and microdose studies.
Via our integrated Synthesis-to-Clinic® offering, we bring together all the contributing parts required to deliver a human ADME study into a single program of work, under a single project manager. Quotient Sciences has over 30 years of experience in this field, during which we have conducted more than 300 integrated ADME studies facilitated by our Synthesis-to-Clinic offering.
This unique offering is part of our Translational Pharmaceutics® platform and enables us to optimize timelines from the start of radiosynthesis activities through to the provision of the clinical study report and metabolite characterization report. Translational Pharmaceutics integrates drug substance, drug product, and clinical testing activities, including human ADME and radiolabeling, under a single organization to accelerate timelines and reduce costs, which ultimately gets new medicines to patients faster.
Given our expertise in the provision of IVMT studies to investigate the absolute bioavailability of oral drug molecules, we have developed a particular focus in recent years on the conduct of integrated IVMT/ADME studies.
By integrating these two studies into a single clinical protocol, we are efficiently maximizing the potential for data collection from the combined human radiolabeled investigations and the 14C drug substance synthesized to support the work.
These integrated IVMT/ADME studies, or integrated studies where a microtracer ADME study is performed, currently make up the bulk of the radiolabeled research that Quotient Sciences conducts. These study designs enable, at the most fundamental level, an analysis of the clinical-stage therapeutic product's absolute oral bioavailability, mass balance, and metabolite characterization. This has proved to be an extremely effective option for molecules where an understanding of absolute bioavailability is required. By extending the range of sample analysis performed in the study, it has also offered opportunities to investigate fraction absorbed and fraction surviving gut metabolism in addition to absolute bioavailability. This can be very helpful in evaluating overall drug disposition and can assist in future development of the drug and potential drug formulation options.
What makes Quotient Sciences' approach to these study types unique?
Iain Shaw and Eleanor Row: Quotient Sciences is in the fortunate position of being able to engage with multiple customers every year to discuss human ADME study requirements for a range of molecules in development.
Since 2006, Quotient Sciences has provided radiolabeled clinical research for the pharmaceutical industry at our Nottingham, UK, site. Traditional human ADME investigations, studies using IVMTs and microdoses, and integrated study designs are all areas in which we specialize. We recruit healthy volunteers who are made aware of the demands placed by human ADME research at our purpose-built, self-contained study ward and laboratory.
Real-time GMP manufacture and QP (Qualified Person) release of 14C therapeutic products can be carried out at our specialist drug development facilities. To facilitate ADME investigations in patients at specialized clinics, we can provide oral and parenteral formulations as well as real-time adaptive manufacturing production to support these patient studies.
Our integrated Synthesis-to-Clinic offering provides our customers with a solution-focused approach throughout all phases of drug development, where radiochemists collaborate with the analytical and drug product teams to ensure seamless program delivery. These teams of experts are trained and authorized on the proper management of 14C-labeled gases and volatiles, including 14CO2, as well as 14C-labeled high-potency/high-hazard chemicals (cytotoxics) to ensure safety and on-time study delivery.
Conclusion
There are many benefits for drug developers who leverage a Synthesis-to-Clinic approach for their drug program, including timeline reduction, minimization of risks, and cost savings. By offering this integrated and consultative approach for both non-clinical and clinical human ADME studies for research, development, and regulatory purposes, Quotient Sciences can accelerate the conduct of the radiolabeled studies needed to support drug product registration, and ultimately get new treatments to patients faster.
To find out more, visit: https://www.quotientsciences.com/what-we-do/tailored-services/clinical-pharmacology/human-adme/