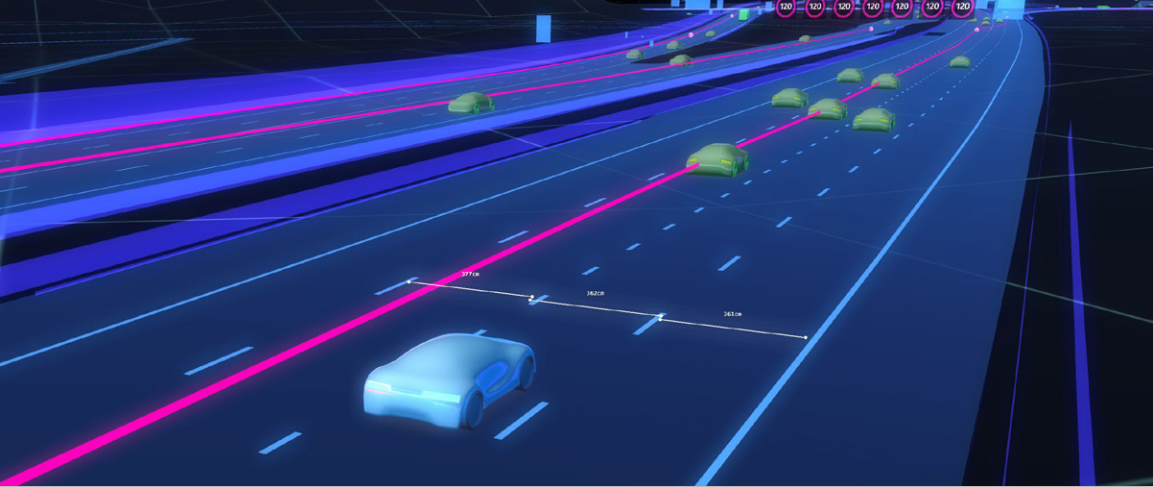 Growing interest in the development of autonomous trucks is built on the fact that while passenger cars must be able to operate in a wide range of areas and types of roads, commercial freight routes are mostly on freeways and are often repetitive. With the emerging 'hub-to-hub' model, the long-haul leg of a delivery route is carried out by an automated drive pilot between two delivery depots located at direct entry and exit points on major highways and common freight routes. The more complex 'first' and 'final' miles continue to be carried out by human drivers.
A solution to driver shortages?
The adoption of autonomous trucks to carry out long-haul stretches of deliveries can help the industry address the growing number of driver shortages, suggests Tim Wouda, Senior Manager, Product Management for Automated Driving at HERE Technologies.
"Today there is already a shortage of around 400,000 truck drivers in Europe and 80,000 in the US. These amounts could double by the end of the decade if not acted upon," says Wouda. "Automated trucks provide even greater economic benefits and are solving a real business problem that exists right now."
One of the most critical challenges to scaling up will be ensuring that the technology that guides the trucks meet both safety and regulatory requirements. Several US states already endorse automated driving trials, now followed by the EU which is set to approve 1,500 Level 4 (L4) vehicles per car model on public streets. Central to achieving automated driving deployments is to ensure that sensors, cameras, and adjacent perception technologies are underpinned by a detailed map, one so precise that it essentially functions as a digital representation of its environment.
Digital twins
"You need to have a digital twin of the road and its driving context as a reference for what the vehicle is seeing in reality," explains Wouda. "We see this digital representation as a stack of location-information layers that are consistent with each other. This means that all information is validated to be in the exact right position on the road and therefore can be combined across layers."
High-definition maps provide "essential location-information layers that enable the automated driving system to achieve safer driving and more proactive driving decisions," says Wouda. The HD localisation layer helps to derive an accurate lateral and longitudinal position that locates exactly where on the lane the car is. The HD lanes layer applies contextual awareness to its surroundings to plan the path ahead, and the 'road model layer' processes local road rules applicable on the current road segment and situations ahead of the car.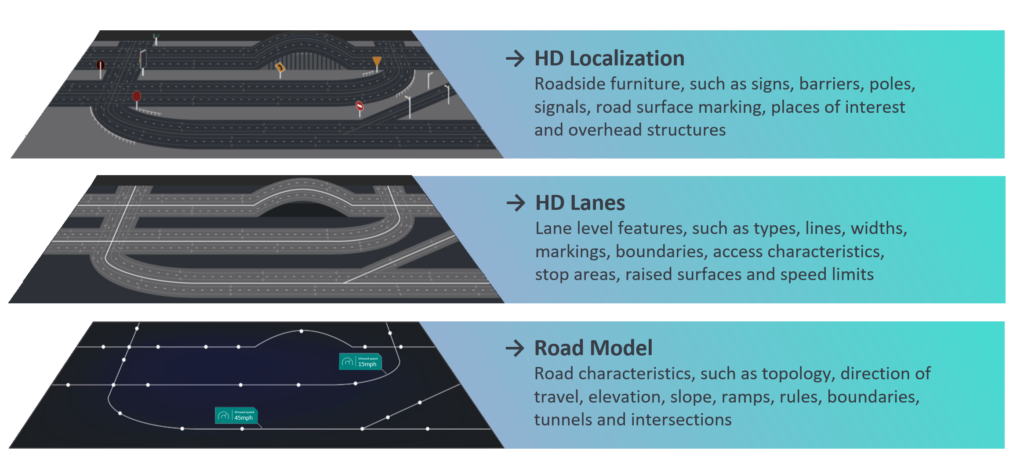 Wouda explains how HD maps are also crucial to define where the car is allowed to drive: "The so-called Operational Design Domain (ODD) provides a guard for approving driving routes for safe automated driving operations. Is a vehicle allowed and able to drive safely on that road segment? It must consider the current weather conditions, connectivity quality along the route, road works or a potential collision up ahead that could provide risks to the AD operation. If there are parts of the route that may interfere with the vehicle's ability to operate, then the vehicle can conclude: 'it's a no-go route for automated driving and need another route, or remote assistance'," he says.
"Before highly automated vehicles hit the road, they have already driven billions of miles in virtual simulations to ensure safe operation under all conditions. These simulations require information-rich 3D world environments that match with real roads. HD maps and other location-information layers provide such fundamentals for creating realistic world scenes. These scenes are then used as road environments which simulate all kinds of scenarios. That way automated driving algorithms learn to deal with different situations and exceptions. This can go as far as letting an airplane land on a highway and letting a car respond to that."
Collaboration on mapping for autonomous trucks
Sjoerd Spaargaren, Product Marketing Manager for Automated Driving at HERE Technologies, says that collaboration between a mapping provider and the truck manufacturer or operator will likely be required for the sufficient scale of coverage to be reached. While many autonomous truck companies have started by building their own maps, the idea of an own-build map strategy appears to not be scalable in the longer term. Expansion of operational design domains will be one of the elements driving ecosystem cooperation for location information, suggests Spaargaren.
"We're not saying collaboration with map providers will solve all of that, but there needs to be a synergy," says Spaargaren. Part of the reason why there appears to be some hesitancy over a more collaborative approach to the building out of map data, is that companies are sometimes unwilling to share their data or are reluctant to work too closely with potential competitors.
"During early phases AD truck companies may want full control over the whole stack, including data sources. Sometimes, they might want to monetize that data or believe that they're ahead and don't want to share the data or technology with other companies, further fragmenting the industry" notes Spaargaren. "But whatever the reason, they still have the opportunity to leverage HD map layers, dynamic content and advanced content of an existing global map offering and use them as a starting point for conflating own information in a custom layer which only they can use."
If the sector can adopt a more collaborative and co-ordinated approach, then its potential to rapidly upscale geographical areas covered by HD mapping and location intelligence could be achieved, and with it, the growth of the autonomous trucking sector.
A comprehensive new whitepaper on driverless road freight and Highly Automated Driving (HAD) is also available below.