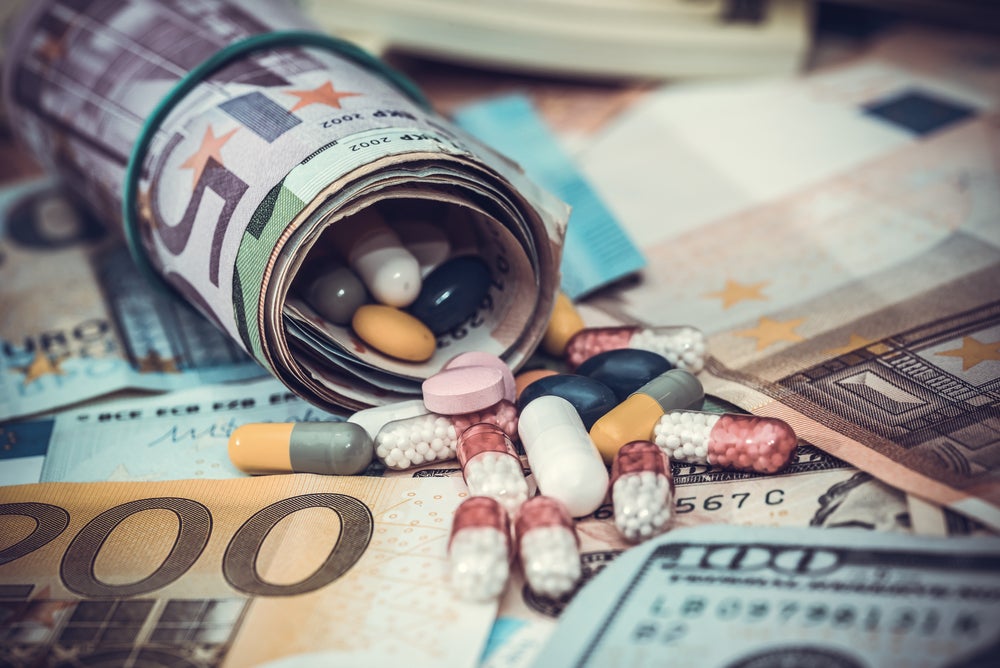 Pharma companies and world health stand to benefit from new technologies, but it's a tough time to be an investor – and an even tougher one for firms seeking investment. From close to zero, central bank interest rates have risen to 3% in the Eurozone, 4% in the UK and nearly 5% in the USA. Further rate hikes could be on the way this year. For investors, dependable assets like government bonds have become a lot more tempting compared to volatile start-up shares. Venture capitalists are becoming increasingly discriminating. That means pharmaceutical entrepreneurs – inundated with investment opportunities mere months ago – are now competing for a shrinking pool of cash.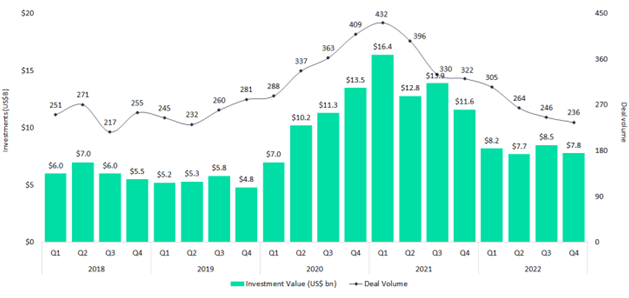 For the pharma supply chain in particular, 2020 and 2021 were boom years in terms of investment. Amid pandemic-driven turbulence, the industry was ripe for emerging technologies such as IoT devices that would enable real-time supply chain monitoring at scale. Thanks to forward-thinking investors and early adapters in pharma, it's now impossible to imagine cold chain distribution without this industry-changing technology. But these boom years gave way to retrenchment in 2022 as investors balked at rising inflation and supply chain pressures. In the fourth quarter of 2022, the most recent period for which data is available, GlobalData estimates suggest the value of venture capital investment in pharmaceutical firms worldwide was $7.8 billion. That is a fall of 32.5% year-on-year, and a 7.7% decline quarter-on-quarter. The total number of investments made – 236 – reflects a yearly drop of 26.6% and a quarterly drop of 4.1%.
But there are some positive signs. The Covid-19 pandemic created a new appetite for pharmaceutical innovation – dulled by recent economic troubles, but ravenous compared to pre-2020 averages. The mRNA technology that enabled the largest and fastest vaccine rollout in history is the tip of the innovation iceberg. Research – and money – going into even more advanced gene therapies is ramping up. In addition, mega deals – investments worth $100m or more – are on the rise.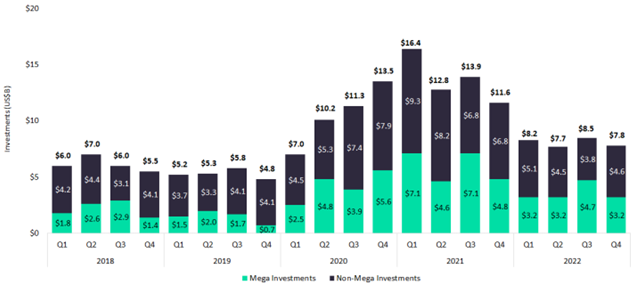 Contrast 2022 with 2019. In addition to a higher overall volume of investment, mega-investors are staking greater claims in pharmaceutical innovation. On average, mega-deals made up 45% of investments in 2022, contrasting with just 29% of investments in 2019. The venture capital world has settled around a new equilibrium where investors are willing to spend more money more often on the innovations of the future. Some regions and therapies have become particularly fertile growth areas; entrepreneurs who are in the know stand to benefit enormously.
Regional specialisation
GlobalData's Pharma Intelligence Centre Deals Database reveals that the value of early-stage drug venture financing deals grew 70% to $24.4bn from 2020 to 2021. Meanwhile, in the same period, investment in Asia-Pacific (APAC) pharmaceuticals saw the sector match and exceed that of its European counterpart. Early-stage innovator drug venture funding for APAC biotech saw growth in deal value reach $9.4bn, a 78% increase.
By 2022, economic uncertainty had shifted the investment landscape. APAC and US biotechs reported a decrease in total deal volume of 32% and 33% and total deal value of 59% and 44% respectively. The value of venture financing rounds across APAC also declined.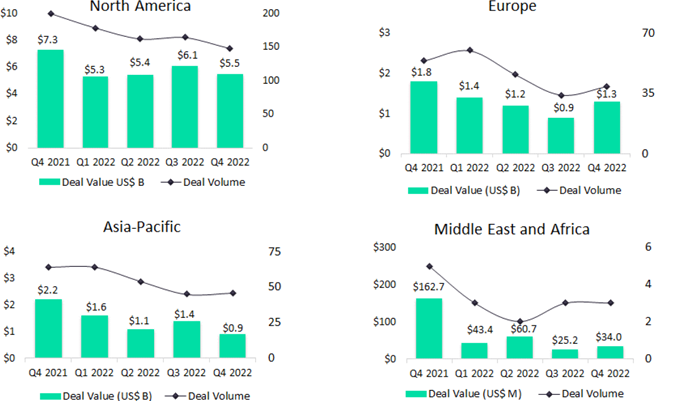 The rise of APAC investment has been curtailed as capital seeks safer returns. Indices such as the US-based Nasdaq Biotechnology Index (NBI) and Europe's Euronext Next Biotech index (BIOTK) have seen volatility with small- and mid-cap biotech stocks plummeting. Investors are approaching the biotech public markets with caution.
Against this backdrop, new specialisations are cropping up in regional investment activity and cash raising techniques. In APAC, for example, industry commentators are predicting that the pharmaceutical sector's historic focus on genetics and manufacturing will shift towards cutting-edge technology. Disruption has been catalysed by China's tough handling of the Covid-19 pandemic, with capital flowing into tech-forward markets like Singapore and helping a wave of innovation to spread across the region.
Meanwhile, a dearth of venture finance opportunities in Europe is causing entrepreneurs to rethink funding sources. Many European biotechs are turning to American stock exchanges to list their companies; initial public offerings (IPOs) are significantly larger across the Atlantic, providing firms with more funding for growth. In the longer run, conservatism among European investors about non-revenue-generating companies could consolidate the rise of APAC. Although Q4 2022 saw increased investment activity in Europe, availability of capital and the pace of APAC innovation could leave Europe in the shade when it comes to pharmaceutical investment over the coming years.
Therapeutic trends
Mirroring regional investment trends, GlobalData analysis reveals that, between 2021 and 2022, investment value and volume dropped across virtually all therapy areas.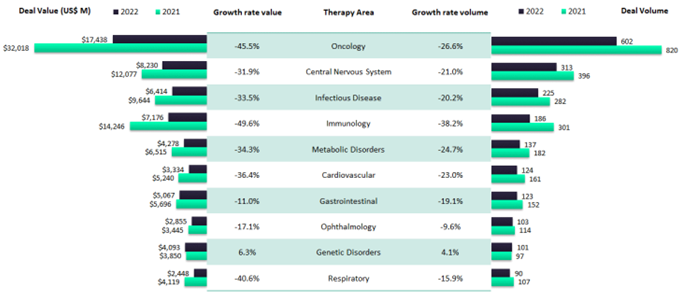 Aside from a very slight rise in funding for genetic disorder treatments, investors' order of priorities remains unchanged – with oncology still far and away the most actively funded area of research. But the headline figures are concealing some rising trends.
One significant growth area is the rise of genomics. Genomics is set to have a major impact on understanding, preventing, and treating a huge range of diseases; cell and gene therapies will bolster oncology investment, for example, with several such drugs currently in development. A GlobalData survey found that 17% of healthcare industry professionals expect genomics to have the greatest impact on the pharmaceutical industry in 2023, spurred on by the key role of genome sequencing in the rapid development and approval of the first Covid-19 vaccines.
The rise of artificial intelligence (AI), and its many potential pharmaceutical applications, has also caught investors' attention. Poolberg Pharma is deploying AI algorithms on early-stage clinical data to prioritise and reposition vaccine candidates for respiratory syncytial virus. And a recent Phase I clinical trial for idiopathic pulmonary fibrosis by Insilico Medicine used an AI-designed therapy, reporting positive topline results so far. Collaboration with AI providers to make these candidates viable is snowballing into massive investments and vertical integration. At the start of 2023, for example, BioNTech announced the acquisition of InstaDeep, a British AI start-up, for a fee worth nearly $700 million.
Finally, funding for virtual care has risen dramatically over recent years. GlobalData analysis shows virtual trials increased 50% year on year between 2020 and 2021. With nearly 6,000 such trials underway at the end of Q3 2022, and hundreds more in the pipeline, investors are increasingly interested in the underpinning technology. The value of deals around virtual care in 2021 amounted to $57 billion – a year on year increase of 137%. Shifts in the healthcare sector to reduce hospital burdens and minimise patient exposure to viruses such as COVID-19 were early catalysts. But the potential to increase the volume and convenience of trials by creating robust virtual infrastructure could revolutionise how therapies get to market, and investors are still keen to cash in.
Where next for pharma entrepreneurs?
Although appreciating the momentum behind pharmaceutical innovation can help entrepreneurs plan for the future, many are still grappling with supply chain and cost pressures in the present. High interest rates mean investors are wary and loans are harder to come by. Firms seeking to raise capital, expand their scope and maintain profitability need to scrutinise their operational efficiency.
A renewed focus on supply chain durability can help pharma firms weather present storms and prepare them for changes coming down the line. In addition to providing an end-to-end view of supplier resilience and performance – allowing costs and inefficiencies to be identified and ironed out – modern supply chain monitoring platforms incorporate AI technology, enabling development of increasingly personalised customer engagement strategies. In a world where fine margins are dictating where investors will or will not invest, creating a supply chain that is both efficient and tech-forward today will help rake in funding tomorrow.
"Trends such as the focus on cell and gene therapies and the use of AI technology have a knock-on effect for the future of the pharma supply chain, which will need to cater to more individualized therapies," says Adalheidur Pálmadóttir, VP business development at Controlant. "Changes on the horizon include real-time unit-level tracking, the ability to ramp up and down manufacturing on a massive scale, and the ability to use just-in-time delivery systems across production lines."
Irrespective of size, region or research area, any pharma firm aiming to attract investment must contend with these key trends. "Placing resilient, efficient supply chains at the heart of their operations is imperative," says Pálmadóttir. "A real-time visibility platform, command centre, and IoT devices are the foundation of digitalised, automated, sustainable supply chains, which is why some of the world's biggest pharma companies are already working with Controlant."
Download the whitepaper on this page to find out why futuristic supply chains are at the heart of pharmaceutical innovation – and how integrating the latest supply chain technology could be vital for your business's growth.