The pharmaceutical industry is dynamic, with novel molecules regularly being developed for clinical uses and new trends driving how these drugs are formulated. With these changes comes the need for disruptive technologies in drug delivery systems that can handle the intricate characteristics of such formulations.
When it comes to the accurate and convenient self-administration with combination products, novel autoinjector technologies are being developed to address challenges such as large-volume/high-dose drug delivery and the need to simplify the administration process.
Some novel and recent drug developments in systemic and inflammatory diseases are areas not yet covered by conventional device technologies. Specifically, oncology is one area where new device technologies to facilitate the incoming drug developments may open disruptive, previously unachievable ways to treat patients. Traditionally, most oncology drugs must be administered intravenously and require high doses, meaning that larger volumes or concentrations of the product may be required.
To meet this growing clinical need, medical device developers are continuously looking for innovative solutions to keep pace with the latest advances in drug development. SHL Medical is one company at the forefront of innovation in the design and manufacturing of disposable and reusable self-injection devices. These devices offer fixed or variable dosing, along with the ability to accommodate traditional or large-volume and high-viscosity formulations.
"Our pharma partners and their end users need innovative drug delivery solutions that can cater to the intrinsic properties of drugs. In oncology, for example, the volume, viscosity, or required drug concentration increases with complex drugs in particular. And that means you need a bigger primary container," explains Gary Calderwood, product manager at SHL Medical. "If you need a bigger primary container, you need a specialized device to accommodate this, whilst still providing a safe, effective, and intuitive user experience."
Autoinjectors with larger fill volumes and improved safety mechanisms
According to a report by GlobalData, SHL Medical's Molly® and Molly 2.25 autoinjectors already cover 85% of some of the most common illnesses treated with biologic combination products, but the company's new Maggie® autoinjector technology completes the coverage for large-volume/high-dose therapeutics. Maggie 5.0 is a cartridge-based solution that accommodates fill volumes of up to 5.0 mL, a technological leap given the formulation limitations of standard autoinjectors on the market.1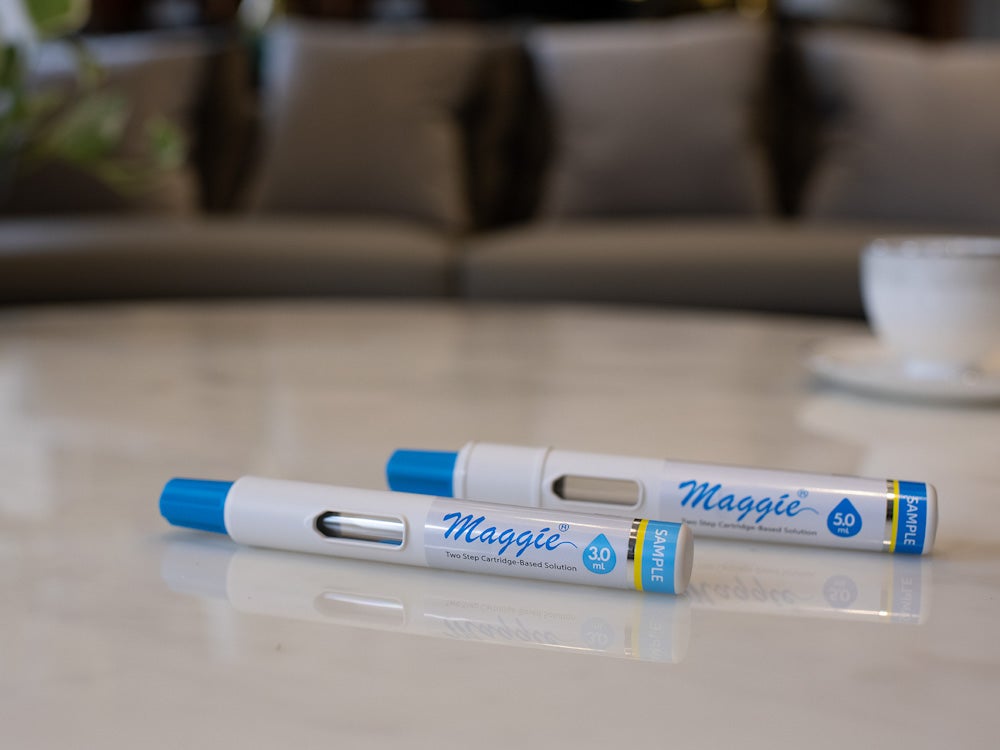 Cartridges have been a common primary container option in self-injection devices because they can accommodate large volumes. However, traditionally, the needle has to be manually attached in a cartridge-based injector, which presents potential safety challenges for the patient. The Maggie devices feature the built-in Needle Isolation Technology (NIT®) – a proprietary primary container solution developed by SHL Medical.
The combined Maggie and NIT architecture allows for a customizable cannula where the selection of a needle gauge and length that is most suited for a specific drug formulation and route of administration is possible. Through this needle gauge and length customization option, a large-volume or high-dose complex biologic can be delivered subcutaneously while facilitating an optimal injection time.
Consequently, patient safety and convenience are supported with the needle isolation technology. When the autoinjector cap is unscrewed, the needle automatically pierces the septum of the cartridge without potentially exposing the patient to any sharps injury. Given that the NIT sub-assembly is designed to be housed within the device cap adjacent to the cartridge, it is possible to mechanically pre-attach the needle to the cartridge without the patients needing to do this additional manual user step. For new and emerging disease areas in the parenteral segment, this feature allows patients to administer doses of vital drugs without requiring the assistance of a healthcare professional.
To learn more about SHL Medical's innovative disruptive technologies for autoinjectors, including the Maggie model, download the material below.
References