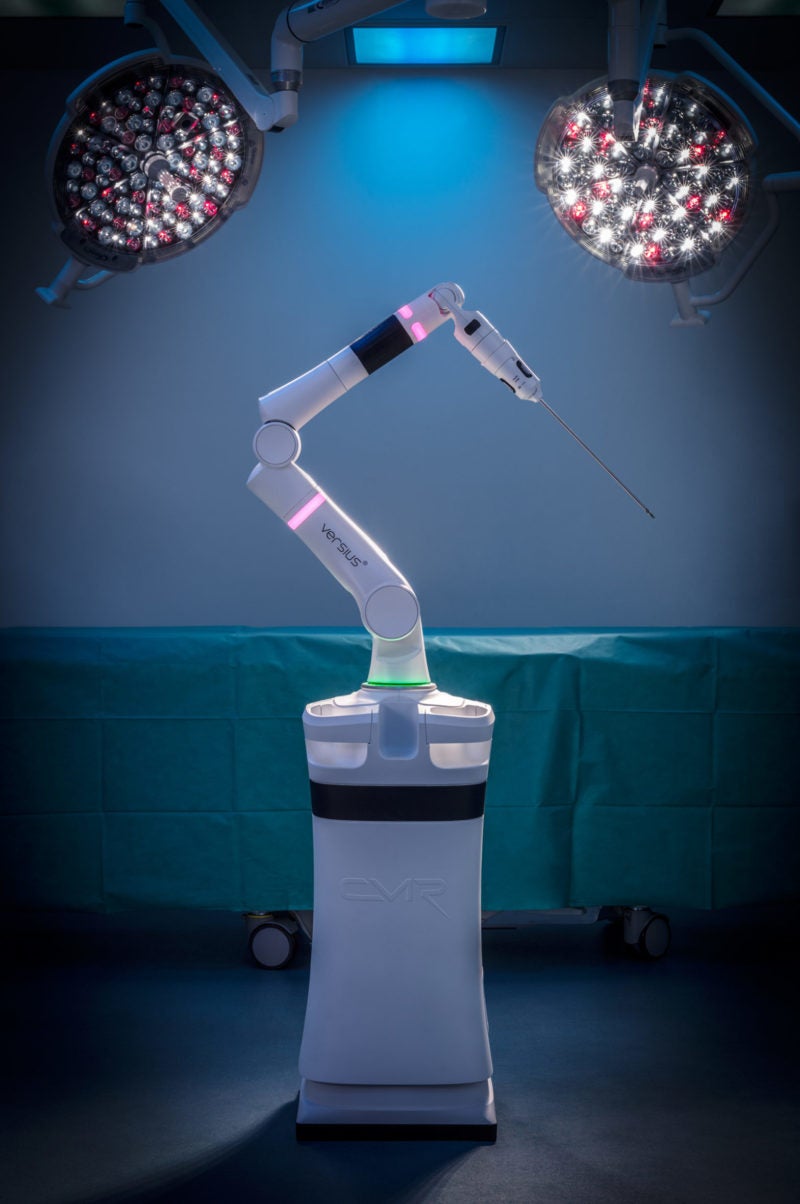 An innovative app called Push Doctor has enabled thousands of Britons to have remote video consultations with health professionals without leaving their home.
It is an example of cutting-edge technology with global potential being developed within the infrastructure of Britain's National Health Service.
Push Doctor is one of around 3,700 medical technology companies operating in the UK today, collectively employing 115,000 people with a total annual turnover of £21 billion. The company says that 90% of its patients are able to get the help they need online without the need for a physical, in-person examination. It is just one example of the innovative digital health technologies which are revolutionising the UK's med tech sector.
Push Doctor chief executive Wais Shaifta says: "Push Doctor was the UK's first platform to offer video consultations with patients online and via smartphone and today we help thousands of patients a week get the help they need first time.
"Our ambition is to make our product available to 75% of the population within five years – primarily through our partnerships with the NHS, but also through our direct-to-consumer private appointments and our B2B proposition."
UK digital health 2019: The UK government aids in the development of medical technology products
The UK's leading NHS creates a centralised network which makes regulation around developing a medical technology product simple and easy to digest (Credit: Broadly)
The NHS is a supportive enabler of medical technologies and digital health. It is has been collaborating with the private and non-profit sectors for years to bring efficient and cost effective technologies to the British public.
The centralised operation of the NHS and of other government organisations like the National Institute for Health and Care Excellence (NICE) and National Institute of Health Research (NIHR) mean the path to developing a medical technology product is clear and simple for developers to follow.
The NIHR invests £300 million a year into the infrastructure of clinical trials in the UK, generating what it estimates to be a financial return of £2.4 billion for the British economy.
The UK's Medical Research Council (MRC) is responsible for organising and funding medical research across the country. The council has a range of requirements and regulations which mean studies conducted in Britain are completed to the highest achievable standards of medical research practice. MRC has provided the funding for a number of historic medical breakthroughs, including the discovery that flu is caused by a virus and of the structure of DNA. Research funded by the MRC has produced 32 Nobel Prize winners to date.
Governmental support has been significant for organisations like Sky Medical Technology.
It receives backing from the Department for International Trade through the Overseas Market Introduction Service which helps companies prepare for trade shows and arranges introductions to potential overseas buyers. This has allowed Sky Medical Technology to expand its OnPulse system internationally.
OnPulse is embedded into a device called a geko, a small contraption which is worn around a patient's leg and stimulates the common peroneal nerve just behind the knee to optimise blood flow.
The British government also has £50 billion available to support finance and insurance for exports. This takes the form of guarantees, insurance and loans issued by UK Export Finance, Britain's public export credit agency.
"Britain is leading the charge among its European counterparts when it comes to embracing the digital transformation of healthcare. From nimble start-ups to the evolution of the National Health Service, the healthcare revolution is picking up pace – and the benefits are already being felt." – Net-App chief technology officer Grant Caley
Some 98% of medical technology companies in the UK are small to medium sized enterprises (SMEs), who are entitled to research and development (R&D) tax reliefs which allow them to deduct an extra 230% of their qualifying costs from their yearly profit.
British robotics are revolutionising the digital health sector
This culture has helped the UK become a world leader in medical artificial intelligence (AI).
Examples of this include Babylon Health, a mobile healthcare app which operates on a similar principle to Push Doctor and also hosts an AI chat bot which can diagnose patients.
Likewise, Skin Analytics has been building digital histories of patients' skin through a smartphone app with aims to improve the diagnosis of melanoma while Cambridge Cognition is attempting to better understand brain health through AI.
Surgical robotics is another area where UK companies are at the leading edge.
Using its Versius surgical robotics system, CMR Surgical is transforming keyhole surgery. Launching commercially later this year, Versius claims to simplify the learning curve for the procedure, shortening it from two or three years to a matter of weeks.
It also allows the surgeon to remain seated, minimising the physical strain on the operator and thus the risk for fatigue-related procedural errors.
CMR Surgical chief executive Martin Frost said: "We believe that robotics will change the face of healthcare as we know it today. The UK sets a respected model for introducing cost effective medical devices that can deliver value for healthcare systems around the world."
"We believe that robotics will change the face of healthcare as we know it today. The UK sets a respected model for introducing cost effective medical devices that can deliver value for healthcare systems around the world." – CMR Surgical chief executive Martin Frost
The UK has the highest number of skilled engineers and researchers in Europe trained at some of the leading universities in the world for biological sciences. This includes the University of Cambridge, which is surrounded by the largest technology cluster in Europe. There are 440 life science and healthcare companies operating in the cluster, with over 14,500 employees and a total turnover of £4.15 billion.
Cambridge-based Congenica has developed a technology called Sapientia, which unravels and identifies information in DNA data dawn from blood samples. Being based in the Cambridge cluster has allowed them to access talent and resources of world-leading quality.
Congenica chief executive David Atkins says: "The quality of the science we access in and around the Cambridge area is second to none globally. I think it's incumbent on any business to look locally but broadly. We also collaborate internationally, but there are lots of resources on our doorstep that make life a lot easier."
British businesses are facilitating international collaboration
International collaboration is facilitated by British organisations such as Event Marketing Solutions (EMS), based in Cheshire, which conduct roadshows across Britain and abroad in a variety of sectors including medical technology.
Roadshow campaigns such as these give medical technologies companies the ability to bring their innovations direct to the people that need to see them. From finance to machine operation, innovations can be brought directly to the people that need to see them, ensuring engagement at every stage of the decision-making process.
They've introduced spectrometry equipment developer AB Sciex and international medical technologies leader Dräger to a their European and Middle Eastern clients respectively, enabling them to connect with clients and demonstrate their products.
EMS chief executive Keith Austin said: "There's one word that sums up why businesses should invest in Britain, and that's people. When businesses choose to work with us, it's our people and their unmatched expertise that are the driving factors."