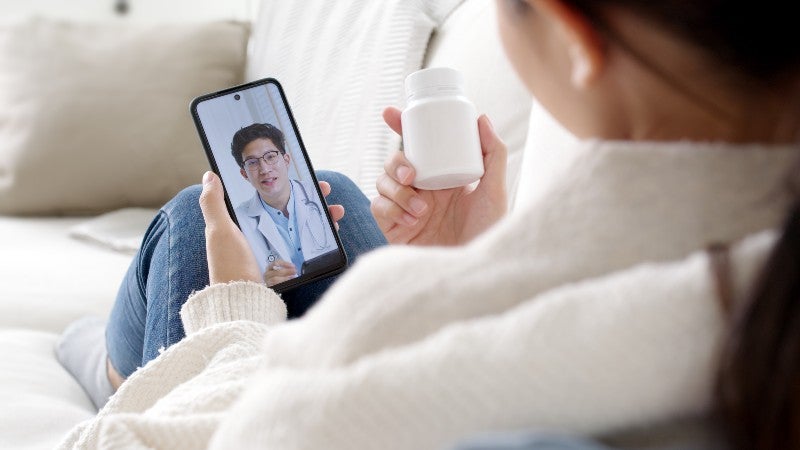 The global healthcare and pharmaceutical industry is frequently faced with having to find new ways of innovating and carrying out its work in order to overcome tragic circumstances that will typically come with a huge human cost.
During the peak of the Covid-19 pandemic this challenge reached new heights, as pharmaceutical firms around the world mobilised the full might of their resources to try and identify, develop, and trial a wide range of vaccines and therapeutics to alleviate the lethal threat posed by the virus.
And while various coronavirus strains both old and new continue to take a heavy toll on the world, the unprecedented speeds at which the Pfizer/BioNTech, Moderna, and AstraZeneca vaccines and therapeutics such as dexamethasone were developed and distributed served to save millions more.
Within the midst of this global industrial effort, one of the many obstacles that had to be overcome was the fact that while the need for trial participants was at its highest, the hospitals and healthcare settings that would typically host them were at their most stretched.
This challenging environment, in addition to the measures taken to restrict people's movement in order to reduce the viruses spread, led to many of the vital clinical trials being carried out to shift towards decentralised trial procedures that utilised virtual medicine and direct-to-patient (DtP) drug delivery.
Decentralised trials continue to be in-demand
In 2021,18% of all trials adopted a decentralised component, according to research by GlobalData. This was up from 11% in 2020.
As one of the leading global providers of temperature-controlled logistics for the pharmaceutical and clinical trial communities, CRYOPDP played a critical role in enabling its clients to carry out decentralised and direct-to-patient trials during the pandemic.
"The lockdowns meant that patients were unable to travel to hospital sites for clinical trials due to travel and access restrictions and this led to many sponsors switching to the direct-to-patient model to continue trials and treatments," explains Tangi Tremorin, chief operating officer at CRYOPDP.
"As part of our response to this unique situation, we had to go further and dive deeper to better understand customers' perceptions of the impact of the pandemic and work with them to provide those options, while ensuring the patients were always at the centre of things."
Today, as the worst consequences of the pandemic continue to ease, it is becoming increasingly clear that this was not a temporary shift but one which is here to stay with clinical trials still using the methods.
According to the Decentralised Clinical Trial Adoption Tracker, which is conducted by Clinical Trials Arena, this saw a significant increase in the use of remote drug delivery and home nursing trials in 2021 as 50 new trials were launched.
For trial sponsors, contract research organisations (CROs) and those that support them, this means that the direct-to-patient methodology will open up new opportunities and new ways of conducting clinical trials that prior to the pandemic were being significantly under utilised.
Faster approvals require rigorous roll-outs
A key factor that is enabling this sustained change in approach are the changes made due to the pandemic, which have significantly reduced the amount of time it takes to set up and secure approvals for such trials.
"Prior to the pandemic, setup could take months or even years depending on the regulatory environment in individual countries and the desire for a DtP solution," explains Tremorin. "The pandemic shrank timelines down to days in some cases."
This acceleration in the approval process and starting of a clinical trial significantly increases the attractiveness of the DtP model. However, it also means that even more care and rigour must be taken to ensure that all processes and procedures required are carried out correctly so as to enable the trials to be conducted.
At CRYOPDP, this saw the company implement a robust framework across all of its own staff and those of partners across the trials. This enabled a seamless transition to the accelerated process while maintaining the highest levels of data and regulatory compliance.
"For the specific needs of direct-to-patient it was vital to develop our workforce and our partners to ensure that each element around handling, confidentiality and patient integration was carried out perfectly," explains Tremorin.
This led CRYOPDP to develop a suite of standard operating procedures (SOPs), checklists and work instructions across each part of the business to ensure that the delivery of drugs to trial participants was carried out within the required timelines, but also so that data and regulatory compliance was maintained throughout.
As an example of this, each delivery used throughout the process was provided with full training on data handling alongside the practical aspects of their job such as how to handle and monitor a direct-to-patient shipment, and how to communicate effectively and appropriately with the patient.
As the pandemic proved – and the continued increase in the use of decentralised trials shows – the direct-to-patient model holds significant benefits to both how clinical trials are conducted now and in the future.
This will open up new opportunities for sponsors and CROs as well as present new challenges with the added complexities of dealing with more stakeholders and relying more heavily on technological solutions to track deliveries and store information.
But this is a future that CRYOPDP is ready to assist with, every step of the way.
According to Tremorin: "From providing the latest IT innovations to a dedicated customer service team, our clients know that by choosing CRYOPDP as their most reliable temperature-controlled logistics partner, they are joining the future of clinical trials."