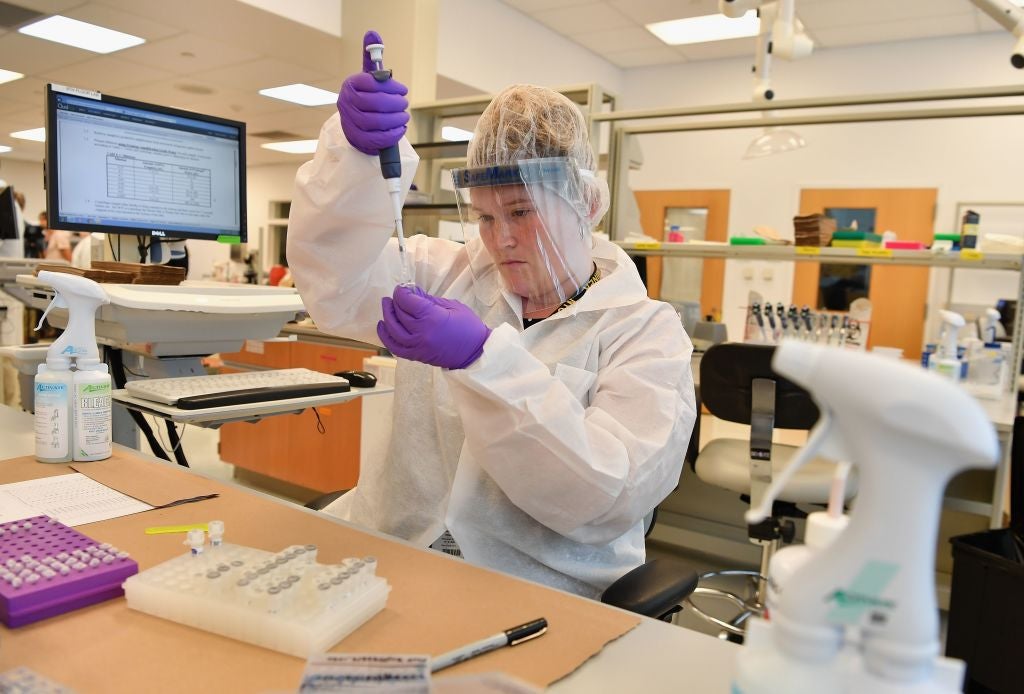 Emerging technology adoption has long been seen as the answer to many of the challenges faced by the life sciences sector. These include declining profit margins, the cost of trials and research, and the pressure to come up with new products, while at the same time meeting stringent regulatory and legislative requirements, according to thematic research by GlobalData.
Big Pharma, in particular, has had a reputation as being slow to innovate. However, the Covid-19 crisis not only showcased how fast the sector can adapt under pressure but also highlighted the need for accelerated digitalisation.
According to Global Data's 2021 Digital Transformation and Emerging Technology in the Healthcare Industry 2021 report, 81% of surveyed healthcare professionals stated that their organisations had a digital transformation strategy in place or were working towards one, up from 73% in 2020 and 68% in 2019. However, as the life sciences sector incorporates emerging technology, the expertise required within the field overlaps with that of the tech sector and the problem of attracting and retaining talent becomes something of an existential challenge.
The increasing role of artificial intelligence (AI) and Big Data analytics have created a requirement for a broader set of skills. This has positioned the sector in direct competition with the technology industry, according to Amy Flynn, global lead for life sciences at professional services company Grant Thornton. "There is a huge technology component now in functions that maybe didn't traditionally have it," she says.
This is reflected in GlobalData's thematic research, which found the number of AI-related job postings in pharma saw a marked increase in 2021, emphasising the industry's interest in the technology. Big Data-related job postings showed a similar trend to those of AI, which highlights the reciprocal relationship between these two technologies.
How Covid gave Big Pharma an image makeover
Therein lies the challenge: why would a highly skilled worker in AI or Big Data take a job with a life sciences company rather than an attractive compensation package and company culture offered by Google or Microsoft, for example?
Flynn says the favourable light that Covid shone on life sciences is an advantage in terms of attracting talent in comparison with the historical negative connotations of Big Pharma. "Major pharmaceutical companies are putting forth some of the biggest and boldest goals around ESG," he says.
It is widely acknowledged that millennials favour employers that are aligned with their values. By adopting ideas such as global patient access and new technologies to give lower income brackets increasing access to diagnostics tools and better medical care, Flynn says Big Pharma now has a "compelling story".
As well as competing for a broader skill set, the life sciences sector has an increasing need for headcount. Grant Thornton's semi-annual international business survey of mid-market businesses shows the percentage of healthcare and life science business leaders (CEOs, managing directors and other senior executives) who anticipate an increase in their workforce requirements over the next 12 months rose dramatically between 2017 and 2021, with the biggest increase being between the first quarter of 2020 to the first quarter of 2021.
With a need for greater numbers of technically skilled staff, attracting individuals to the sector alone is unlikely to solve this issue. Strategic partnerships with technology companies are a way of adding capability and acquiring the necessary tech-focused headcount. For example, in January 2020, GlaxoSmithKline (GSK) renewed its strategic partnership with Silicon Valley-based consumer genetics company 23andMe for a fifth year. The immune-oncology antibody collaboration programme leverages 23andMe's valuable database to identify targets and advance new medicines based on human genetics.
Equally, competition for tech leaders within the life sciences sector is high. In 2017, Hal Barron, then president of research and development at Calico, Google's anti-ageing company, was hired by GSK as its chief scientific officer and head of research. Barron will leave GSK in August 2022, but the appointment of a high-level tech leader to a pharmaceutical company was a big coup for GSK and demonstrates clearly the way the business is going. It was rumoured that Barron's compensation package was commensurate with that of the company's CEO, Emma Walmsley.
Big Pharma's war on talent differs by region
There is a lot of discussion in the US around accelerating people costs within the life sciences industry, according to Tej Panesar, investment director for life sciences at venture capital firm British Patient Capital.
"The field has high barriers of entry in terms of technical skills and qualifications and this will only increase as more emphasis is placed on newer fields, such as the application of deep learning techniques to life sciences," he says. Panesar focuses primarily on European and UK life sciences investment, and as an investor, he sees increased demand in the UK and Europe within individual biotech companies for these crossover skill sets. However, he adds that "it will take some time to see how that plays out in the UK and Europe versus the US in terms of rising costs".
Eric Greveson, chief technology officer of Oxford University spin-out Brainomix, says that in the war on talent, the life sciences sector has the advantage of being more rewarding work. Brainomix is developing AI-assisted tools for the rapid assessment of strokes, and the tech is being rolled out in hospitals across Europe. It can be difficult to compete on salary alone against some fields, he says, especially financial services and investment banks, which often get the best scientists and developers. However, "we can offer an interesting and rewarding subject area to work on and the opportunity to work for societal good", he adds.
The effects of the Covid-19 crisis and Brexit have meant that Brainomix has a hybrid working model, with some employees working from abroad. "We have developers and researchers from France, Argentina, Germany, Spain, Finland, India and all over the world, and sometimes we have to sponsor visas to attract the right people," says Greveson. He adds that his preference is to hire in the UK, but with the kind of specific skill sets that he needs – machine learning, AI and specialist medical imaging knowledge – this is not always possible.
This hybrid working approach may help talent acquisition, according to Deloitte's 2022 Global Life Sciences Outlook report. Lab work cannot be done remotely but many other pharmaceutical processes can. The report states that almost half of workers and a majority of millennials report they would give up some work benefits for a more flexible working space. As the workforce shrinks, attracting and retaining young talent by offering a choice of work style may be a competitive advantage, according to the report. However, companies must be aware of geographical differences that can complicate global strategies for remote work, such as tax compliance risk and visa requirements.
Life sciences and pharmaceutical companies need skilled workers who can cope with (and drive) the acceleration of digitalisation in the sector. While the competition for such workers is clearly high, a flexible attitude to remote working and highlighting the good that pharma companies can do could go a long way to prising this talent away from the more illustrious names it has hitherto tended to gravitate towards.