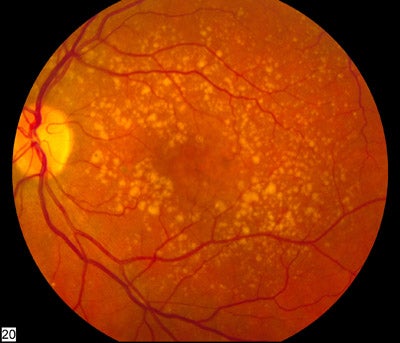 The US Food and Drug Administration (FDA) has approved Allegro Ophthalmics' investigational new drug (IND) application to start two Phase II clinical trials of ALG-1001, a first in class integrin peptide therapy.
Patients with wet age-related macular degeneration (wet AMD) and symptomatic vitreomacular traction (VMT) will be enrolled in the Phase II clinical trials.
According to the company, ALG-1001 inhibits cell adhesion in vitro and arrests aberrant blood vessel growth in vivo, both systemically and in the eye.
The compound was found to inhibit cell adhesion meditated by a5ß1, avß3 and avß5 integrins in in vitro testing.
These integrins are implicated in the angiogenic process, and are known to be expressed in neovascular ocular tissue from patients with wet macular degeneration and diabetic retinopathy.
Allegro Ophthalmics co-founder and chief technical officer Vicken Karageozian said the FDA approval validates the company's preclinical data, multiple Phase I study results as well as Phase II clinical study design.
"In just over three years, we've rapidly and methodically gone from compound discovery to Phase II clinical trials," Karageozian said.
"We are optimistic that this drug will continue to show efficacy and provide meaningful therapeutic benefit to patients with vascular eye diseases such as wet AMD and VMT."
The new trials will be the fifth and sixth studies of ALG-1001 while the company had already completed two Phase I studies, including one monotherapy study in each of diabetic macular edema (DME) and wet AMD.
In addition, two Phase Ib/IIa studies are currently in progress, with one being a combination study in DME.
"In just over three years, we've rapidly and methodically gone from compound discovery to Phase II clinical trials."
Integrin Peptide Therapy proved to be safe, well-tolerated and efficacious, according to data from studies in humans and animals.
Administered as a intravitreal injection, ALG-1001 targets integrins, which play a major role in cell signalling and regulating cellular shape, motility and the cell cycle.
ALG-1001 is a vascular endothelial growth factor receptor antagonist that works from a different mechanism of action than current anti-VEGF treatments by binding to multiple integrin-receptor sites and affecting multiple angiogenic pathways.
It is currently under development for the treatment of diabetic macular edema and wet age-related macular degeneration.
The company believes integrin peptide therapy, an emerging new class of treatment for vascular eye diseases, may provide alternative options and improved patient benefits compared with current anti-VEGF treatment.
---
Image: Intermediate age-related macular degeneration. Photo: courtesy of Dcirovic.