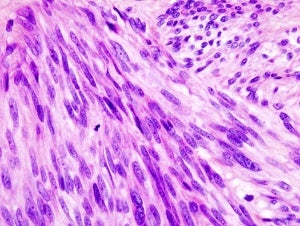 The US Food and Drug Administration today announced it has expanded the approved use of Stivarga (regorafenib) to treat patients with advanced gastrointestinal stromal tumors (GIST) that cannot be removed and do not respond to other forms of approved treatment.
A multi-kinase inhibitor, Stivarga has been proven to block several enzymes that promote cancer growth.
It can now be used by GIST patients for this purpose if they are not responding to traditional treatments, such as Gleevec (imatinib) and Sutent (sunitinib), and the tumor cannot be removed by surgery or has spread to other parts of the body.
Stivarga underwent a clinical study of 199 patients with GIST who fit the patient profile.
They were given Stivarga or placebo until either the cancer progressed or the side effects became unacceptable.
Results showed patients who took Stivarga had a delay in tumor growth (progression-free survival) that was, on average, 3.9 months longer than patients who were given placebo.
GIST is a tumor in which cancerous cells form in the tissues of the gastrointestinal tract, part of the body's digestive system.
Between 3,300 and 6,000 new cases of GIST occur in the US every year, typically in older adults, according to the National Cancer Institute.
Stivarga, which is marketed by Bayer HealthCare Pharmaceuticals, was originally approved in September 2012 to treat colorectal cancer.
FDA Center for Drug Evaluation and Research Office of Hematology and Oncology Products director Dr Richard Pazdur said; "Stivarga is the third drug approved by the FDA to treat gastrointestinal stromal tumors.
"It provides an important new treatment option for patients with GIST in which other approved drugs are no longer effective."
Stivarga was reviewed under the FDA's priority review programme, which provides an expedited six-month review for drugs that may provide safe and effective therapy when no satisfactory alternative therapy exists, or offer significant improvement compared to marketed products.
The drug was also granted orphan product designation because it is indicated for the treatment of a rare disease.
Serious side effects, which occurred in less than 1% of patients, were liver damage, severe bleeding, blistering and peeling of skin, very high blood pressures requiring emergency treatment, heart attacks and perforations (holes) in the intestines.
---
Image: A hematoxylin-eosin stain of a gastrointestinal stromal tumor of the stomach.