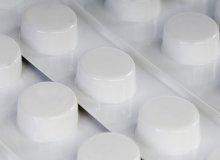 A clinical trial has started in the UK to determine whether using aspirin can stop cancer from returning, involving around 11,000 people nationwide.
Claimed to be the world's largest ever clinical trial of this kind, Add-Aspirin phase III will be conducted on patients who have recently had, or are having, treatment for bowel, breast, oesophagus, prostate or stomach cancer.
Funded by Cancer Research UK and the National Institute for Health Research (NIHR), the study will see people taking aspirin every day for five years.
Janssen Biotech has received approval from the US Food and Drug Administration (FDA) for Yondelis (trabectedin) to treat patients with unresectable or metastatic liposarcoma (LPS) or leiomyosarcoma (LMS) who received a prior anthracycline-containing regimen.
The approval was based on data from a randomised, open-label, controlled Phase III trial (ET743-SAR-3007), which evaluated the efficacy and safety of Yondelis versus the chemotherapy agent dacarbazine, in patients with unresectable or metastatic LPS or LMS previously treated with an anthracycline and at least one additional chemotherapy regimen.
Yondelis has been approved for both LPS and LMS, and is the first treatment to be specifically approved for LPS in the US.
The US Food and Drug Administration (FDA) has granted breakthrough therapy designation for Pfizer's investigational antibody-drug conjugate (ADC) inotuzumab ozogamicin to treat acute lymphoblastic leukaemia (ALL).
The breakthrough status was based on data from the Phase III INO-VATE ALL trial, which enrolled 326 adult patients with relapsed or refractory CD22-positive ALL and compared inotuzumab ozogamicin to standard of care chemotherapy.
Inotuzumab ozogamicin is an investigational antibody-drug conjugate (ADC), which includes a monoclonal antibody (mAb) targeting CD22, a cell surface antigen expressed in around 90% of B-cell malignancies linked to a cytotoxic agent.
Ireland-based Alkermes has received approval from the US Food and Drug Administration (FDA) for Aristada (aripiprazole lauroxil) extended-release injectable suspension to treat schizophrenia.
Aristada features a range of dose strengths and dosing interval options, and will be launched by the company immediately.
It is the first atypical antipsychotic with once-monthly and six-week dosing options for delivering and maintaining therapeutic levels of medication in the body through an injection.
Domainex and Imperial College London have entered a new partnership to discover new therapies for treatment of myocardial infarction, also known as a heart attack.
The deal follows the success of Imperial in securing £3m in funding from the Wellcome Trust Seeding Drug Discovery programme to build upon the research of professor Michael Schneider, the British Heart Foundation Simon Marks Chair in Regenerative Cardiology.
Schneider group's key research activities in Imperial's National Heart and Lung Institute will include discovery of enzyme pathways activated by cardiac stress that result in the apoptosis of cardiac muscle cells.
GlaxoSmithKline Pharmaceuticals has completed the acquisition of Novartis Healthcare's vaccines business, while selling its marketed oncology portfolio to Novartis India.
The deal follows a global transaction between their parent companies UK-based GSK and Swiss drugmaker Novartis, which was completed earlier in March on a similar basis.
The addition of Novartis's vaccines business, which will exclude the one for influenza, will help GSK strengthen its global market share in this area.
Vetter, a German contract development and manufacturing organisation (CDMO), has unveiled plans to invest €300m for expanding and upgrading its manufacturing facilities over a five year period.
The firm started the first of its facility expansions at various locations in Germany, including its Ravensburg Vetter West centre for visual inspection and logistics, in order to prepare them for future requirements.
According to the company, the upgrades are being driven by a changing healthcare market that is affected by issues such as complex molecules, smaller batch sizes, and increasing regulatory requirements.
US-based biopharmaceutical firm Regeneron is investing an additional $350m in its Limerick industrial operations and product supply (IOPS) bioprocessing campus in Ireland.
The investment will see the an additional 200 jobs for its Limerick facility, which would bring the total expected employment creation in the area to 500 by the end of 2017.
In April 2014, the company acquired the former Dell Computer facility in Limerick and is currently transforming the site into a purpose-built facility, which will be the largest capacity biopharmaceutical production facility in Ireland.