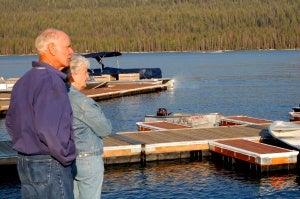 Pharmaceutical company TauRx Therepeutics is starting to enroll Alzheimer's patients in its third-stage clinical trial for its experimental new drug LMTX.
Yesterday afternoon the company announced it would be going ahead with vital third-stage trials needed for regulatory approval, saying it will test LMTX on 1,300 people in 21 different countries.
It will be a two-phase clinical trial, testing people with mild Alzheimer's and people with mild-to-moderate Alzheimer's, with the goal of halting the progression of the disease.
The drug at the centre of the trials, LMTX, works by targeting tangles of the Tau protein in the brain, dissolving them to prevent their harmful effects to memory.
Tau tangles were first discovered in the brain in the 1990s. TauRx Therapeutics Chairman Claude Wischik has been studying the tau approach ever since as professor of old age psychiatry at the University of Aberdeen in Scotland, where the company has its main research facilities.
Wischik said; "These Phase III studies are bringing us closer to finding an effective Alzheimer's treatment that can actually arrest the progression of the disease. It really is time to test the role of tau."
LMTX has been created from altering an earlier product called Rember. Trials from 2008 showed that Rember produced a 90% reduction rate of disease progression over two years.
Companies currently investing in TauRx Therapeutics are Temasek Holdings, Singapore's state-owned investment company, Development Bank of Singapore and Canada's Dundee Corp.
---
Image: TauRx Therapeutics third stage trials are encouraging for Alzheimer's suffers all over the world. Photo: Courtesy of Ben Earwicker.