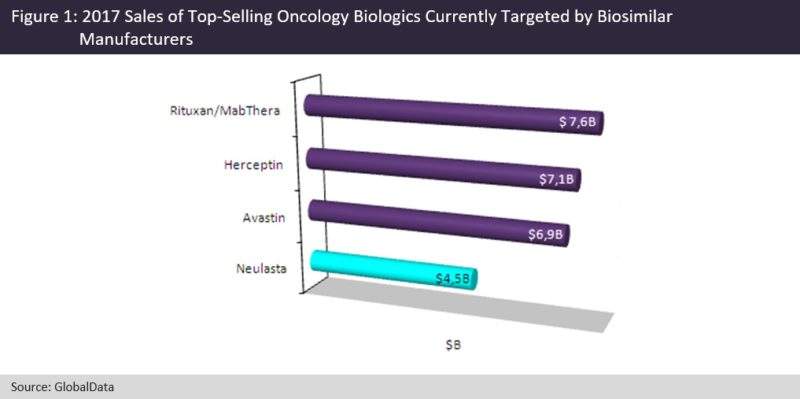 2017 represented a key year in the biosimilar landscape.The number of approvals soared, especially in the US, where five out of the nine biosimilar medicines currently approved across all therapy areas obtained a green light in 2017.
More importantly, 2017 saw the first approvals of oncology biosimilars for cancer treatment. While in the oncology space, several filgrastim biosimilars against Amgen's Neupogen have been available as supportive care in the seven major markets (7MM: US, France, Germany, Italy, Spain, UK, and Japan) since 2006, until recently agents used for curative intent had been spared from the threat posed by biosimilars.
However, biosimilar versions of Roche's top-selling oncology drugs, Herceptin (trastuzumab, $7.1B in 2017) and Avastin (bevacizumab, $6.9B in 2017), were approved in the US in January and September 2017, respectively. Copycat versions of another blockbuster, Genentech/Biogen's Rituxan/MabThera (rituximab, combined 2017 oncology and immunology sales $7.6B; oncology-specific sales account for approximately 80% of total sales) were also approved in Europe and Japan in September and June 2017, respectively. It is clear that biosimilar manufacturers are focusing on Roche's and Amgen's aging cancer and supportive care blockbuster portfolios.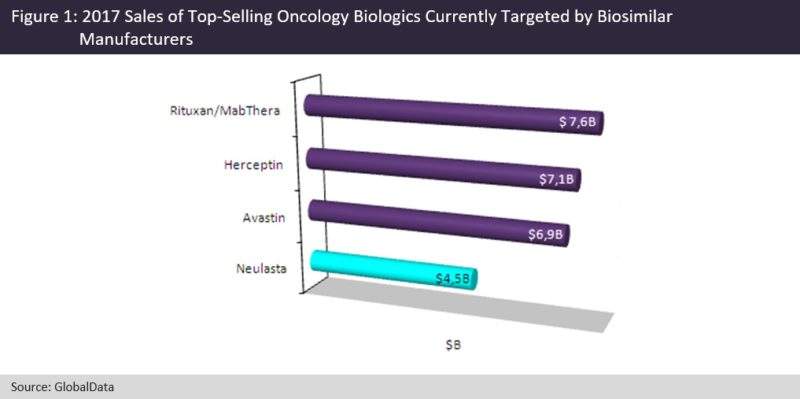 In the supportive care space, there is still a large interest in the development of a biosimilar version of Amgen's Neulasta (pegfilgrastim), which has a more convenient dosing schedule compared with filgrastim. The patents on Neulasta expired in the US in October 2015 and in Europe in August 2017. The development of pegfilgrastim biosimilars has proven to be challenging, and three companies withdrew their marketing applications in 2017. Five pegfilgrastim biosimilars are currently under review in the 7MM, and their approval is expected in 2018.
Deals between small and big Pharma represented a key trend in 2017 in the oncology biosimilar space. In April, Celltrion and Nippon Kayaku entered into an agreement for the commercialization of Celltrion's rituximab biosimilar (Truxima) in Japan. Under the terms of this agreement, Nippon Kayaku, which is already Celltrion's sales partner in the Japanese market for infliximab and trastuzumab biosimilars, will add Celltrion's Truxima to its portfolio of biosimilars in Japan. Later on, in April, Fresenius acquired Merck's biosimilar portfolio, which includes products for both oncology and autoimmune diseases, for €170M (approximately $205M). Under the terms of this agreement, Merck will also receive milestone payments and royalties on future product sales.
Looking forward, additional key launches and deals are expected in 2018. As of February 2018, Celltrion has received the European nod for its trastuzumab copycat and Sandoz has signed a global partnership with the established Indian biosimilar drugmaker Biocon. Biocon's portfolio includes bevacizumab, trastuzumab, and pegfilgrastim biosimilars in late-stage development or in pre-registration in the 7MM. This alliance, which focuses on immunology and oncology products, will allow Sandoz to establish itself as one of the key players in the biosimilars arena.
Related Reports
GlobalData (2018). WhitePaper. The Biopharmaceutical Industry in 2017: Highlights by Therapeutic Area, February 2018
Upcoming Reports
GlobalData (2018). Biosimilars in Oncology, to be published