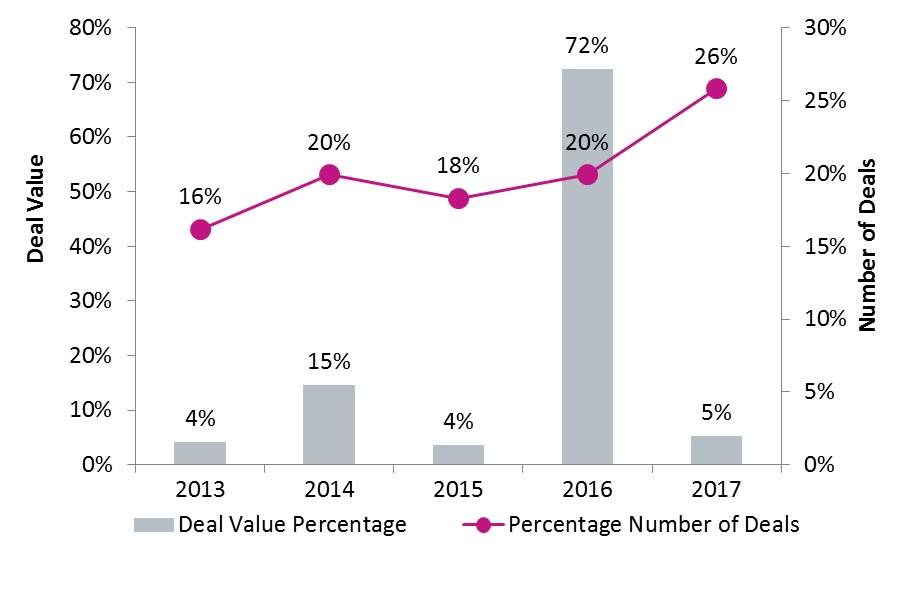 Duchenne Muscular Dystrophy (DMD) is a rare neuromuscular degenerative disease that affects 15 in every 100,000 males (CDC, 2018). There is currently no effective therapy to treat the disease. However, in recent years, there has been an increase in deal activity around DMD drugs. This article will discuss the DMD deals in the past five years that may lead to future treatments for this debilitating disease.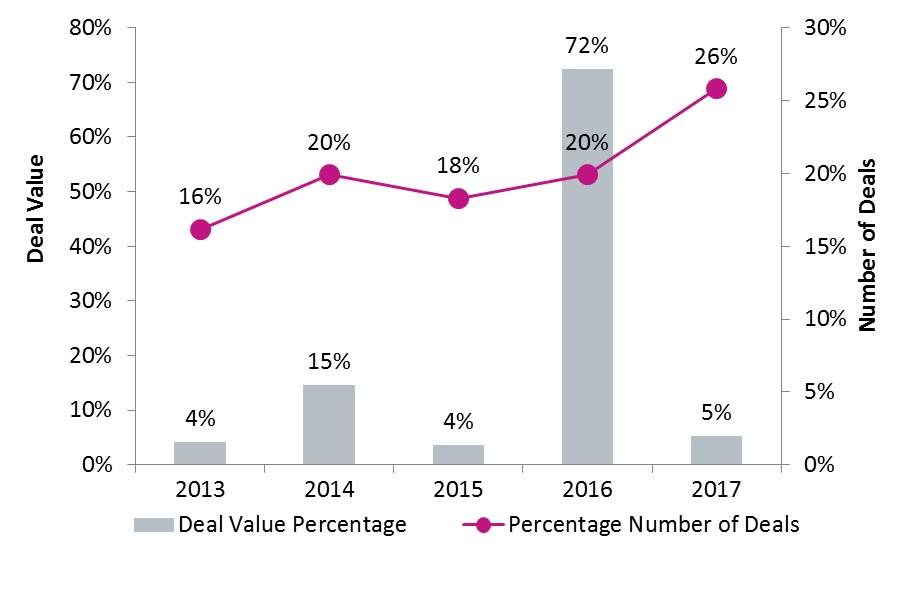 Figure 1: Number of deals and deal values with DMD, 2013–2017. Credit: GlobalData.
Figure 1 shows the deals activity for DMD pipeline and marketed drugs by deal number and deal value in the past five years. Interest in DMD drugs has been increasing, as shown by the steady increase in the number of deals taking place each year. However, the value of deals has varied year-on-year.
There was a particularly high value of DMD deals in 2016. This was predominantly due to Shire's acquisition of Baxalta for $32B, which enabled Shire to expand its portfolio of DMD disease drugs and strengthened its hold of the rare disease market.
Mergers and acquisitions tend to bring in high revenues for drug deals and can indicate that a company has made a major investment in a certain therapy area. However, capital raising and strategic alliance transactions tend to be more numerous and provide the most insight into the climate of the DMD market. The breakdown of capital raising and strategic alliance deals is shown in figure 2.
Figure 2: Number of deals and deal values for capital raisings and strategic alliance deals for DMD, 2013–2017. Credit: GlobalData. 
In 2017, $2.2B was issued in capital raising deals involving DMD pipeline drugs, and two-thirds of these deals were equity offerings. This suggests that companies were focusing on raising funds and investing in DMD research, which is likely to lead to further collaborative transactions in the coming years.
Similar proportions of high capital raising values to low strategic alliances are shown in 2014 and 2015 ($1.3B and $0.9B, respectively), whereas 2013 and 2016 favoured strategic alliance deals. The highest valued strategic alliance deals were seen in 2016, at $1.3B, and the majority of these were licensing agreements. Strategic alliances in 2013 were mainly partnerships with a total value of $1.1B.
This shows a fluctuating trend between periods of high collaboration and low investments that switches to periods of less collaboration and more investments. There was very high investment activity in 2017. Therefore, it is likely that these high-value capital raisings will continue into 2018, but will switch to favour DMD strategic alliances by the end of 2018 and into 2019. As such, a big strategic alliance deal for DMD drugs is anticipated for later this year.