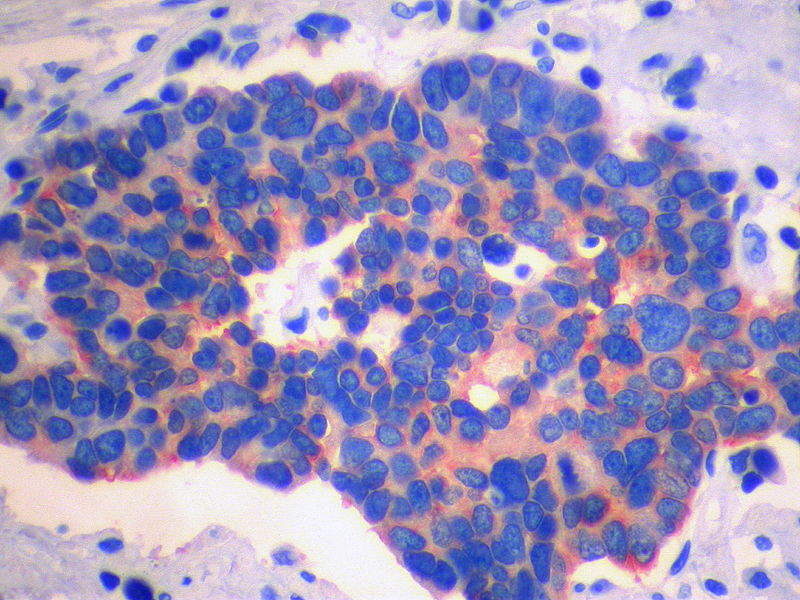 On September 25 2018, Roche announced positive results from the Phase III IMpower133 study (NCT02763579), which evaluates its programmed death-ligand 1 (PD-L1) inhibitor Tecentriq (atezolizumab) in combination with carboplatin and etoposide in patients with treatment-naïve extensive-stage small cell lung cancer (ES-SCLC).
Having met both of its co-primary endpoints of overall survival and progression-free survival (p = 0.0069; p = 0.017), the IMpower133 is the first study to demonstrate a clinically meaningful survival advantage over the standard of care (SOC) chemotherapy in more than 20 years.
The positive outcome of the IMpower133 trial will underlie a supplemental biologics license application (sBLA) and a prospective marketing approval in early 2019. Following the recent FDA approval of Bristol Myers Squibb's programmed cell death protein 1 (PD-1) inhibitor Opdivo (nivolumab) in previously-treated patients, Tecentriq is set to become the second immunotherapy approved for the treatment of SCLC, for which chemotherapy has been the standard of care for decades.
Unlike Opdivo and Merck & Co.'s PD-1 inhibitor Keytruda, which are approved in numerous oncology indications, Tecentriq is currently approved in only two indications: urothelial carcinoma (UC) and non-small cell lung cancer (NSCLC). The revenues for Tecentriq for the first half of 2018 were reported at 320m CHF ($331m), a sum much smaller compared to that of Opdivo ($3.14bn) and Keytruda ($3.13bn) during the same period.
Competition is severe in the two indications due to multiple immunotherapies being marketed in both UC and NSCLC. Despite having the first-to-market advantage, UC is a relatively small indication, which will result in a limited expansion of Tecentriq's revenues. In addition, Tecentriq is facing steep competition in UC not only from Opdivo and Keytruda but also from Imfinzi (durvalumab) and Bavencio (avelumab), two PD-L1 inhibitors marketed by AstraZeneca, and Pfizer and Merck KGa, respectively.
A latecomer to the NSCLC market
Although it is a much bigger indication, Tecentriq is a latecomer to NSCLC and is lagging behind Keytruda and Opdivo as the two drugs are dominating the treatment-naïve and previously-treated patient segments, respectively. Moreover, the recent FDA extension of the review period for the sBLA for Tecentriq + Avastin (bevacizumab) + carboplatin + paclitaxel for the first-line treatment of metastatic nonsquamous NSCLC doesn't bode well for Tecentriq's prospects in this space.
A later market entry means not only a more consolidated market share of Keytruda in the first-line treatment setting, but also an approximately concurrent marketing approval of Tecentriq and Opdivo, which will set Tecentriq against both Keytruda and Opdivo in the frontline setting.
Despite all the setbacks it is facing in UC and NSCLC, GlobalData anticipates Tecentriq to have a robust growth opportunity in SCLC. Although comprising only 15% of lung cancers, SCLC is, for now, immune to the competition that is ongoing in UC and NSCLC. The first-to-market advantage, lack of other immunotherapies used in treatment-naïve patients, and Opdivo's marketing only in previously treated patients will allow Tecentriq to be integrated into the frontline treatment paradigm expeditiously and secure a substantial market share in SCLC, providing the much-needed boost in revenues.