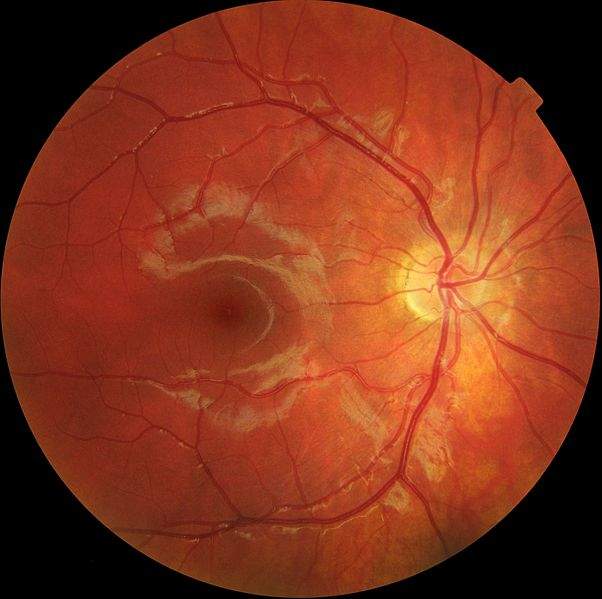 Allergan's abicipar pegol may have cases of hemorrhagic vasculitis in its pivotal Phase III studies CEDAR and SEQUIOA in neovascular age-related macular degeneration (AMD), said three trial investigators.
The investigators said that information about the cases' characteristics, severity and resolution are not known yet as the data is still blinded. They cautioned reading too much into these alleged cases until more information is released, which could be at an upcoming medical conference. While top-line results were announced on 19 July, SEQUOIA and CEDAR clinical trials continue on a masked basis for a second year as per the trial design, according to Allergan's presentation.
A fourth investigator said that he had not heard of such reports but noted such inflammation would be possible with abicipar's bacterial production model. The compound used in the 930-patient CEDAR and 946-patient SEQUIOA studies had fragments of E. coli left in it, which is understood to be responsible for the ocular inflammation imbalance seen thus far, said one of the three aforementioned investigators and the fourth investigator.
After the top-line release, analyst reports noted that abicipar could still be a viable asset despite the presented ocular inflammation rates, and that the formulation tested in the MAPLE study could be commercially successful should it bring that rate under control.
Abicipar could achieve sales of $687m in 2023, according to reports. Allergan has a market cap of $60.6bn.
Safety profile could be at risk
The impact of the hemorrhagic vasculitis cases on the overall risk-benefit profile would depend on the severity and frequency, the first investigator said. The cases, if confirmed, would mean very bad news for the programme, unless there was a way to identify those at risk, the second investigator noted. The FDA would probably view this inflammation very seriously, and if vasculitis signals are meaningful, it could sink an application, he added.
The third investigator said that the MAPLE study could help mitigate approval risks, and the FDA might request more safety data prior to an approval, such as additional six-months of the MAPLE study.
Allergan did not comment on specific hemorrhagic vasculitis incidences by press time, but in a previous response to a request for comment, Yehia Hashad, Allergan's vice president and global head of clinical development, ophthalmology, addressed the broader ocular inflammation rate. He noted that the incidence of inflammation was broadly in line with Allergan's Phase II studies, such as in PALM for diabetic macular edema.
Hashad added that Allergan is working to get the incidence down by optimising its manufacturing process in areas such as filtration, and that the inflammation — the vast majority mild-to-moderate — was treated by the investigators as guided by their professional experience.
In the top-line release, Allergan noted the imbalance of ocular inflammation in the abicipar arms versus Roche's Lucentis (ranibizumab) — the active comparator — but had no specifics on type of ocular inflammation beyond incidence rates. In SEQUIOA, there were 59 (18.8%) severe adverse events (SAEs) and 49 cases of ocular inflammation (15.7%) in the eight-week (Q8) dosing arm, 55 SAEs (17.5%) and 48 ocular inflammations (15.3%) in the 12-week (Q12) dosing arm and the Lucentis arm being dosed every four weeks (Q4) showed 42 SAEs (13.3%) and two cases of ocular inflammations (0.6%).
It is not certain how the ocular inflammations could be categorised, as the types and severity of ocular inflammations have not been revealed, the first investigator said. In CEDAR there were 66 SAEs (21.2%) and 47 cases of ocular inflammations (15.1%) in the Q8 arm, 76 SAEs (24.4%) and 48 ocular inflammations (15.4%) in the Q12 arm and 59 SAEs (19%) and zero ocular inflammation in the Lucentis arm.
Allergan is working on an improved formulation of abicipar to remove the bacterial fragments, the investigators pointed out. It is in a 100-patient open-label extension study called MAPLE, with results expected 1H19.
Full data may miss AAO deadline
Allergan mentioned in its top-line press release that full results of abicipar can be expected at a future medical conference. The investigators agreed that the American Academy of Ophthalmology (AAO) 2018 annual meeting in Chicago 27-30 October is expected to be the conference where further data will be presented on CEDAR and SEQUOIA.
However, the first investigator noted, the data is still unblinded, there might be a delay in what could be processed in time for the conference, and full results might be published or presented in January 2019 and beyond. The third investigator said it could be possible that Allergan could hold a podium presentation at AAO, with full data to be published at a later date.
If abicipar data were to be presented at AAO 2018, all investigators said they were unable to confirm which secondary endpoint data would be revealed. However, they agreed that physicians would expect to see data showing best corrected visual acuity (BCVA) gains of three lines or more, in terms of BCVA change from baseline, as well as a further data breakdown of the ocular inflammations and patients who lost vision as a result.
By Shuan Sim in New York
Shuan Sim is a reporter for Pharmaceutical Technology parent company GlobalData's investigative journalism team. A version of this article originally appeared on the Insights module of GlobalData's Pharmaceutical Intelligence Center. To access more articles like this, visit GlobalData.