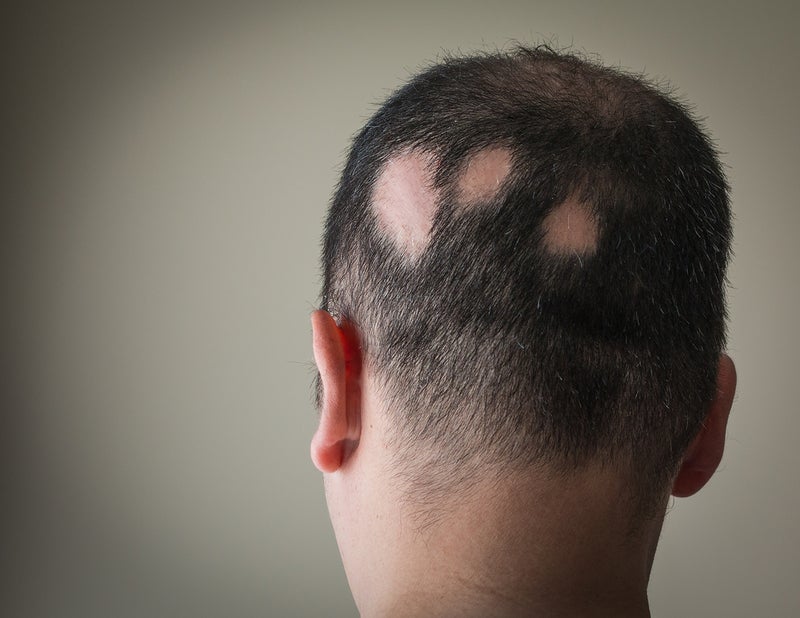 The introduction of Janus Kinase (JAK) inhibitors has increased the chances of treating alopecia areata (AA), but the issue of hair loss reoccurs once the drug is discontinued.
Currently, there are no marketed therapies for AA, and many of the available treatment options lack considerable efficacy. With pivotal Phase III trials studying Eli Lilly's Olumiant (baricitinib) and Pfizer's PF-06651600, GlobalData forecasts that the first approved therapy for AA will likely be available in 2022. With the increase in JAK inhibitors being used off-label in AA, it is important to determine how this class of drugs will change the treatment landscape once approved by regulatory bodies.
Hair loss treatment
JAK inhibitors are the most advanced therapies in the pipeline for the treatment of AA patients. The JAK signal transducers and activators of transcription (STAT) pathway play a significant part in the pathophysiology of AA because it controls CD8 and NKG2D T-cell, which are both key components in AA. Through the inhibition of the JAK-STAT pathway, it is possible to suppress the inflammatory response and these targets. Additionally, JAK inhibitors also encourage the hair growth cycle by stimulating hair follicle stem cells, thereby showing increased efficacy in AA.
JAK inhibitors have proven to be very efficacious in patients suffering from AA, but key opinion leaders (KOLs) interviewed by GlobalData are still concerned about the side effects that these drugs pose to patients and their high annual cost of therapy (ACOT). Primary research conducted by GlobalData showed that the ACOT of JAK inhibitors in the US will be approximately $50,000, while the ACOT of cyclosporine currently the most expensive therapy for AA that is not a JAK inhibitor is just under $1,400.
Furthermore, JAK inhibitors are a chronic therapy, so once the drug is stopped, the patient could experience a relapse. Since JAKs do not provide a cure for the disease, patients could instead opt for a scalp prosthesis, which is a cheaper and safer alternative.
Despite these issues, JAK inhibitors have unrivalled efficacy compared to other treatments in the treatment paradigm for AA, including cyclosporine, as many case studies have shown promising results with the off-label use of Xeljanz. In one open-label study, 66 patients were administered 5mg Xeljanz twice per day, and regrowth of hair was assessed using the Severity of Alopecia Tool (SALT). Of the treated subjects, 32% had a reduction of more than 50% in the SALT score after three months.
Additionally, upcoming Phase III trials with Eli Lilly's Olumiant and Pfizer's PF-06651600 will help to confirm the effectiveness of JAK inhibitors further. As no other pipeline drugs are currently in late-stage development for AA, if both of these JAK inhibitors obtain approval, GlobalData forecasts that this class of drugs could make up approximately over 80% of AA sales by 2028. Although KOLs interviewed by GlobalData have been critical of the cost of therapy and related side-effects of JAK inhibitors, most have suggested that an efficacious oral therapy would change the treatment landscape for patients with severe AA.