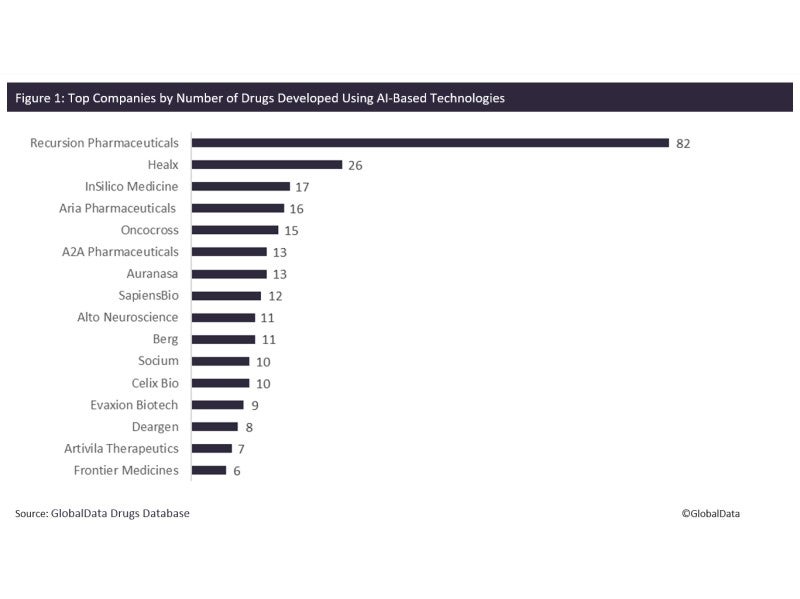 Alto Neuroscience is a clinical-stage biopharmaceutical startup that uses its artificial intelligence (AI)-enabled platform to measure brain biomarkers, including electroencephalogram (EEG) activity and behavioural patterns, wearable data, genetics and other factors, to drive targeted drug development in mental health.
Using GlobalData's Drugs Database and a series of searches relating to AI, more than 490 unique drugs from over 140 different companies have been detected that have been discovered using AI-based technologies. These companies include specialist AI vendors that provide services to the pharma industry, as well as small biotechs that have developed drug pipelines using in-house AI technology, such as Alto Neuroscience. Figure 1 shows the top companies by number of drugs developed using AI-based technologies, with AI vendor Recursion Pharmaceuticals leading with 82 drugs in various stages of early development, with many of these candidates inactive.
However, as shown in Figure 2, Alto Neuroscience has the most drugs in clinical development, including three in Phase II studies for major depressive disorder (MDD) and post-traumatic stress disorder (PTSD) (ALTO-100, ALTO-202 and ALTO-300), and eight in Phase I for unspecified psychiatric disorders.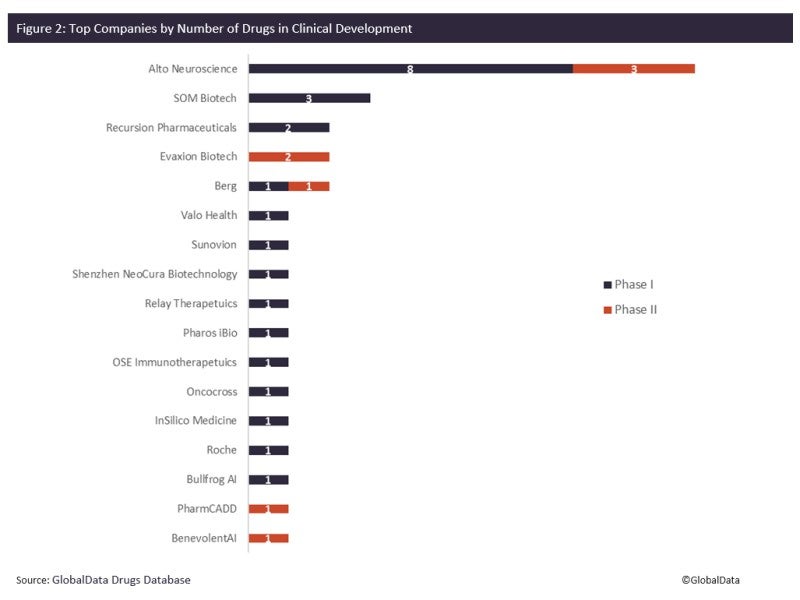 In December 2021, Cerebral, a mental health startup, and Alto Neuroscience announced a partnership to launch a decentralised clinical study in precision psychiatry aiming to boost drug development and treatments for patients with mental disorders. The companies will conduct Phase II studies to evaluate Alto Neuroscience's drug candidates for psychiatric conditions and enrol around 300 participants from Cerebral's member network. Participants will then undergo in-home evaluations measuring their brain activity, sleep, activity patterns and genetics, in addition to clinical outcomes such as depression and PTSD. Using Alto Neuroscience's analytical approach to predicting patient outcomes, it will assess whether certain biomarkers are the best way to identify patients most likely to benefit from a given drug candidate. The Phase II study is expected to complete in 2022. This collaboration will tackle the disruption challenges and traditional treatment options that the psychiatric sector has faced for decades and aims to provide patients with easier access to care.