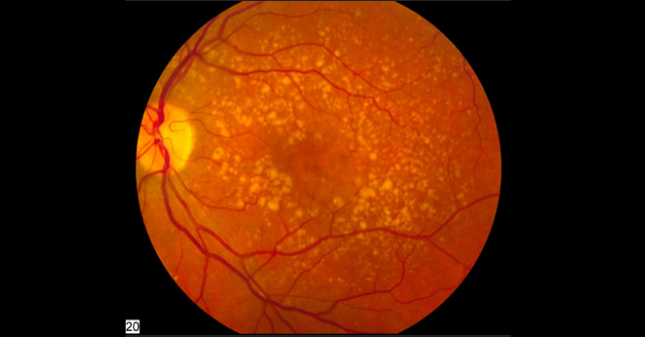 Apellis Pharmaceuticals is unlikely to resume its Phase III geographic atrophy (GA) trials by year-end 2018 (YE18) as there is not enough time to present all the required assurances to the US Food and Drug Administration regarding the reported endophthalmitis (inflammation of the eye interior) cases, said two investigators on the sidelines of the recent American Academy of Ophthalmology annual meeting in Chicago, Illinois.
GA, also known as atrophic age-related macular degeneration (AMD), or advanced dry AMD, is an advanced form of AMD that can result in the progressive and irreversible loss of the retina.
Apellis announced on 17 October that it had voluntarily paused its two parallel 600-patient Phase III trials (NCT03525600, NCT03525613) due to cases of noninfectious inflammation, which it believes stems from a single isolated lot of APL-2, according to an 8K filing. Apellis' $935m market cap took a beating as shares dropped 17% on 18 October. The company stated it expects to resume dosing by YE18 and does not expect delays to its projected enrollment timeline of 18 months.
However, one investigator noted that internal company and investigator meeting discussions suggested that the needed changes might be time-consuming, and a first quarter of 2019 (1Q19) timeline might be a more realistic target given that upcoming US holidays (Thanksgiving and Christmas) will slow down preparation of information. The second investigator agreed that the holidays are likely to delay timelines, with a more realistic timeline being early 2019 for trial resumption.
The company was unable to comment by deadline.
Both investigators agreed with the assessment that the inflammation cases were likely to be lot-related as there were no such cases in the 240-patient Phase II FILLY trial (NCT02503332). Four enrolled patients in the GA Phase III and four patients in a wet AMD Phase II experienced noninfectious inflammation, according to the filings.
Analysts were surprised by the hold, particularly because they viewed Phase II efficacy as promising, and expect the events to be lot-specific.
As a manufacturing-related issue, Apellis would have to make changes to ensure a more stringent quality assurance (QA) process, and this will involve tracking down which part of the process caused the lapse, said the first investigator, who is also a consultant to the company. He noted that this process is expected to be complicated and time-consuming and it's unlikely Apellis could have all materials prepared and submitted to the FDA for a response back before YE18. However, the second investigator said, as APL-2 is the company's lead candidate, Apellis would be doing all it can to resume by YE18, which is not entirely impossible.
While a YE18 resumption may not affect the original projected enrollment timeline, an end 1Q19 start would make maintaining timelines challenging, the first investigator said. The second investigator agreed that an early 2019 resumption would make it challenging to stay on track.
Analysts predict global peak sales to reach $3.7bn by 2031, with $2.3bn coming from US sales. Apellis has a current market cap of $711m.
Infection safety still in question
According to a 22 February press release, the FILLY data showed that the monthly dosing achieved its primary endpoint, with a 29% lesion growth difference from sham (p=0.008), but there are still lingering questions about its infection safety, as APL-2 works by inhibiting complement C3, understood to be vital for the immune system, said the second investigator.
Roche's lampalizumab—a complement inhibitor that works by targeting factor D—did not show any efficacy signals or safety concerns, but the fact that APL-2 is showing activity on the complement pathway consequentially does raise infection risks, especially in the long-term, he added. The first investigator agreed that C3-related safety should be watched closely, and the Phase III trials will help provide clarity on the issue.
by Shuan Sim in Chicago
Shuan Sim is a reporter for Pharmaceutical Technology parent company GlobalData's investigative journalism team. A version of this article originally appeared on the Insights module of GlobalData's Pharmaceutical Intelligence Center. To access more articles like this, visit GlobalData.