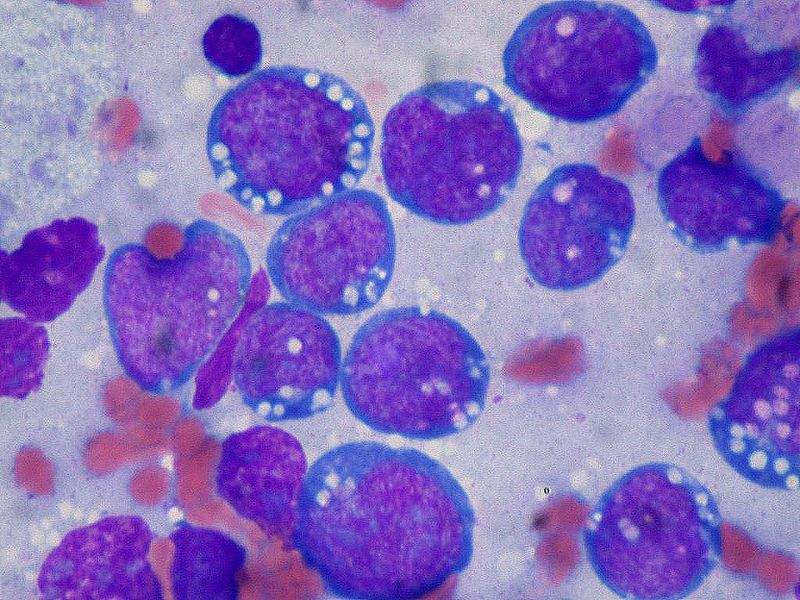 Updated Phase II data for Roche's polatuzumab vedotin in relapsed / refractory (R/R) follicular lymphoma (FL) and diffuse large b-cell lymphoma (DLBCL) patients were presented by Laurie Sehn, MD, during the 2018 ASCO conference.
The agent is a first-in-class anti-CD79b antibody drug conjugate. While data for FL patients showed no significant difference with the addition of polatuzumab, data for DLBCL patients was highly encouraging – which bodes well for the ongoing Phase III trial in that indication (POLARIX, NCT03274492) which is due to reach its primary completion date in December 2019.
Dr Sehn reported results from Phase II randomised cohorts of bendamustine and rituximab (BR) versus polatuzumab and BR (pola-BR), in a one-to-one fashion, in both R/R FL and R/R DLBCL patients. BR is a regimen that is commonly used in both first line and R/R settings of FL and DLBCL. A total of 80 FL patients were randomised, however, there was no efficacy difference between the pola-BR and BR cohorts.
A total of 80 DLBCL patients were also randomised, and the pola-BR cohort in these patients showed significantly higher response rates – demonstrating a PET CR of 40%, as compared to only 15% in the BR cohort. This resulted in significantly higher progression-free survival and median overall survival for pola-BR in DLBCL patients, of 6.7 months versus two months, and  11.8 months versus 4.7 months, respectively, compared to BR. PET CR rates and survival times were significantly improved in the pola-BR cohort, regardless of the number of lines of therapy previously received or patient's refractory status. The combined FL and DLBCL pola-BR cohorts did demonstrate a higher rate of adverse events across the board, with neutropenia being the most common one, and a higher rate of serious adverse events.
The results in FL suggest that pola-BR is not a valid treatment option for those patients. However, the encouraging results in DLBCL patients highlight polatuzumab vedotin as a drug which has the potential to alter the R/R DLBCL standard of care.
In the first-line DLBCL setting, session discussant Alison Moskowitz, MD, noted that R-CHOP (rituximab in combination with chemotherapy) is the standard of care for most patients. She noted that the ongoing POLARIX study, which is evaluating polatuzumab with R-CHP, versus R-CHOP, in untreated DLBCL patients, will help answer the question of whether this agent could also alter first-line DLBCL therapy.
Polatuzumab vedotin has received Breakthrough Therapy designation and priority medicines designation by the FDA and EMA for patients with R/R DLBCL. As discussed, the Phase III POLARIX trial is in untreated DLBCL patients, while the Phase II trial in FL and DLBCL was in R/R patients, and so polatuzumab vedotin has the potential to become approved across all lines of DLBCL therapy. The only other approved targeted therapy in first-line DLBCL is rituximab. Prior to patent expiry for Rituxan, Roche held dominance in the first-line setting. Given that rituximab biosimilars are now approved, an approval for polatuzumab vedotin would allow Roche to maintain some dominance in that setting, while an approval in the R/R setting would allow it to compete with Celgene's Revlimid (lenalidomide).
The POLARIX trial read-out by December 2019 will clarify some of the remaining questions regarding polatuzumab vedotin in first-line DLBCL, but based on the Phase II results presented, it also has the potential to alter the R/R DLBCL standard of care.
Related Reports
GlobalData (2018) B-Cell Non-Hodgkin's Lymphoma (NHL): Opportunity Analysis and Forecasts to 2027, to be published
For more insight and data, visit the GlobalData Report Store – Pharmaceutical Technology is part of GlobalData Plc.