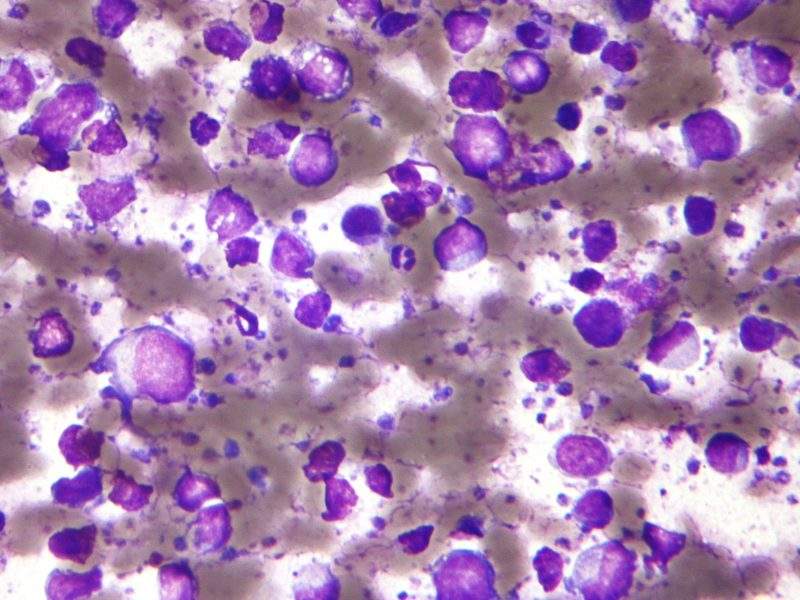 Updated data from the pivotal Phase I TRANSCEND-NHL-001 trial evaluating Juno Therapeutics' (Celgene) CAR-T candidate JCAR017 in aggressive non-Hodgkin's lymphoma (NHL) were presented by Jeremy Abramson, MD, MMSc, during the third day of the 2018 Annual American Society of Clinical Oncology (ASCO) conference in Chicago.
Lisocabtagene maraleucel (liso-cel; JCAR017) has previously received a FDA breakthrough therapy designation and these results provide further support for this exciting therapy.
Dr Abramson presented updated safety and long-term clinical outcomes data from the dose-finding and dose-expansion cohorts of the TRANSCEND-NHL-001 (NCT02631044) study, which included 102 patients with diffuse large b-cell lymphoma (DLBCL), the most common form of NHL. He also presented a subset analysis of DLBCL patients who met the criteria for the ongoing pivotal dose cohort. Thirty seven patients received the dose being used in the pivotal cohort, and six-month assessment for these patients showed an objective response rate (ORR) of 49% (95% CI, 32%-66%) and a complete response rate of 46% (95% CI, 30%-63%). These results demonstrate durable responses in high-risk patients with aggressive relapsed / refractory DLBCL.
Across the full population, the most common treatment-emergent adverse events were neutropenia (63%) and anaemia (53%) – which was expected due to the use of lymphodepleting therapy.  37% of patients experienced grade 1/2 cytokine release syndrome (CRS), with only 1% experiencing grade 3/4, and 10% of patients experienced grade 1/2 neurotoxicity, while 13% experienced grade 3/4.
Dr Abramson concluded that liso-cel induced durable responses in poor-prognosis patients, with manageable toxicities at all dose levels tested. If the pivotal trial is successful, liso-cel would join what is quickly becoming a crowded market for third-line relapsed / refractory DLBCL, with Yescarta being approved in this setting in October 2017, followed by Kymriah in May 2018. Following Dr Abramson's presentation, session discussant Caron Jacobson, MD, MMSc, stated that current data for liso-cel is competitive with those agents in terms of efficacy, durability of response and safety, although she explained the need to be cautious when comparing data across studies, given patient eligibility differences. She believes that comparative data may come from single institution experiences with all three therapies.
Dr Jacobson looked forward to the future for CAR-T therapies in lymphomas, hoping we will see new indications such as mantle cell lymphoma, indolent NHL and chronic lymphocytic leukaemia, incorporation of therapy into second-line settings for high-risk patients, new combinations with chemotherapy and immunotherapy agents, and improvement in CAR-T technology allowing for 'off-the-shelf' therapy.
In the short term, introduction of liso-cel as the third CAR-T in the DLBCL market would increase competition and may help to reduce the costs of these agents. For example, Kymriah is priced at $475,000 in acute lymphoblastic leukaemia where it faces no competition. However, in DLBCL the agent price-matched Yescarta at $373,000. Given those agents possess advantages of earlier market entry, Celgene may choose to price liso-cel at a lower price in order to compete – which may lead to a further downward trend in prices for these exciting therapies. However, it is also possible that the company may choose to price liso-cel at $373,000 or higher, given that Celgene's president believes that the updated results continue to support a potential best-in-class CD19 CAR-T profile for liso-cel. Whichever approach Celgene takes with this therapy, it is clear that its approval would mark a notable shift in this market.
Related Reports
GlobalData (2018) B-Cell Non-Hodgkin's Lymphoma (NHL): Opportunity Analysis and Forecasts to 2027, to be published
For more insight and data, visit the GlobalData Report Store – Pharmaceutical Technology is part of GlobalData Plc.