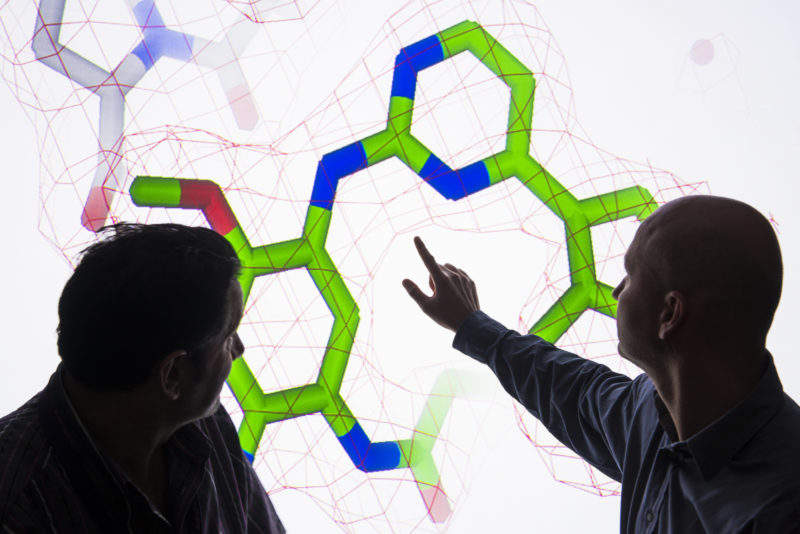 AstraZeneca is unlikely to find a distinct spot for Imfinzi (durvalumab) combined with tremelimumab in the highly coveted first-line (1L) non-small-cell lung cancer (NSCLC) space due to competition with immunotherapy (IO) combinations with chemotherapy and a lack of biomarker or toxicity advantages over other IO-only combinations.
Merck's Keytruda (pembrolizumab) is the frontrunner, with an estimated 80% market share in the 1L NSCLC space and NSCLC revenues potentially set to reach $8.5bn by 2022.
On 27 July 2017, AstraZeneca announced that the Phase III MYSTIC trial of Imfinzi/tremelimumab failed on its progression-free survival (PFS) endpoint, resulting in a 15% stock drop. PFS is a common outcome measured in NSCLC studies, and is the length of time during and after the treatment of a disease that a patient lives with the disease but does not get worse.
Overall survival (OS) endpoint data is expected in the second half of 2018. OS is the gold standard endpoint for clinical trials assessing the efficacy of cancer treatments but the measure often requires large patient numbers and long follow-ups. Prior to the MYSTIC announcement, analysts estimated $4bn peak sales for Imfinzi but now forecast $2.2bn by 2020. Other top NSCLC contenders include Bristol-Myers Squibb's Opdivo (nivolumab) and Roche's Tecentriq (atezolizumab), estimated to make $3bn and $1.6bn, respectively.
Even if the Phase III MYSTIC study proves an OS improvement over chemotherapy, experts said the field has moved on to a Keytruda/chemotherapy combination as standard-of-care (SOC). SOC is the treatment regimen prescribed first-line by physicians. This makes MYSTIC data interpretation tough, especially if any potential improvement is restricted to PD-L1 positive patients only, they said.
Imfinzi is a PD-L1 inhibitor approved in the second-line for unresectable Stage III NSCLC and second-line metastatic urothelial cancer, while tremelimumab is an unapproved CTLA-4 inhibitor. Programmed death-ligand 1 (PD-L1) is a cellular protein used as a biomarker to stratify patients or identify those most likely to respond. Experts said that Imfinzi's uptake would be further hit by the inability to find a niche where Keytruda will not be applicable, as done by BMS with its tumour mutation burden (TMB) biomarker data for Opdivo/Yervoy (ipilimumab).
An AstraZeneca spokesperson declined to comment on the Phase III results or potential placement for Imfinzi/tremelimumab in the 1L NSCLC space.
Hard to enter established 1L NSCLC space
Even if MYSTIC and NEPTUNE – two Phase III trials evaluating Imfinzi/tremelimumab in 1L NSCLC – are positive, they may not be practice-changing, said an oncologist. The new SOC is Eli Lilly's Alimta (pemetrexed) combined with Keytruda/chemotherapy based on Keynote-189 data, and it has been enthusiastically accepted, said the first oncologist and a second oncologist. The combination induced a PFS advantage of 3.9 months and a hazard ratio of 0.49 for OS at the interim data cutoff, compared to chemotherapy.
The combination was recently approved for 1L metastatic nonsquamous NSCLC treatment. Keytruda/chemotherapy also improved PFS and OS in the squamous NSCLC population in Keynote-407. MYSTIC and NEPTUNE are unlikely to generate PFS and OS advantages that will better Keytruda/chemotherapy, even if they are positive, said the first oncologist. A modest benefit to outdated options may even impact an FDA approval outcome, said the second oncologist.
Furthermore, if the MYSTIC study is positive only in the subset of PD-L1 positive patients, it would still be a subgroup analysis and need a larger follow-up trial to justify statistical significance, unless powered appropriately, said Dr Lillian Siu, director of the Phase I Program at Princess Margaret Hospital in Toronto, who has experience with statistical design of immunotherapy trials. BMS's Checkmate-227, which studied Opdivo/Yervoy, faced a similar challenge, where despite being significant, results likely needed follow-up data, since it stemmed from a subgroup, as reported on 8 June.
Imfinzi was approved in Stage III NSCLC based on the PACIFIC study showing efficacy in patients whose disease had not progressed following concurrent platinum-based chemoradiation. In Stage III, tumours are more than three centimetres wide and have spread to the lymph nodes in the centre of the chest or outside the lung. While PACIFIC proved Imfinzi's activity, tremelimumab – unlike BMS's approved CTLA-4 agent Yervoy – has not shown impressive efficacy in melanoma, said the second oncologist. CTLA-4 is a protein receptor that, functioning as an immune checkpoint, downregulates immune responses. In the lung cancer space, Imfinzi is approved only to treat Stage III NSCLC tumours, while other checkpoint inhibitors such as Keytruda, Tecentriq and Opdivo are approved or have positive Phase III data in earlier lines.
However, a third oncologist who is involved with the trial design said that if MYSTIC is positive, the combination could still have utility in guiding if patients can get a checkpoint inhibitor-only combination like Imfinzi/tremelimumab in 1L. Checkpoint inhibitors are a type of immunotherapy that block proteins that stop the immune system from attacking the cancer cells. Imfinzi monotherapy or combination could also be explored in the neoadjuvant setting for NSCLC, where there are no approved therapies, said Dr Bertrand Mennecier, oncologist at Les Hopitaux Universitaires de Strasbourg, France. Neoadjuvant therapy is the administration of therapeutic agents before a main treatment.
BMS has edge over AZ with TMB biomarker
MYSTIC continues to rely on the PD-L1 biomarker, placing it squarely in the same space as Keytruda/chemotherapy where the latter has an established lead, said experts. While Keytruda is the broad 1L NSCLC frontrunner, they pointed to BMS's positive PFS data with Opdivo/Yervoy in a subset of patients with a high TMB, the company's biomarker of choice. In Checkmate-227's exploratory analysis, one-year PFS rates of patients with ≥ 10 mutations/megabase (mut/Mb) and PD-L1 expression <1% was 45% with Opdivo/Yervoy, 27% with Opdivo/chemotherapy and 8% with chemotherapy, as per a 4 June press release. FDA accepted BMS's filing for Opdivo/Yervoy's 1L NSCLC approval in high-TMB patients with ≥ 10mutations/Mb, which constitutes 40%-45% of NSCLC, as per a 21 June press release.
The TMB-high/PD-L1 low population results were significant because they would not have received Keytruda monotherapy, since its label reserves it only for PD-L1 high patients, the third oncologist said. The Checkmate-227 result highlights the potential for the TMB biomarker to enhance the field's ability to identify niche responders, said the first oncologist.
Experts pointed to the choice of PD-L1 biomarker used in MYSTIC – same as Keytruda – to enrich the patient pool, while BMS's TMB allowed for another distinct strategy to select patients who may be missed by the PD-L1 biomarker alone. Depending on access, TMB testing could be integrated into SOC along with PD-L1 testing to identify which combination may be best, said the third oncologist, adding this would carve a clear market for Opdivo/Yervoy where Keytruda doesn't apply as monotherapy. Experts agreed this leaves Imfinzi/tremelimumab's positioning less clear.
However, despite this advantage, TMB test accessibility will be the challenge, said Mennecier, based on the experience thus far in France. This news service reported on 6 June that the turnaround times and costs for the test will limit Opdivo/Yervoy's uptake.
Generally, a PD-1 or PD-L1/CTLA-4 combination is attractive for those who want to avoid chemotherapy; however, even if Imfinzi/tremelimumab has good safety signals based on earlier Phase I/II  data, it is still more toxic than a checkpoint inhibitor/chemotherapy combination, the second oncologist added. Comparatively, while the Opdivo/Yervoy combination had toxicity concerns based on melanoma data, the lower Yervoy dose – 1mg/kg every six weeks instead of 3mg/kg every 3 weeks – used in lung cancer compared to melanoma has mitigated the side effects, said Mennecier.
The Imfinzi/tremelimumab combination has more diarrhea associated with it compared to other checkpoint inhibitor/chemotherapy combinations, said Dr Alex Spira, medical oncologist, Virginia Cancer Specialists, Fairfax. He added that in general, the adverse event profile of a checkpoint inhibitor-only combination is not very favourable in comparison to a checkpoint inhibitor/chemotherapy duo.
by Manasi Vaidya in New York
Manasi Vaidya is a senior reporter for Pharmaceutical Technology parent company GlobalData's investigative journalism team. A version of this article originally appeared on the Insights module of GlobalData's Pharmaceutical Intelligence Center. To access more articles like this, visit GlobalData.