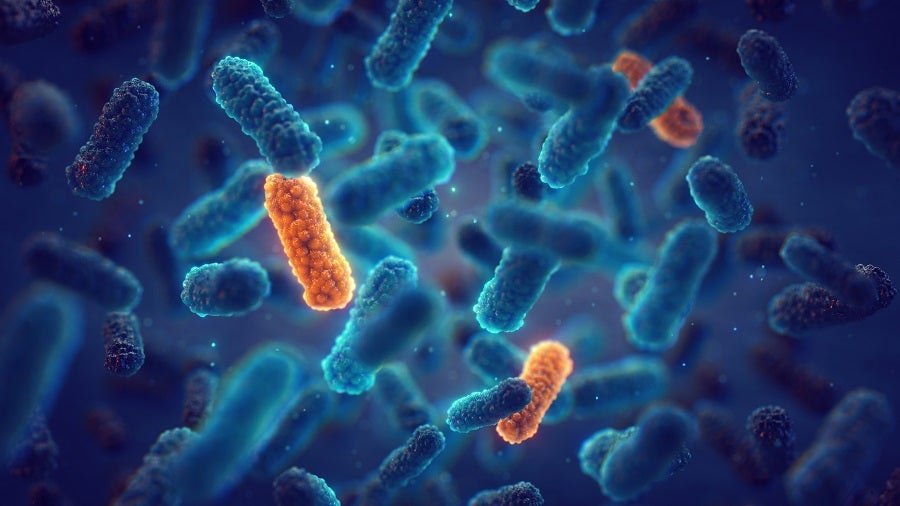 As the UK tackles a significant number of Strep A infections among children in the final months of 2022, the topic of antimicrobial resistance (AMR), has once again been brought to the fore. By 2050, AMR is expected to become one of the leading causes of death worldwide, causing up to 10 million deaths per year by 2050 according to the World Health Organization (WHO).
The antibiotic conundrum
Antibiotics are the go-to treatment for bacterial infections in developed countries, such as Strep A. However, antibiotic treatment faces two key challenges.
Firstly, supply chain shortages threaten children unable to access antibiotic treatment early in the infection. Local UK pharmacies are already reporting and forecasting future shortages of antibiotics to treat Strep A infections.
Secondly, antibiotics are not a permanent solution. Bacteria naturally develop resistance to antibiotics over time, through genetic mutation, horizontal gene transfer between bacteria, or because of selective pressure. Antibiotic resistance can develop days or weeks after starting antibiotic treatment, accelerated by selective pressure. Given the dwindling number of new antibiotics reaching the market, many companies and research groups are steering the direction toward novel treatments such as bacteriophage (phage) therapy.
Virus versus bacteria
Phages are viruses of bacteria. In the same way that viruses attack human cells and replicate using machinery in the human cell, phages insert their DNA into a bacterial cell through transduction. Phages are lytic or temperate. Lytic phages integrate their DNA into the bacterial cell, where it is read and transcribed, producing more phages, which then release lysins to destroy the bacterial cell, and move on to infect new bacterial cells. Temperate phages integrate their DNA into the host bacterial cell in the same manner but do not lyse the host cell immediately.
Given their ability to destroy bacteria, lytic phages can be used as a treatment for bacterial infections. Use cases for phage therapy are huge, from the treatment of chronic wound infections or chest infections in patients with cystic fibrosis, to sepsis or diabetic foot infections. Phages are even used for treating infections in livestock and pets.
While countries in eastern Europe have used phage therapy for decades, in the rest of Europe, North America, South and Central America, and across the Asia Pacific region, the therapy is not widely available.
What is the catch?
There are many reasons why phage therapy is not generally available over the counter worldwide. First of which is that there is skepticism about the treatment because of limited clinical data on the effectiveness and safety of phage therapy in humans, with very few large-scale clinical trials conducted. Part of the reason for a lack of large-scale clinical trials is that the therapy is still quite nascent and, as a result, the regulatory frameworks are not well-established, making it harder to bring to market. Meanwhile, in countries such as Russia, phage therapy has simply been used despite the lack of evidence, for example in the prevention of a cholera epidemic in the 1930s and the treatment of World War II soldiers.
Secondly, the relationships between phages and bacteria are very specific. Each phage is specific to a certain group of bacteria and given that only lytic phages are useful for phage therapy, it can take some time to find the correct phage for a specific infection. A study in 2020 led by Saima Aslam found that it can take between a month and over a year between asking for a phage for a particular infection, and finding and administering it. However, progress by companies such as Locus Biosciences in creating 'phage cocktails' could help to overcome this problem with a broader target range.
Phage therapy is also plagued with the same issue as antibiotics; bacteria can become resistant to phages through selective pressure, genetic mutation, or horizontal gene transfer. Once bacteria become resistant to a specific phage, a new phage is required to treat the infection, bringing us back to the prior challenge. However, evidence from another study in 2020, led by Carmen Liu, found that phage resistance could also lead to antibiotic susceptibility. Introducing phage and antibiotic therapies together could help to promote the efficacy of treatment.
Because of resistance, phage therapy developers are also subject to the same financial challenges as antibiotic developers. Not only is the discovery and development process slow and expensive, but antibiotics are also cheaper and restricted in use to slow down selective pressure in the time for antibiotic resistance to appear. Phage therapy manufacturers will suffer from the same struggles as antibiotic developers, as well as the struggles faced by manufacturers of any viral medical treatment, as phages are living and can mutate while in storage.
Is there a future for phage therapy?
If phage therapy is to help us to reduce the deaths caused by AMR by 2050 all groups across the pharmaceutical value chain will need to be involved. Companies involved in R&D will need to prove safety and efficacy in clinical trials, regulators will need to establish frameworks that help to enable those trials, and governments will need to incentivize investment from financiers in AMR treatment.