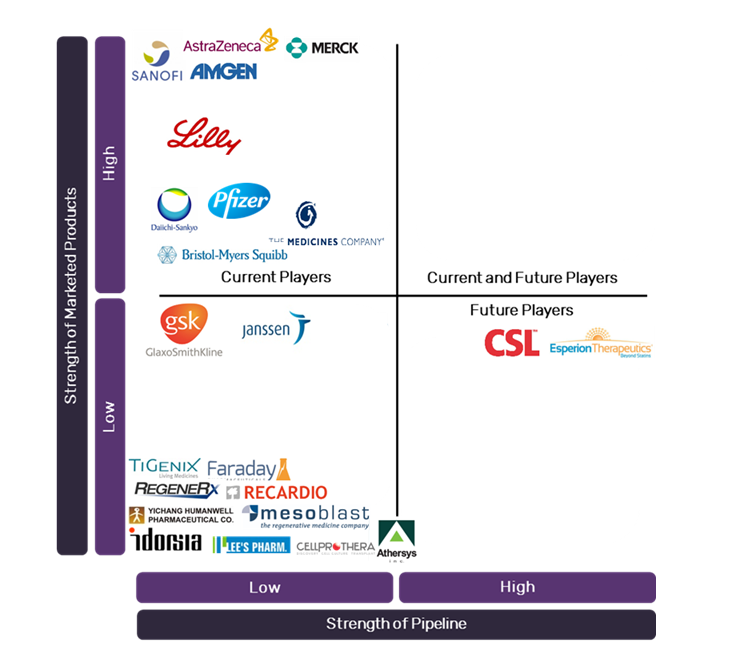 Despite the increasing incidence of acute coronary syndrome (ACS) in the West, the drug development pipeline to treat it is sparse. In 2017, following their failures to meet endpoints in Phase III clinical trials, Merck's Anacetrapib and Amgen 's AMG-899 were scrapped, seeing an end to the once much-anticipated cholesterylester transfer protein CETP inhibitors.
There are only two remaining agents in late-stage development for the treatment of ACS. Indeed, of the 112 products across all stages of development, 74% are classified as in either discovery or preclinical stages.
The early-stage ACS pipeline is dominated by small independent biopharmaceutical companies, with Big Pharma investing little in the development of new products for ACS. CSL Ltd.'s CSL-112 and Esperion Therapeutics' ETC-1002 are both promising lipid-modifying agents in Phase III trials, and the only products on track to reach the market in the near future. The current ACS market is overcrowded with cheap generic therapies, putting pressure on Big Pharma to innovatively fulfil unmet needs to ensure profitability.