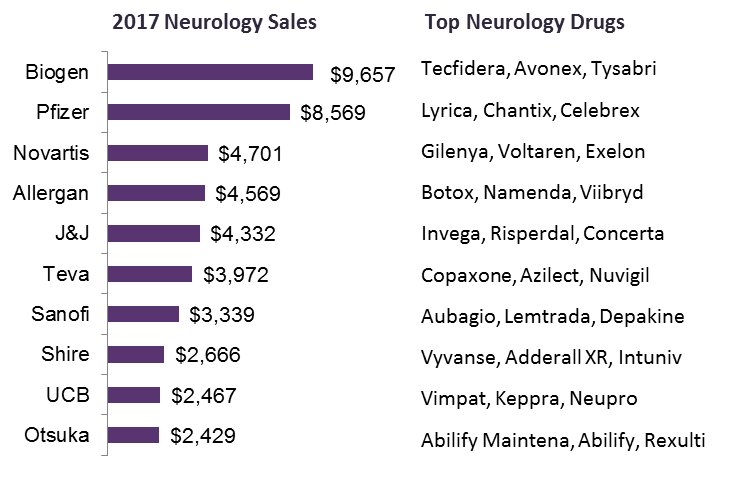 Among the top 10 players in neurology, Biogen is the only company that generated more than 50% of its total sales from neurology products, the vast majority of which are derived from its broad multiple sclerosis (MS) portfolio, including Tecfidera, Avonex, and Tysabri.
The company is expected to maintain its dominating position in neurology thanks to its strong foothold in the MS market and a promising pipeline that sees Biogen aiming to reduce its dependence on an increasingly competitive MS market. Its recently launched orphan drug for spinal muscular atrophy, Spinraza, represents one of the most costly drugs, and it is expected to be the most significant sales growth driver within neurology.
Top 10 companies in neurology, 2017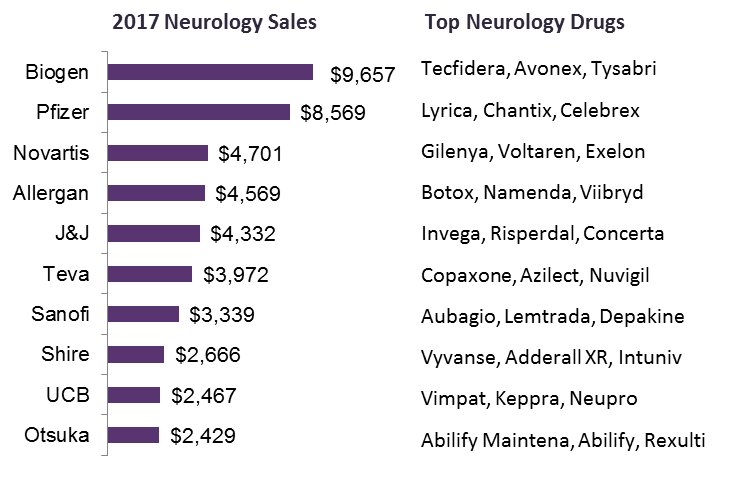 Source: GlobalData Pharma Intelligence Center
By contrast, Pfizer is expected to see the sharpest decline in sales, losing $4.3bn by 2023 due to strong generic sales erosion of several neurology brands, including Lyrica, which is the highest selling neurology brand, in addition to eight other mature brands (Pristiq, Relpax, Chantix, Zoloft, Celebrex, Neurontin, Effexor, and Xanax).
J&J and Teva are the only other two companies that will also see a decline in their neurology sales, although at a more modest rate than Pfizer. Although J&J's and Teva's neurology portfolios are smaller and more focused than Pfizer's, they are not insulated from generic erosion of key neurology brands.
Indeed Teva's three neurology brands – Copaxone, Azilect, and Nuvigil – are all expected to see declining sales. Similarly, J&J's Invega, Concerta, and Risperdal Consta will also see waning sales. The difference, however, is that J&J and Teva both have pipeline assets in neurology, while Pfizer's recent announcement that it will axe its neuroscience division suggests that Pfizer's future neurology presence will take a tumble.