The biotech initial public offering (IPO) market saw a 79% decline in the number of completed IPOs from 2021 to 2022 in the US; however, this comes after the IPO boom in 2020 and 2021, according to GlobalData's Pharma Intelligence Center Deals Database.
An initial public offering is a process in which a private company sells its shares on the stock exchange to become public. There was an influx of early-stage companies that went public in 2020 and 2021 with high company valuations that have since declined. This has made investors increasingly cautious going into 2022, along with other factors affecting market stability such as the recent announcement from the US Federal Reserve, where interest rates were raised again to curb inflation. These challenges created a difficult climate for start-ups seeking to go public, but if interest rates ease later this year or next year, this could see a comeback of the IPO market.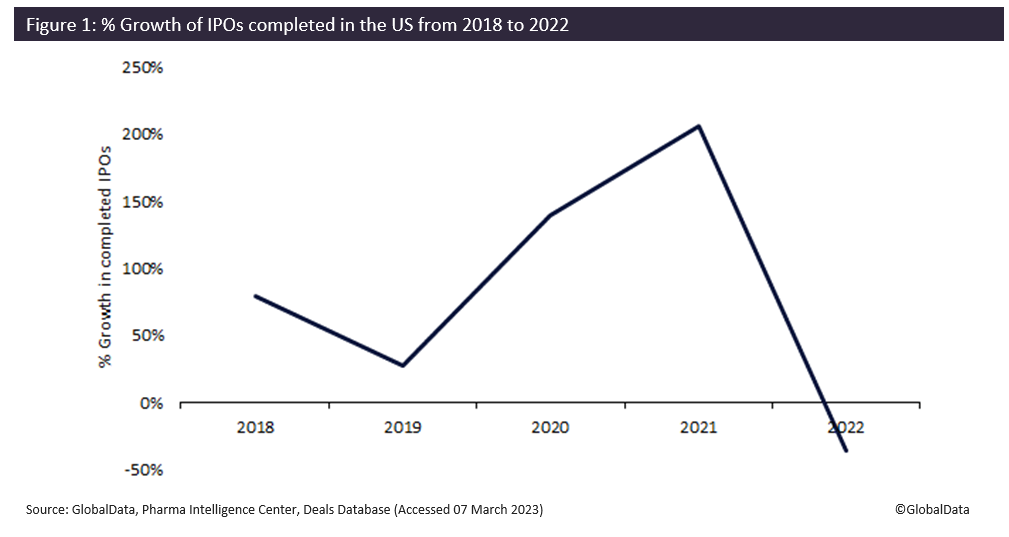 Note: Includes all completed deals from 2018 to 2022 as a % growth from the baseline year 2017. Includes IPO deals for target companies located in the US.
Figure 1 shows there were more than 300 completed IPOs from 2018 to 2022 in the US that involved over 560 biotechs. According to GlobalData's Pharma Intelligence Center Deals Database, 46% of IPOs completed in 2021 were in the discovery, preclinical, and phase I stages of development as their most advanced drug development stage at the time of the deal, highlighting a large proportion of companies going public in early-stage development.
In 2022, the biotech IPO market saw fewer offerings, and those that did manage to go public saw a downturn in stock price. This made investors become increasingly cautious, particularly with early-stage companies favouring companies that already have drug candidates in clinical trials. One notable example of an IPO completed in 2022 is US-based Amylyx Pharmaceuticals, which has early-stage and late-stage drugs for neurodegenerative disorders. In addition, US-based Prime Medicine, which has early-stage discovery and preclinical gene therapies for multiple indications, also went public in 2022.
The nosedive in completed IPOs in 2022 was seen across biotech and multiple sectors. The current economic climate continues to present challenges for private biotechs looking to go public, especially with interest raised in the US again to just under 5%. However, it remains to be seen when interest rates will ease and markets stabilise to improve investor confidence in supporting more companies to go public. This would in turn lead to more early-stage biotech companies going public, driving innovation in drug development, and creating further opportunities for collaboration within the broader biopharmaceutical industry.