Silicon Valley Bank (SVB), the 16th largest bank in the US, collapsed on Friday 10 March. Its operations were seized by the Federal Deposit Insurance Corporation after a nearly two-day bank run that resulted in approximately $175bn of customer deposits being put at risk.
News of the SVB crisis spread quickly from 8–10 March and into the weekend, and the US government finally announced on 12 March that commercial clients would be able to access all of their funds. Upon initial collapse, the impact was expected to be devastating to SVB's clients, which include many startups in technology and life sciences. Despite Sunday evening's seemingly positive announcement, there will continue to be many global impacts resulting from the bank's collapse.
An immediate outcome will be the evaluation of financial strategies across companies globally, particularly SVB's former clients. There is a growing list of companies that have disclosed they were clients of the bank – the materiality of their cash deposits with SVB has varied in range, with some claiming minimal impact and some risking immediate bankruptcy. Axsome Therapeutics was early to announce it would be heavily impacted, as SVB was one of two banks the company used for cash deposits.
While SVB's full client list will never be known, investors and players in the biotechnology space can better understand potential companies that are reshaping their financial operations using GlobalData. In a company report from July last year, SVB boasted that its commercial client list included almost 50% of US venture capital (VC) backed companies within the technology and life sciences sectors.
There are 1,785 VC-backed biopharmaceutical companies in the US. Although the bank has a strong presence across the US, the bank's name, headquarters location in Santa Clara, and sectors of focus puts a spotlight on potential clients in SVB's own backyard. There are 288 VC-backed pharmaceutical companies located in Silicon Valley and the wider Bay Area (Figure 1). Although many early-stage companies have not publicly disclosed their technologies or platforms yet, these companies in California have the rights to 689 disclosed drugs that are actively being developed.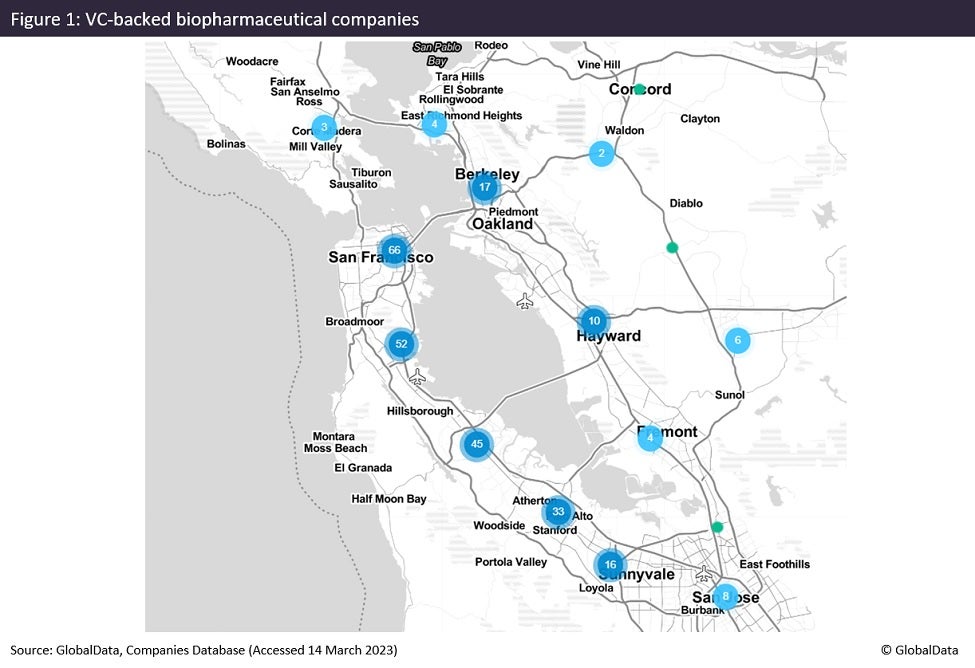 It could also be assumed there are some mutual companies between Silicon Valley Bank and SVB Securities or SVB Capital, where the sister companies had acted in an advisory or venture capital investor capacity. SVB Financial Group has been involved in at least 24 venture financing rounds in the pharmaceutical space since 2015, including Arcus Biosciences, Precision Biosciences, Concert Heath, and Kinnate Biopharma.
In that same SVB company report, it also stated that of all US venture-backed companies with initial public offerings (IPOs) during the first half of 2022 (within those sectors), 52% banked with SVB. There were 33 pharmaceutical IPOs completed globally during that period worth a total of $3.9bn, with another 51 IPOs announced, but not completed. For US-based companies, there were 13 IPOs completed during that timeframe totalling nearly $1.8bn, including the $69m IPO of California-based AN2 Therapeutics. SVB Securities was one of the underwriters on that deal.