The development of drugs for the treatment of rare neurological diseases has exploded over the last decade. While significant progress has been made in some indications, others are only beginning to see burgeoning interest from drug developers. Figure 1 depicts the top ten rare neurological diseases by the number of drugs currently in development in the 7MM (US, France, Germany, Italy, Spain, UK and Japan) segmented by developmental phase.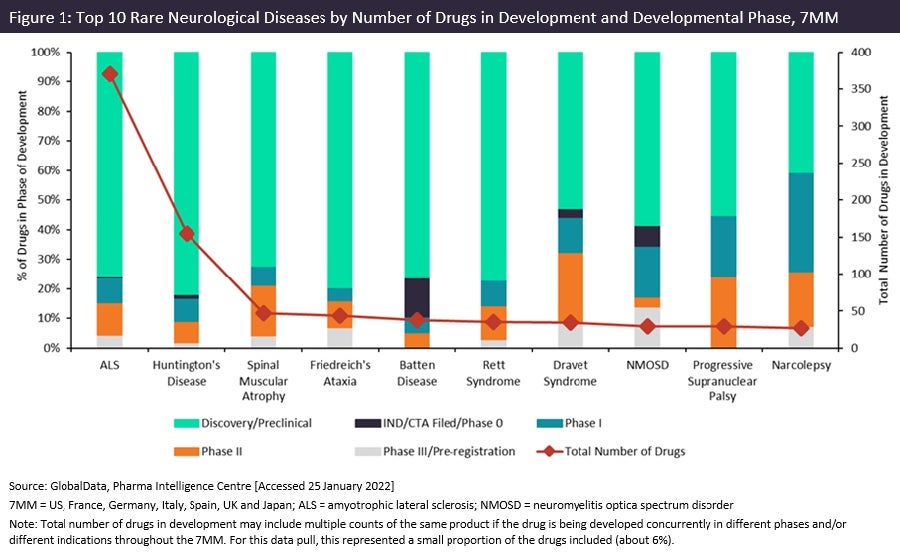 For the overall number of products in the pipeline, amyotrophic lateral sclerosis (ALS) and Huntington's disease far surpass the other eight indications, which average at between 25 and 50 drugs each. ALS and Huntington's also have the largest number of marketed products available in the 7MM, although disease-modifying therapies remain elusive. Regarding breakdown by phase of development, ALS and Huntington's show similar patterns to spinal muscular atrophy, Friedreich's ataxia and Rett syndrome, each with 70–80% of pipeline products in the discovery/preclinical phase and 2–7% in Phase III/pre-registration. These three indications currently have no marketed products available in the 7MM.
Of the ten indications covered, the Batten disease pipeline trends the most strongly towards earlier stages of development, with only 5% of drugs in Phase II trials or later. Batten disease does have one marketed product available, namely BioMarin's Brineura (cerliponase alfa), but overall, the pipeline appears to need more time to mature.
In the four final indications, lower percentages of their pipelines go toward discovery/preclinical products (around 52%) while higher percentages go to Phase I development and later (35–60%). Narcolepsy, NMOSD and Dravet syndrome all have several pipeline agents in Phase III/pre-registration, as well as several approved and marketed products in the 7MM. In contrast, progressive supranuclear palsy stands out as having zero products in pre-registration/Phase III, as well as no products currently marketed for the disease.