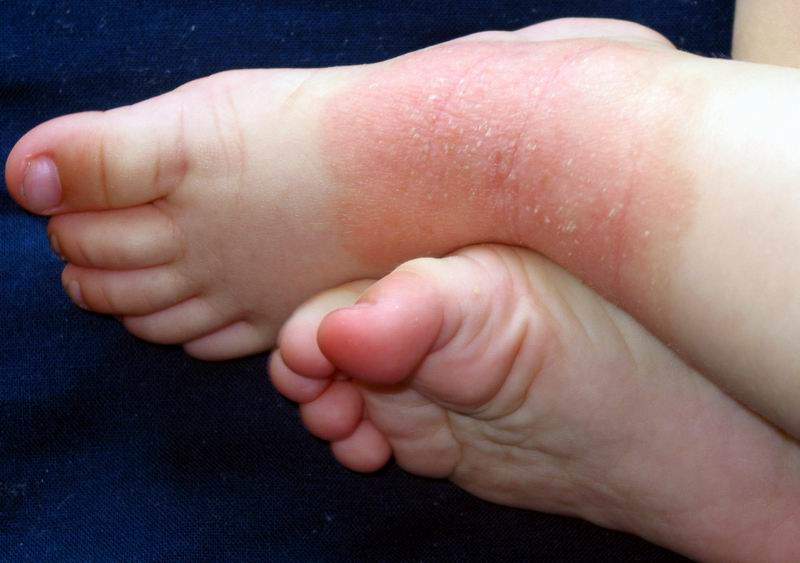 Dermira's lebrikizumab Phase IIb trial for atopic dermatitis (AD) has a better shot at statistical and clinical significance with the exclusion of corticosteroid, a class of steroid hormone, use. The outcome should be able to beat efficacy results of Roche's previous proof-of-concept (POC) trial that tested lebrikizumab with corticosteroids and only achieved a 20% difference versus placebo, the inactive drug or treatment used in a clinical trial.
Atopic dermatitis (eczema) is a condition that makes skin red and itchy. A POC trial is done to test the theory behind a drug. The efficacy difference between the treatment and placebo is expected to be larger as a monotherapy (treatment with a single drug) would also be more clinically relevant to moderate-to-severe AD patients where corticosteroids are often not a viable first-line or initial option.
Top-line or preliminary results of the 275-patient Phase IIb trial are expected to be released in the first half of 2019, according to the company.
Financial analysts predict that Phase IIb trial results will be positive based on the previous POC trial having similar results to other more advanced development pursuits, including Denmark-based Leo Pharma's tralokinumab and Eli Lilly's Olumiant (baricitinib). Experts this news service interviewed noted lebrikizumab comparisons to Regeneron Pharmaceuticals'  Dupixent (dupilumab) boost its chances of achieving a positive outcome or result.
Yet the exclusion of topical corticosteroids (TCS) will offer the greatest boost toward a positive outcome, experts said.
Roche out-licensed lebrikizumab to Dermira in the third quarter of 2017, according to an August 2017 press release. Expected peak sales for lebrikizumab are $1.8bn globally. Dermira's market cap is $485.8m.
Dermira did not respond to a request for comment.
Exclusion of TCS should offer boost vs placebo
Roche's previous 212-patient Phase IIb TREBLE trial required all patients to be on a TCS cream plus lebrikizumab in the moderate-to-severe AD population. TCS is commonly used as a first-line treatment for severe AD but is often not successful, and patients are progressed to either methotrexate (an immune system suppressant) or TCS in combination with biologics, said Dr Jacob Thyssen, clinical professor, Department of Clinical Medicine, University of Copenhagen, Denmark, on the sidelines at the European Academy of Dermatology and Venereology (EADV) 2018 conference in Paris.
In January, Dermira stated its Phase IIb study is designed to evaluate the safety and efficacy of lebrikizumab as a monotherapy and made no mention of the removal of TCS. The use of TCS in the previous trial made lebrikizumab an add-on, or additional, treatment for moderate-to-severe AD patients, said Thyssen and Dr Amy Paller, chair, Department of Dermatology, Northwestern University, Chicago.
The POC trial showed 82.4% of patients achieved a 50% reduction in eczema area and severity index (EASI) score (EASI-50) from baseline to week 12 following four weekly doses of 125mg lebrikizumab versus 62.3% on placebo (p=0.026; Simspson, E et al. J Am Acad Dermatol 2018; 78(5):863–871). All experts noted the 20% difference from placebo was disappointing and lacks clinical significance.
However, Paller and Thyssen noted patients on the placebo arm were also on TCS, therefore lebrikizumab's efficacy potential may have been dampened by the use of TCS in both the treatment and placebo arm, hence the low difference between the two. The Phase IIb has a better chance to show a greater efficacy difference between lebrikizumab monotherapy versus no treatment because of the lack of TCS, said Thyssen and Dr Brett King, associate professor of dermatology, Yale School of Medicine, Connecticut.
Primary and secondary endpoint significance
In the current Phase IIb trial, the primary endpoint is the percent change in EASI from baseline to week 16, the same primary endpoint that was used for Regeneron's 380-patient Phase II trial of Dupixent for moderate-to-severe AD patients, said Thyssen and King. Dupixent Phase IIb trial results demonstrated an EASI score improvement in all doses tested compared to placebo (p<0.001), and at the highest dose of 300mg a week, the EASI score percent change was 74% (Thaci et al. Lancet 2016; 387(10013):40–52).
For the Phase IIb trial of lebrikizumab, a similar result to Dupixent of a percent reduction of EASI of 75% is achievable as Dupixent is an interleukin 13 (IL-13) inhibitor, similar to lebrikizumab, said Thyssen and Dr Brian Kim, assistant professor of dermatology, Washington University School of Medicine, St Louis, on the sidelines of EADV in Paris.
The previous POC trial measured the percentage of patients achieving a 50% reduction from baseline EASI at week 12, while the current trial is evaluating the percentage change in 16 weeks, noted Dr Alexander Alexis, associate professor, dermatology, Mount Sinai Hospital, New York, adding the longer period sets a higher bar for trial success, but the cleaner design gives it a good chance of hitting this endpoint. However, King said 12 versus 16 weeks is unlikely to make a significant difference.
The performance of the secondary endpoint or outcome measure of EASI75 will speak more to the clinical relevance of lebrikizumab, said Alexis and Kim. The primary endpoint of a percent change is an arbitrary measure of reduction and not clinically relevant versus the magnitude of change, said Alexis and Paller. EASI75 also identifies a higher percentage of the regions of the body where AD has improved compared to EASI-50, added Thyssen and Paller.
From looking at the results of the Dupixent trials, Thyssen and Paller said that a reduction of more than 50% of patients achieving EASI75 would be clinically relevant based on comparisons to Dupixent. They said 41.5% of patients who received Dupixent every two weeks achieved EASI75 versus 8% in the placebo arm (p<0.001). Although results for lebrikizumab of EASI75 are expected to be similar to that of Dupixent, Kim, King, Thyssen and Alexis cautioned that the highest dose administered for lebrikizumab (250mg) is lower than the highest dose of Dupixent, 300mg.
For clinical significance, 75–80% patients should achieve EASI75 at week 16, said Alexis, noting this may be achievable. In the previous POC trial, EASI75 was achieved with patients on 125mg every four weeks (54.9%) versus placebo (34%; p=0.036). As there is no TCS included in the current trial, the results for EASI75 will be much higher due to a longer time frame of 16 weeks compared to 12 weeks, said Alexis.
In the POC trial, adverse events (AEs) were similar between groups (66.7% for lebrikizumab versus 66.0% placebo) and mostly mild or moderate. This suggests that no concerning AEs were reported, suggesting similar results for safety will be seen in the current trial, said Thyssen and Paller.
Yet, as lebrikizumab is an IL-13 inhibitor like Dupixent, it does have some side effects such as conjunctivitis and increased eosinophils and longer studies are warranted to determine the risk, said Thyssen and Alexis. At present, the population at risk is not known, added Thyssen.
by Arafa Salam, PhD, in London.
Arafa Salam, PhD, is a reporter for Pharmaceutical Technology parent company GlobalData's investigative journalism team. A version of this article originally appeared on the Insights module of GlobalData's Pharmaceutical Intelligence Center. To access more articles like this, visit GlobalData.