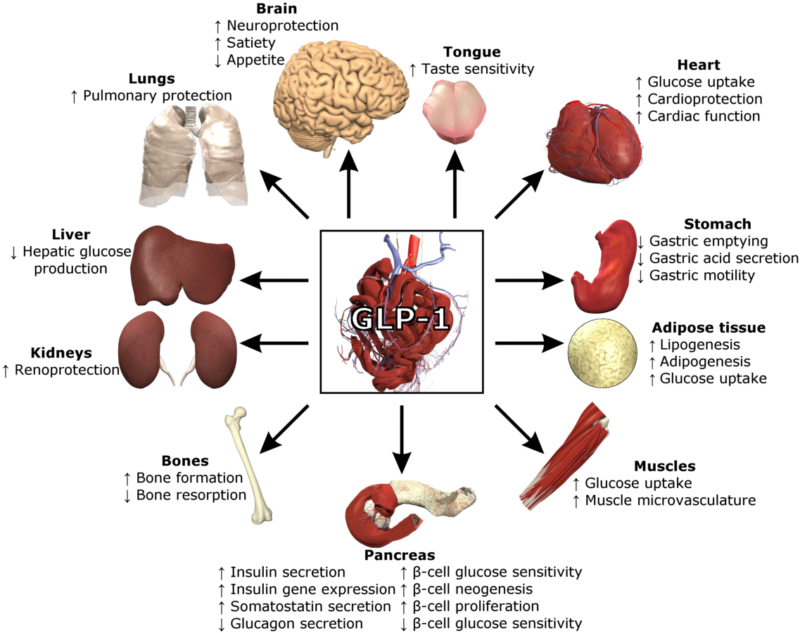 Novo Nordisk's glucagon-like peptide-1 receptor agonist (GLP-1RA), Saxenda (liraglutide), and Pernix's (formerly Orexigen's) Contrave designed to reduce food intake, dominated the obesity market in 2016, generating $215M and $214M in the US, respectively. Multiple pharma developers are investigating long-acting GLP-1RAs, dual GLP-1R/glucagon receptor (GCGR) agonists, and tri-agonists targeting GLP-1R, GCGR, and gastric inhibitory polypeptide receptor (GIPR), which will contribute to the future growth of the obesity market. GlobalData identified Novo Nordisk as the strongest industry player, with 40 sponsored obesity clinical trials, followed by Sanofi (26) and AstraZeneca (20).
Obesity is a preventable chronic condition characterised by raised body mass index (BMI ≥30), which contributes to the pathogenesis of cardiovascular diseases, type 2 diabetes (T2D), musculoskeletal disorders, and several major cancers. Obesity has become an epidemic and it is recognised as one of the major health issues due to its associated high rates of morbidity, mortality, and health cost. Over 1.9 billion people were overweight or obese worldwide in 2016; of these, over 34% (650 million) were obese. Obesity is most prevalent in the US among the eight major markets (8MM: US, France, Germany, Italy, Spain, UK, Japan, and China) with an estimated 97 million people in 2016, according to GlobalData epidemiologists.
Nevertheless, the current obesity market is rather sparse, with GlaxoSmithKline's/Roche's lipase inhibitor, Orlistat, being the only approved product for the treatment of obesity, before Eisai and Vivus entered the US obesity space with their appetite-regulating drugs Belviq (lorcaserin hydrochloride) and Qsymia (phentermine hydrochloride + topiramate), respectively, in 2012. The US has the largest number of approved drugs while Japan has the fewest; Takeda's Oblean (cetilistat) lipase inhibitor is the only approved anti-obesity drug in Japan.
Today, obesity is the third most investigated indication within the metabolic disorders therapy area, which includes 253 products across all indications and stages of clinical development across the 8MM. GLP-1R–targeting molecules, primarily used in T2D to improve glucose homeostasis, are a major focus of obesity drug developers due to their added benefit of reducing weight, even though resultant weight loss can vary considerably between individuals. Therefore, new targets, including GCGR, cannabinoid receptor 1 (CNR1), GIPR, melanocortin-4 receptor (MC4R), serotonin receptor 2C (HTR2C), AMP-activated protein kinase (AMPK), calcitonin receptor (CALCR), leptin receptor (LEPR), and islet amyloid polypeptide (IAPP) are also drawing drug developers' attention.
Figure 1 presents the top targets for drug development against obesity.
Figure 1: top targets for drug development against obesity
Source: GlobalData, Pharma Intelligence Center
GlobalData expects that Novo Nordisk will remain a strong player in the obesity space for the next 10 years. This is due to the company's marketed GLP-1 analog, Saxenda, and a long-acting (once weekly) GLP-1 analog, semaglutide, which will be the first to market among the new-generation GLP-1RAs in the obesity space—around the same time as its daily injectable's patent expires in 2022. Sanofi and Hanmi also have a long-acting (once weekly) GLP-1RA in development, efpeglenatide, which will launch in competition with Novo Nordisk's GLP-1RA approximately one year later, in 2023.
AstraZeneca's/MedImmune's MEDI-0382, Sanofi's SAR425899, and OPKO Health's OPK-88003 dual GLP-1R/GCGR agonists are also likely to launch from 2023, and as a result, the US obesity space will become crowded with new-generation GLP-1R–targeting drugs by 2026. Additionally, a first-in-class anti-obesity drug, Rhythm's setmelanotide, which reduces appetite and increases energy expenditure in obesity due to rare genetic disorders—genetic variations within the MC4 pathway associated with unrelenting hunger—will also enter the US obesity market in 2023. In China, Novo Nordisk will be the only company launching a drug (semaglutide) for the treatment of obesity, despite China having the second highest prevalence of obesity in the 8MM. Overall, GlobalData's research shows that the obesity market is about to expand, particularly in the US and the 5EU (France, Germany, Italy, Spain, and the UK).
GlobalData expects that the launches of the new anti-obesity drugs will bring a marked change from 2022 in the otherwise slowly developing obesity market.