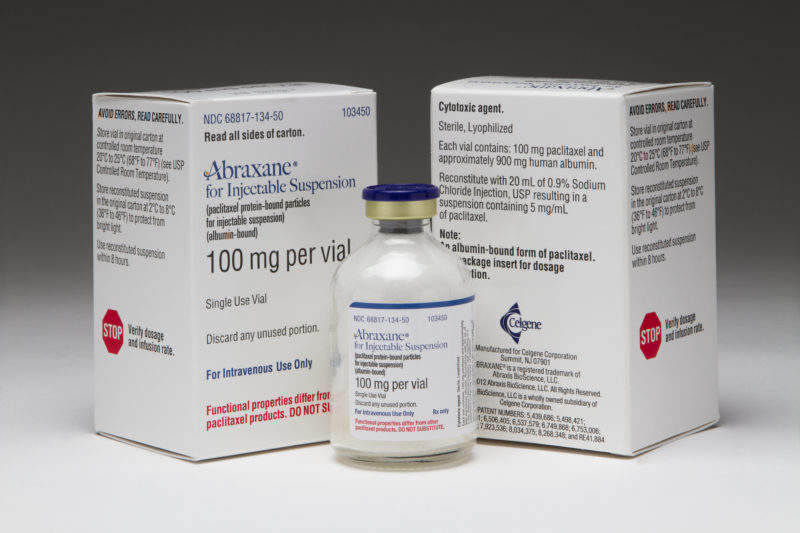 Celgene is testing Abraxane (nab-paclitaxel), which is approved to treat metastatic pancreatic cancer, as an adjuvant therapy in a late-stage trial, and will need to show superior overall survival (OS) data compared to what doctors currently use as standard of care.
Experts interviewed at the recently concluded American Society of Clinical Oncology (ASCO) annual meeting agreed with analyst reports that the outcome of the Phase III APACT trial testing Abraxane plus the chemotherapy gemcitabine is tough to call, given there is only data from metastatic disease for the duo of drugs.
And even if the trial is positive, how the combination – called gemabraxane – stacks up against the competition will be unclear. Data comparisons will be challenging, considering APACT has different primary endpoints compared to trials of the standards of care (SOCs), and each study used gemcitabine monotherapy as the active comparator and not any of the SOCs. It is possible that the differentiating factor between gemabraxane and SOCs could come down to side effects, which could have varying impact between countries and patients.
However, there are some doubts if it is worth investigating gemabraxane in the adjuvant setting to start with, a gastrointestinal (GI) oncologist said. Using therapies approved to treat metastatic disease in an earlier setting could mean limited options if a patient's disease progresses, the GI oncologist explained.
Celgene's head of medical affairs Jin Ong said the Phase III trial's statistical model is currently being adjusted, and thus expectations on when data is to be released is also under review. This is on the heels of the data release at ASCO covering the Phase III generic five-chemotherapy combination called FOLFIRINOX in adjuvant pancreatic cancer, he added.
Analysts give gemabraxane a $1.2bn peak sales estimate in 2022 for all indications including breast and gastric cancers. In pancreatic cancer, gemabraxane had worldwide sales of $992m in 2017. Celgene has a market cap of $56.7bn. The 866-patient APACT is investigating gemabraxane versus gemcitabine alone in surgically resected pancreatic cancer, ClinicalTrials.gov shows.
Success bar hard to pinpoint
Gemabraxane's existing data is not applicable in the adjuvant setting, the GI oncologist said. This is demonstrated by FOLFIRINOX having positive data in metastatic colon cancer but negative results as an adjuvant therapy, the GI oncologist noted. Also, metastatic data is only applicable in the adjuvant setting with biologics, a medical oncologist added.
Celgene's Ong noted, though, that gemabraxane is under investigation in the adjuvant setting, because the Phase III MPACT metastatic trial (NCT00844649) showed an efficacy signal not only in metastatic tumours but also in metastatic patients' primary tumour.
Gemabraxane will have to improve on the OS of the SOCs in the adjuvant setting, which can be Roche's Xeloda (capecitabine) plus gemcitabine or FOLFIRINOX, said Dr Matthew Yurgelun, medical oncologist at the Dana-Farber Cancer Institute in Boston, Massachusetts. The GI oncologist and University of Texas MD Anderson Cancer Center associate medical director Dr Shubham Pant agreed, but noted it could be quite challenging to compare the OS from APACT to that seen in the Xeloda/gemcitabine and FOLFIRINOX trials. None of the trials are head-to-head studies with SOCs and instead use gemcitabine as the comparator, they explained.
Additionally, each trial used different endpoints. While APACT is similar to FOLFIRINOX's (NCT01526135) adjuvant trials in pancreatic cancer – using disease-free survival (DFS) as the primary outcome and OS as a secondary measure – the Phase III ESPAC-4 trial (EudraCT 2007-004299-38) investigating Xeloda/gemcitabine had an OS primary endpoint. While OS measures how long a patient lives once treatment starts, DFS measures the duration between treatment and when the cancer comes back or is fatal.
The OS endpoint is most critical in pancreatic cancer, as it is the best way to paint a therapy's efficacy profile, where patients have low five-year survival rates, said the medical oncologist. Because survival for most patients is short-term, survival in the three-to-five year range is the best indication of an adjuvant therapy's efficacy, added oncologist Dr Tareq Al Baghdadi of IHA Hematology Oncology Consultants in Ypsilanti, Michigan.
But DFS is an acceptable primary endpoint in the early-stage disease in many types of cancer, Ong said. Comparing trials may be inappropriate due to subtleties including geographic differences, inclusion/exclusion criteria and timing as to when the trial was staged, he added.
In the Phase III adjuvant-setting trial, Xeloda/gemcitabine delivered 28 months OS compared with 25.5 months with gemcitabine alone (Neoptolemos, JP, et. al. Lancet. 2017 Mar 11;389(10073):1011-1024). Data released at this year's ASCO showed that in the Phase III trial, FOLFIRINOX delivered a 54.4 months OS compared with 35 months with gemcitabine alone (Conroy, T. et. al, J Clin Oncol 36, 2018 (suppl; abstr LBA4001). Making it even more challenging to compare the data, gemcitabine monotherapy delivers 20 to 22 months OS in the real world, added the GI oncologist.
Side effects a small differentiating factor
The varying toxicity profiles between the three options also make it hard to identify which could reign supreme, the GI oncologist added, but it could still be a possible differentiation point to a certain extent. For example, there could be a geographic bias, where Xeloda/gemcitabine is more predominantly used in the US, as the side-effect profile seems to be less severe in US patients from real-world experience, the GI oncologist said. It could also depend on the patient's surgical pathology, with FOLFIRINOX having the most side effects and thus is less of an option in patients who need more recovery after surgery, GI oncologist noted.
Gemabraxane has limited GI issues compared with Xeloda/gemcitabine, so this could be a potential selling point, said the medical oncologist. Gemabraxane could lead to a decrease in infection-fighting white blood cells, low level of platelets, fatigue, nerve damage in the arms and legs, among other side effects, public information shows. The Xeloda/gemcitabine FDA label shows it has side effects including coagulopathy, severe diarrhoea, dehydration and renal failure.
An independent data monitoring committee has so far not received any unusual safety concerns with gemabraxane in the APACT trial, Ong said.
It is possible, however, in the real world, there could be dose modification to improve side-effect profiles, as dosing in the adjuvant setting can be arbitrary and dependent on patient needs, the medical oncologist said. While this makes comparing therapies' side effects based on trial data tough, the flexibility to modify doses to improve tolerability could bolster uptake, he noted.
Dose modification is considered, because, for example, the difference between a three-month therapy to a six-month dose can only be 1% disease control rate improvement over three years, yet the side effects can be severe with more doses, added the medical oncologist. With Xeloda/gemcitabine, patients who present with cytopenia – or a reduction in mature blood cells – are switched to gemcitabine monotherapy or the therapy dose is reduced, he said. Celgene have had gemabraxane information drives to clinicians to inform them of how to adjust the dose in case of side effects, Ong added.
Reynald Castaneda is a reporter for Pharmaceutical Technology parent company GlobalData's investigative journalism team. A version of this article originally appeared on the Insights module of GlobalData's Pharmaceutical Intelligence Center. To access more articles like this, visit GlobalData.