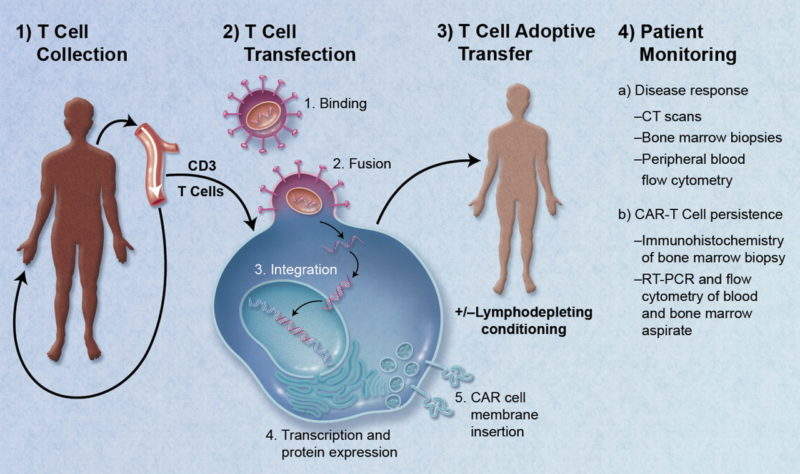 Numerous highly attended clinical data and educational sessions were hosted about CAR-T cell therapy at this year's European Hematology Association (EHA) annual meeting, highlighting their promise but also key barriers facing their adoption, which may be particularly high in the European markets. Issues with reimbursement and pricing are likely to be key hurdles for European uptake, in addition to significant practical problems such as lack of infrastructure, which may hinder widespread use of CAR-T cells in Europe.
A high-profile session showcased data for the two FDA-approved products, Novartis's Kymriah (tisagenlecleucel) and Kite/Gilead's Yescarta (axicabtagene ciloleucel) in diffuse large B-cell lymphoma (DLBCL), an indication in which the products directly compete since the FDA's approval of Kymriah in May 2018, and of Yescarta in October 2017.
Novartis sought to emphasize durability of response with Kymriah, whereas Kite showcased improved responses to Yescarta in patients in earlier lines of treatment compared with those who were heavily pretreated, to encourage CAR-T use beyond the salvage setting. Data for JCAR017 (Celgene and Juno), likely to be the third commercialized CAR-T, were also presented, with the companies continuing to position their product as 'best-in-class', with a potentially safer profile than the two FDA-approved therapies, as well as the opportunity for outpatient treatment, which could provide JCAR017 with an advantage over its competitors due to reduced treatment burden.
Novartis is aiming to answer one of the main unknowns of CAR-T cell therapy: the persistence of responses. Novartis presented 14-month follow-up data from its pivotal Phase II JULIET study of Kymriah in adults with relapsed/refractory (R/R) DLBCL (n=111), which showed that:
Responses were durable, with responses of more than one year. Median duration of response was not reached at 14-month follow-up (versus a median duration of 11.1 months for Yescarta at 15.4-month follow-up presented at ASH 2017)
65% of patients were relapse-free after one year
Gilead took a different approach and focused on a subanalysis of patient outcomes by prior line of therapy in the pivotal Phase I/II ZUMA-1 study (n=108) in adult patients with refractory large B-cell lymphoma, demonstrating higher response rates in patients with fewer prior lines of therapy, but with responses observed in all groups. Greater efficacy in earlier lines may encourage use in less heavily-pretreated patients and therefore enable Gilead to increase its market share. The data showed that:
Patients benefited from Yescarta regardless of prior number of therapies
Reduced complete response rates were observed among patients with five or more prior lines of therapy (32% vs. 91% in patients with one to two prior lines of therapy)
Celgene and Juno provided a further update on the Phase I TRANSCEND-NHL-001 study from the CORE cohort, designed to mimic the population of the ongoing pivotal study in adult R/R DLBCL, and receiving the pivotal dose (n=37). The companies continue to emphasise JCAR017's potentially superior safety profile to encourage perception of the product as 'best-in-class'. Due to lack of head-to-head comparison, if JCAR017 became approved it is more likely a lower price point will encourage its use in Europe, as physicians will be unable to directly compare the three approved anti-CD19 CAR-T cells. Once real-world data become available and physicians become more familiar with the products, there may be some differentiating factors in JCAR017's favor such as its seemingly lower rates of cytokine release syndrome (CRS) versus its competitors. The presentation highlighted:
Impressive objective response rate and complete response rates as seen at the 2018 American Society for Clinical Oncology (ASCO) meeting (49% and 46%, respectively)
Impressive safety with only 1% of Grade 3-4 CRS, as seen at ASCO
63% 12-month overall survival in the CORE cohort
CAR-T cell therapy is a useful option in R/R DLBCL patients with continuing unmet needs, however despite impressive responses and safety, practical issues and 'economic toxicity' remain key concerns for physicians attending EHA 2018.
Although most physicians speaking on the topic at EHA 2018 are hopeful regarding gaining access to these products, many flagged the low number of specialised centres in the EU for manufacturing CAR-T cells as a hurdle to uptake of CAR-T cell therapy in Europe. There may need to be considerable national efforts to improve access to CAR-T cell technology (or create wider-scale production facilities for CAR-T cells) to make a significant impact on the European market. In line with this, several companies such as Pfizer and Cellectis are investigating 'off-the-shelf' CAR-T cell products, which could enable easier and faster manufacturing, and facilitate market access.
Concerns with the high list prices of CAR-T products in the US ($475,000 and $373,000 for Kymriah and Yescarta, respectively) also meant that European physicians were unsure whether CAR-T cell therapy would be widely accessible in the EU, once approved, due to payer restrictions. Companies may need to consider lower price points or pay-for-performance arrangements such as those recently introduced in the US to introduce their products to the European market.