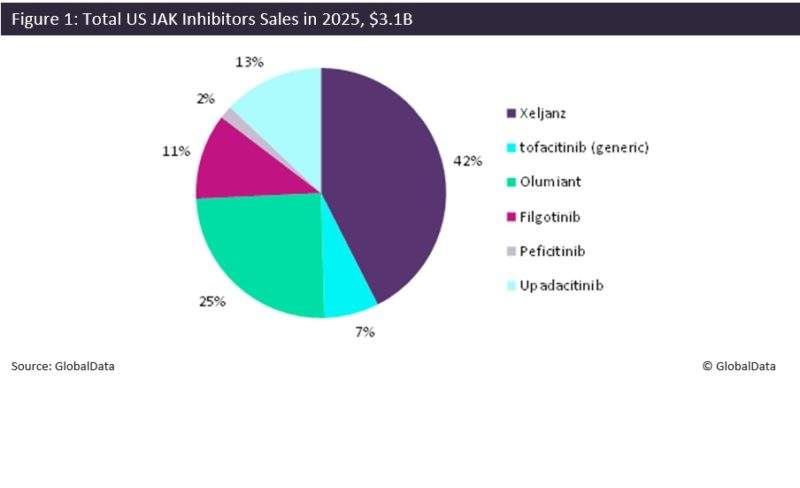 On June 1, Eli Lilly's Olumiant (baricitinib) 2mg tablets received FDA approval for adult patients with moderately to severely active rheumatoid arthritis (RA) following a complete response letter from the FDA the previous year. Olumiant marks the second oral janus kinase (JAK) inhibitor to launch for RA in the US market following the launch of Pfizer's Xelajnz (tofacitinib) in November 2012. The FDA approval for Olumiant comes with a boxed warning for the risk of serious infections, malignancies, and thrombosis; it also requires that patients have had an inadequate response to one or more tumor necrosis factor (TNF) inhibitor therapies, posing a potential marketing challenge for Eli Lilly.
Olumiant will face competition from not only Xeljanz, but also AbbVie's upadacitinib and Gilead/Galapagos' filgotinib, both of which have met all primary endpoints in their Phase III trials. Upadactinib and filgotinib specifically inhibit JAK1, offering a better safety profile than either Olumiant or Xelajnz, marking a potential driver for AbbVie and Gilead/Galapagos. However, GlobalData expects upadactinib and filgotinib to launch at least two years after Olumiant in the US, in 2020 and 2021, respectively. As it will only compete with Xeljanz in the immediate future, GlobalData anticipates that Olumiant will establish itself in the RA market, generating sales of $768.9M in 2025 in the US, as seen in Figure 1.
Related Reports
For more insight and data, visit the GlobalData Report Store – Pharmaceutical Technology is part of GlobalData Plc.