The endometriosis market is expected to grow from $1.05bn in 2020 to $2.72bn in 2030 at a compound annual growth rate (CAGR) of 10.0% across the seven major markets (7MM: the US, 5EU [France, Germany, Italy, Spain and the UK], and Japan), according to GlobalData's recently published Endometriosis: Global Drug Forecast and Market Analysis – Update. This growth is primarily due to market release of several gonadotropin-releasing hormone (GnRH) receptor antagonists, including Myovant's Myfembree (relugolix, estradiol, and norethindrone acetate) in the US, and its upcoming launch in the 5EU, where it will be sold under the brand name Ryeqo. Kissei Pharmaceutical's GnRH antagonist, Yselty (linzagolix), will be another important driver of growth during the forecast period.
GnRH antagonists have an improved safety and efficacy profile compared to the marketed GnRH agonists, which have significant side effects that are unappealing to patients. The GnRH antagonists also offer the advantage of oral administration, which renders these therapies more popular than endometriosis therapeutics that require subcutaneous injection.
GlobalData's report also covers a third pipeline candidate, quinagolide, a dopamine receptor antagonist being developed by Ferring Pharmaceuticals. This therapy is currently in Phase II development and is expected to launch in the US and 5EU in 2027 and 2028, respectively. Quinagolide is a non-hormonal dopamine receptor antagonist and does not interfere with ovulation. As a result, this therapy would likely meet a large gap in the market among women who want to conceive while also reducing their endometriosis-associated pain.
The figure below summarises the endometriosis market growth across the 7MM from 2020 to 2030.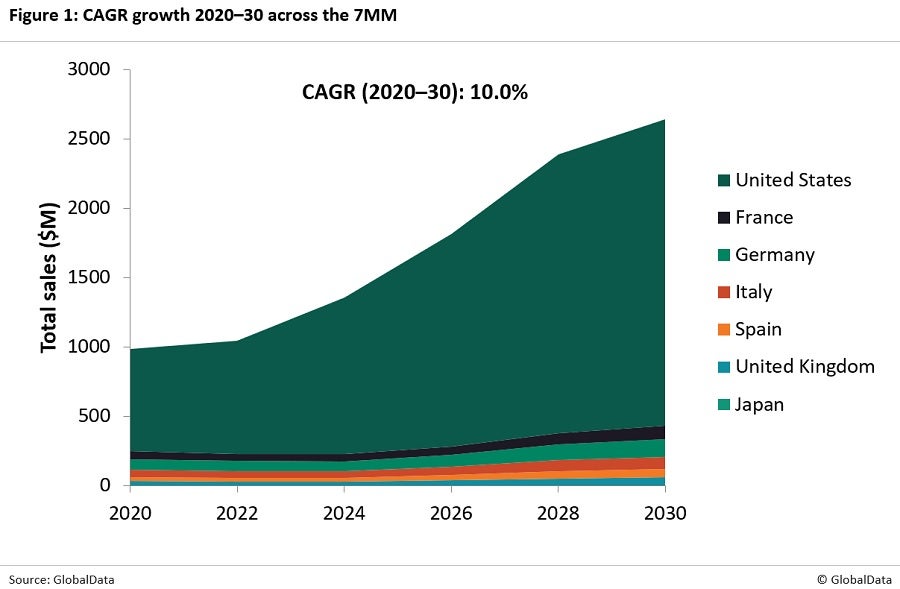 At the end of 2030, the US will contribute approximately 81.3% of 7MM sales. The higher sales in the US relative to the other regions can be attributed to the greater diagnosed prevalence of endometriosis in the US and the higher price of drugs compared to other global markets.
Major drivers of the endometriosis market during the forecast period will include:
The launch of Myovant's Ryeqo (relugolix/estradiol/norethisterone acetate) as the first available GnRH antagonist in the 5EU, and Kissei Pharmaceutical's Yselty (linzagolix) across the 7MM.
The global launch of quinagolide, an endometriosis therapy that, unlike marketed therapies, does not interfere with ovulation
Continual improvements with disease awareness, leading to an increase in diagnoses
Improvements in noninvasive diagnostic methods, such as the utilisation of biomarkers, which should further increase the number of early diagnoses
Major barriers to the growth of the endometriosis market during the forecast period are as follows:
The endometriosis market boasts many off-label medications and is still highly genericised, presenting a stiff barrier for novel therapy entrants.
The shrinking female population ages 12–54 years in the 5EU and Japan will dampen the extent of growth in diagnosed endometriosis cases.