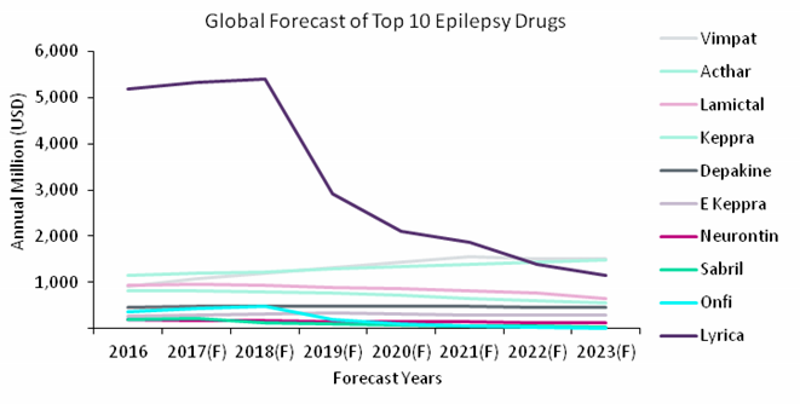 Epilepsy is a brain disorder characterized by spontaneously occurring and recurrent seizures, with over 20 million lifetime diagnosed prevalent cases in 2016, a number expected to rise to 21.3 million in 2023.
According to GlobalData, global sales of anti-epileptic drugs totaled $10.4bn in 2016 and are expected to slump with a compound annual growth rate of -7.1% down to $5.1bn in 2023. However, a bearish market like the epilepsy therapy area brings fierce competition amongst its competitors, identifying novel therapeutics for optimal market access.
Figure 1: forecast sales for top 10 epilepsy drugs, 2016 – 2023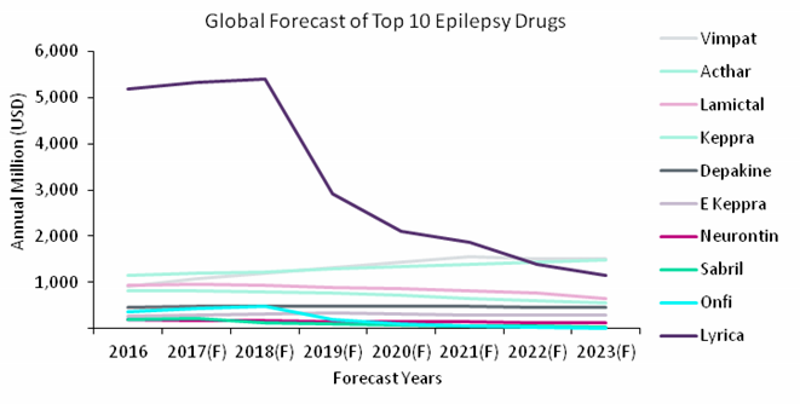 Source: GlobalData, Pharma Intelligence Center [accessed 17 January 2018]
The epilepsy market has been dominated in the past by a handful of drugs, including the most recent, Pfizer's Lyrica and GSK's Lamictal. GlobalData's analysts predict Lyrica's patent cliff will begin in 2018 after its US constraining patent expires in the same year, followed by Japan in 2022. However, the main drivers of the forecast and growth of sales will be the launch of rare orphan disease drugs currently in the late-stage pipeline, including Epidiolex and fenfluramine, which are expected to be approved for Lennox-Gastaut syndrome and Dravet syndrome respectively.
However, with the growth of a market comes competition and already-existing branded drugs such as Sabril and Vimpat will face patent expirations, which will see cheaper generics soaring through the market and impacting the sales of branded drugs.