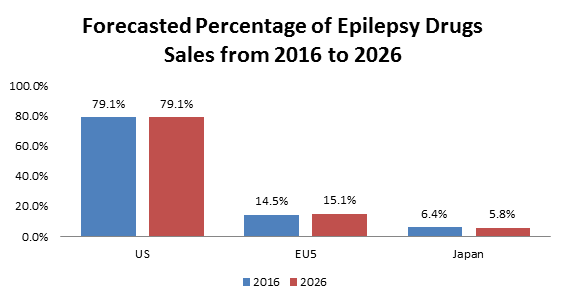 Source: GlobalData, Pharma Intelligence Center, Drugs Database.
Epilepsy is a brain disorder characterised by spontaneously occurring and recurrent seizures with a prevalent population of 5.7 million in 2016 and expected to rise to 6 million in 2026.
According to GlobalData, sales of anti-epileptic drugs totalled $6.1bn in 2016 across the EU5, Japan and US markets. The sales of anti-epileptic drugs are expected to rise to $7.5bn by 2026 at a Compound Annual Growth Rate of 2.1% across the 7 major markets. The US will remain the leading market throughout the ten year forecast period with estimated sales of $5.9bn in 2026.
The Epilepsy market has been dominated in the past by a handful of drugs including the most recent UCB's Keppra and GSK's Lamicta. However main drivers of the forecast and growth of sales will be due to the launch of rare orphan disease drugs currently in the late-stage pipeline including Epidiolex and Fenfluramine which are expected to be approved for Lennox-Gastaut syndrome and Dravet syndrome.
However with the growth of a market comes competition and already existing branded drugs such as Sabril and Vimpat will face patent expirations, which will see cheaper generic soaring through the market and impacting the sales of branded drugs.