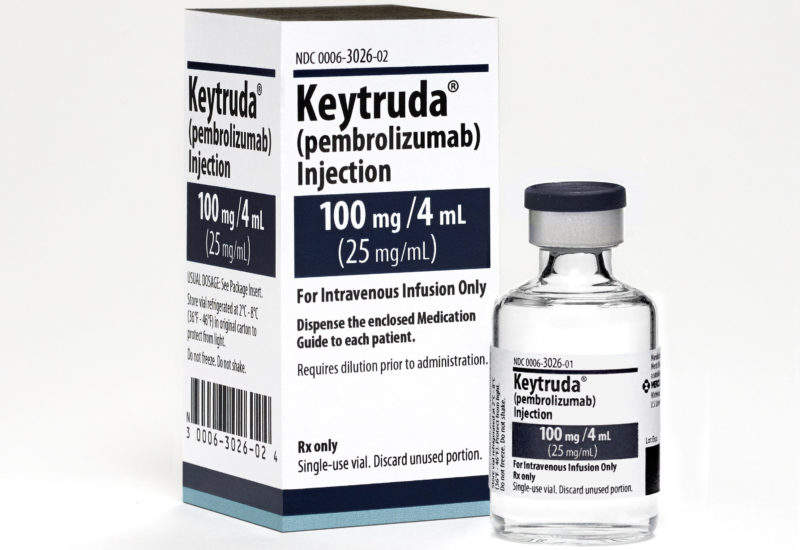 Head and neck squamous cell carcinoma (HNSCC) is a devastating disease with approximately 120,000 estimated diagnosed cases across the seven major markets (7MM: US, France, Germany, Italy, Spain, UK and Japan) in 2018, according to GlobalData's epidemiologists.
The recurrent/metastatic (r/mHNSCC) setting has limited treatment options with the standard of care for the first-line being the highly toxic EXTREME regimen (Erbitux + platinum-based chemotherapy + 5-FU). The second interim analysis of KEYNOTE-048 at the 2018 European Society of Medical Oncology (ESMO) congress showed that Keytruda improved survival over this highly toxic regimen. The outcomes from this trial may shift the treatment paradigm for patients with 1L r/mHNSCC.
The Phase III study consisted of three arms: Keytruda monotherapy, Keytruda + chemotherapy (Keytruda + platinum-based chemotherapy + 5-FU), and the EXTREME regimen. Keytruda as a monotherapy significantly extended OS, from 10.7 months to 14.9 months, compared with the EXTREME regimen in a subset of patients whose tumours expressed PD-L1 (CPS ≥ 20).
However, in patients with a lower-threshold for PD-L1 (CPS ≥ 1), there was only a minor survival increase, from 10.3 months to 12.3 months. Although the Keytruda + chemotherapy cohort showed favourable results over the EXTREME regimen, with a significantly improved OS for the total population (13.0 vs. 10.7 months), it was not superior to the EXTREME regimen in the PD-L1 expressing cohorts (CPS ≥ 20 or CPS ≥ 1).
Unfortunately, in the Keytruda monotherapy cohort, the progression-free survival (PFS) and overall response rate (ORR) were less than the EXTREME regimen. However, patients that expressed PD-L1 (CPS ≥ 1) that did respond in the Keytruda arm showed an astonishing duration of response of 20.9 months. As with the Keytruda monotherapy arm, there was no significant PFS or ORR benefit in the Keytruda + chemotherapy arm.
There were significantly fewer Grade 3-5 adverse events (AEs), with only 16.7% in the Keytruda monotherapy arm and 69.0% in the EXTREME arm. However, the incidence of AEs in the Keytruda + chemotherapy arm was similar to the EXTREME regimen. It was mentioned by physicians interviewed by GlobalData that there could be synergistic toxicities with the addition of immunotherapy to chemotherapy. Thus, this data has alleviated concerns, as the addition of Keytruda to chemotherapy did not appear to increase the number of AEs.
In light of this novel and exciting data, it is now expected that the 1L r/mHNSCC setting will have a shift in the treatment paradigm. According to the discussion led by Dr Jean Pascal Machiels, MD, 1L r/mHNSCC patients with 'low' PD-L1 expression (CPS ≤ 1) will likely continue to receive the EXTREME regimen, as they are unlikely to gain any benefit from Keytruda. Patients with moderate PD-L1 expression (CPS ≥ 1 and CPS ≤ 20) could receive Keytruda + chemotherapy. While those with high levels of PD-L1 (CPS ≥ 20) are likely to receive Keytruda monotherapy, as this cohort showed a significant survival advantage, and are likely to benefit from reduced toxicity. Despite this analysis, the precise cut-off for PD-L1 has yet to be determined and it will be at the discretion of the regulators to confirm the final approval criteria.