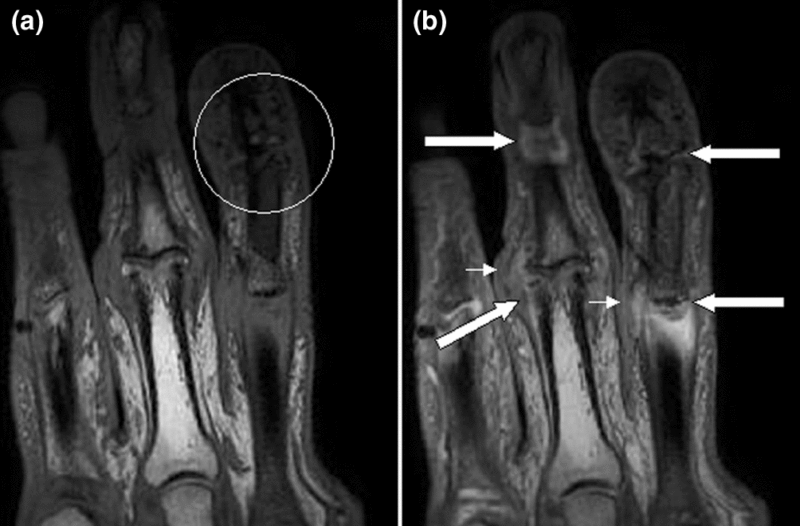 Inteleukin-23 (IL-23) inhibitors have made a name for themselves in the treatment of psoriasis (PsO) following the launch of J&J's Tremfya (guselkumab) in July 2017 and Sun Pharmaceutical's Ilumya (tildrakizumab) in March 2018. Abstracts presented at the EULAR Congress 2018 show promise for this drug class in the treatment of psoriatic arthritis (PsA).
On 15 June, results from a Phase II trial assessing the safety and efficacy of AbbVie's risankizumab, a selective IL-23p19 inhibitor, in patients with active psoriatic arthritis were presented at the EULAR Congress. In this double blind, parallel design, dose ranging study,  185 patients with active PsA in addition to a history of PsO were randomized (2:2:2:1:2) to receive risankizumab (150mg at Week 0, 4, 12, and 16 [Arm 1]; 150mg at Week 0, 4, and 16 [Arm 2]; 150mg at Week 0 and 12 [Arm 3]; 75mg single dose at Week 0 [Arm 4]) or matching placebo.
At Week 24, 20/50/70% improvement in American College of Rheumatology score (ACR 20/50/70) responses were 48.3%/22.4%/13.3% across all risankizumab arms compared with responses of 31.0%/7.1%/2.4% for the placebo arm. Risankizumab arms also showed significantly higher minimal disease activity (MDA) responses (p<0.001) as well as improvements in 28 joint disease activity score based on C-reactive protein (DAS28-CRP) (p<0.001) and pain visual analog scale (p<0.05) compared with placebo. In addition, treatment-emergent adverse events were similar across all treatment arms at Week 32.
Focusing on the competition, J&J presented Week 56 safety and efficacy results of Tremfya in patients with active PsA from a Phase IIa trial. The trial randomized (2:1) 149 patients with active PsA and moderate or severe PsO to receive Tremfya (100mg subcutaneously) or placebo at Week 0, 4, and every eight weeks after through Week 44. At Week 24, all patients in the placebo group crossed over to receive Tremfya. All primary and secondary endpoints were met at Week 14; 28 patients from the placebo group and 84 patients from the Tremfya group completed treatment with Tremfya through Week 44.
At Week 56, ACR 20/50/70 responses were 81.5%/66.7%/28.6% in patients who switched from placebo to Tremfya and 73.5%/53.0%/32.5% in patients in the Tremfya group. In addition, Tremfya was well tolerated by all treatment groups with no unexpected safety findings through one year of treatment.
Despite these promising findings on IL-23 inhibitors for the treatment of PsA, this class of drugs will face competition from established biologic classes, such as tumour necrosis factor (TNF) inhibitors and IL-17 inhibitors, not to mention biosimilars. Further, both risankizumab and Tremfya have only completed Phase II trials and must demonstrate continued strong safety and efficacy in Phase III trials, placing pressure on AbbVie and J&J.
Related reports
GlobalData (2016). PharmaPoint: Psoriatic Arthritis – Global Drug Forecast and Market Analysis to 2025, December 2016, GDHC140PIDR
GlobalData (2016). PharmaPoint: Psoriasis – Global Drug Forecast and Market Analysis to 2024, April 2016, GDHC119PIDR
Upcoming reports
GlobalData (2018). Psoriasis – Global Drug Forecast and Market Analysis to 2026, to be published
For more insight and data, visit the GlobalData Report Store – Pharmaceutical Technology is part of GlobalData Plc.