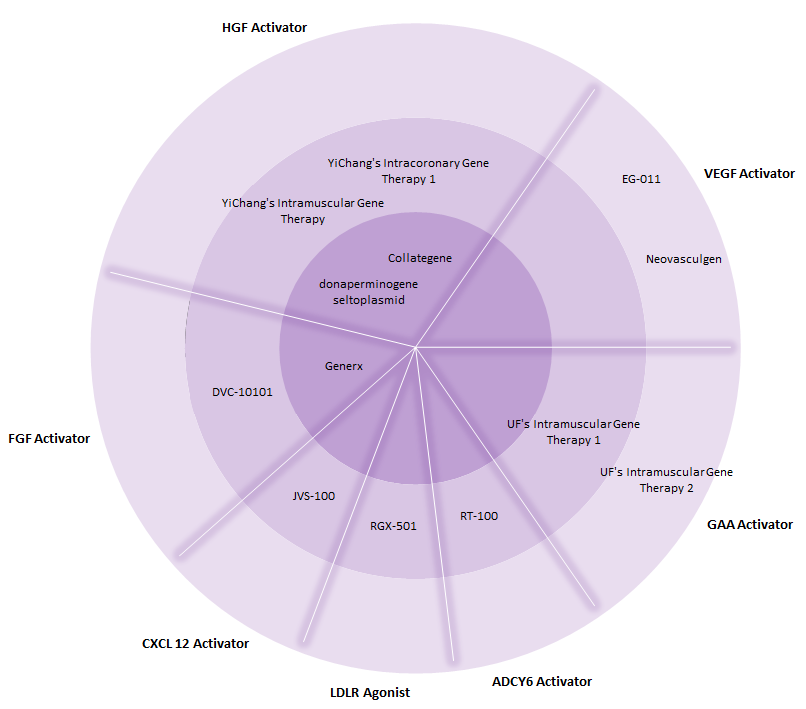 Gene therapies have been a point of discussion during the last several years as a potential curative option for a variety of disease indications. While mainly still in preclinical stages, gene therapy aims to treat or alleviate a disease by genetically modifying the cells of a patient.
Currently, small biotechs are leading R&D efforts on a variety of cardiovascular and metabolic disorder (CVMD) gene therapies. Despite investment in CVMD gene therapies, the majority of the candidates are still in early R&D stages, whereas several CVMD gene therapies are already in Phase II or Phase III clinical trials.
According to GlobalData, within the entire cardiovascular and metabolic disorder (CVMD) space, the current gene therapy pipeline features approximately 13 candidates that are in Phase I, II, or III of clinical development. As seen in Figure 1, there are three gene therapies that have reached Phase III trials: AnGes MG's Collategene, Angionetics' Generx, and ViroMed's donaperminogene seltoplasmid.
Of the pipeline CVMD gene therapies, the majority of them target cardiovascular indications, such as coronary artery disease, peripheral artery disease, critical limb ischemia, and systolic heart failure, indicating the immense opportunity for biotech companies to pursue drug candidates that target metabolic disorders.
Key opinion leaders (KOLs) interviewed by GlobalData are anticipating big pharma companies to partner with these smaller biotech companies to enhance the development of gene therapy candidates within the next decade.