The Covid-19 pandemic has affected nearly every aspect of the world and rare diseases are no exception. The number of generic rare disease drugs approved in mature markets during the pandemic has fallen precipitously, declining by 20% in 2020 compared with 2019, a significant blow to a community that already suffers from high levels of unmet need.
Rare diseases are indications that affect fewer than 200,000 people in the US and are listed by the US Food and Drug Administration (FDA) and the National Institutes of Health's (NIH) Genetic and Rare Diseases Information Centre (GARD) as rare, with the EU and Japan having similar definitions. These diseases are often characterised by having high levels of unmet need due to the limited number of patients creating only a small market, resulting in exorbitantly priced drugs. In recent years, review designations such as the orphan drug and rare paediatric disease (RPD) designations have stimulated growth and development within rare diseases, with market incentives for pharmaceutical companies.
Prior to the Covid-19 pandemic, generic rare disease approvals were on the rise, with the number of approvals increasing by 19% between 2017 and 2019 (see Figure 1), rising to a peak of 183 generic rare disease therapies being approved in 2019. The pandemic disruption in 2020, however, caused a precipitous drop in the number of generic rare disease approvals, dropping by 20% compared with 2019. This was likely due to the pharmaceutical industry's collective pivot towards Covid-19 therapies, as pharmaceutical companies rushed to provide a therapy to combat the Covid-19 virus. This resulted in only 146 drugs being approved in 2020, removing three years of gains for rare diseases generics from 2017.
This decrease in generic rare disease approvals is especially significant considering the overwhelming cost of these therapies. Zokinvy, a life-changing small molecule by Eiger BioPharmaceuticals that was approved in November 2020 by the FDA for the extremely rare Hutchinson-Gilford progeria syndrome, has an annual cost of more than $1m, a price that many cannot afford. The approval of generic drugs can have an outsized impact in this market as they can be significantly lower than the price of these record-breaking-priced drugs and without which many of these drugs would be unaffordable for their target market.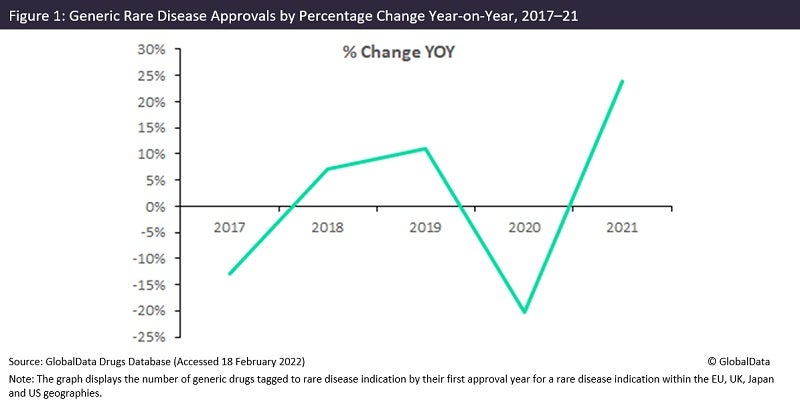 Despite this significant decline in 2020, with the advent of multiple Covid-19 vaccines last year, the industry returned its focus to rare diseases with a significant increase of 24% in generic drug approvals last year, bringing it close to the peak approvals in 2019. Yet the decline in approvals over the pandemic will have left a serious impact on the rare disease market and, despite the optimistic increase in approvals last year, it remains to be seen if the number of generic approvals will continued to increase as in the past.