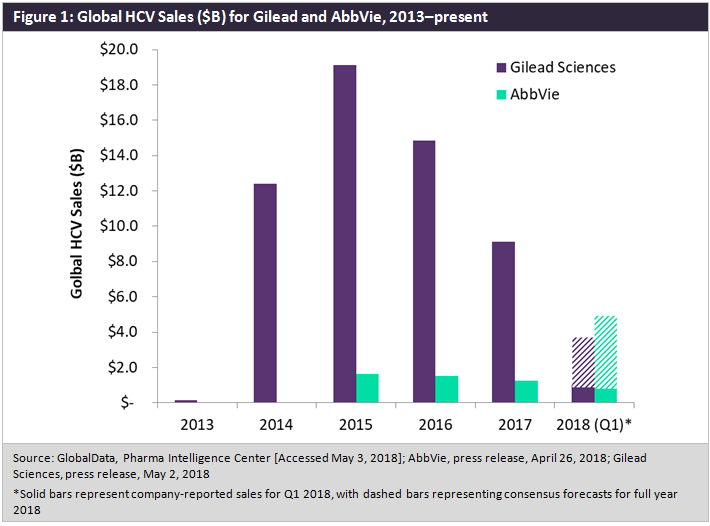 On 2 May, Gilead Sciences announced its Q1 2018 earnings, with the company's hepatitis C virus (HCV) portfolio amassing just over $1bn in first quarter sales—slightly below a consensus forecast of $1.13bn.
These disappointing results were primarily due to increased competition from AbbVie's newly launched Mavyret (glecaprevir/pibrentasvir), which accrued over $850m in first quarter sales. Given Mavyret's faster-than-expected uptake, GlobalData believes AbbVie is well-positioned to end Gilead's longstanding dominance of the HCV marketplace by the end of 2018.
Since reaching its zenith in 2015, when sales of Gilead's Harvoni (ledipasvir/sofosbuvir) and Sovaldi (sofosbuvir) surpassed $19bn globally, the HCV marketplace has been steadily shrinking, with increased competition, payers looking to rein in the costs of HCV treatment, and an ebbing patient warehousing effect all contributing to this decline, as depicted in Figure 1 below.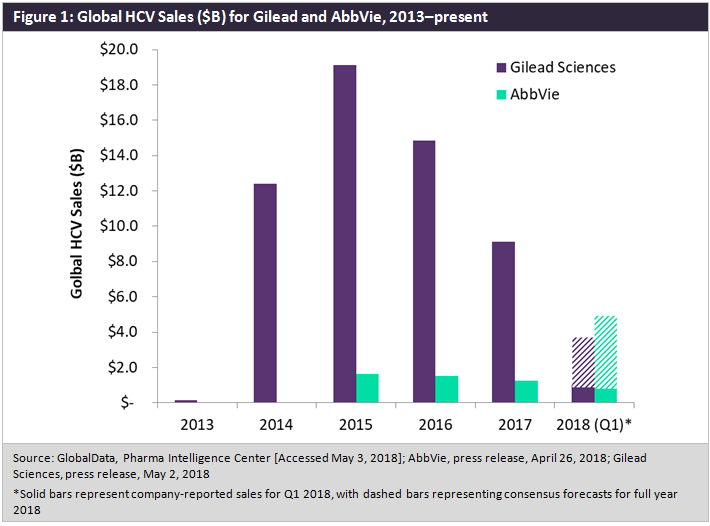 Despite the successful launches of Epclusa (sofosbuvir/velpatasvir) and Vosevi (sofosbuvir/velpatasvir/voxilaprevir) in 2016 and 2017, respectively, Gilead has been unable slow this downturn in total revenue, though until recently it has faced little threat to its market share. Now, AbbVie appears poised to not only seize market share, but to pass Gilead in total HCV sales as early as the end of 2018.
GlobalData attributes this dramatic reversal of fortune to the rapid uptake of AbbVie's Mavyret, which quickly amounted over $500M in 2017 US sales following its August approval, and this momentum has continued into 2018. While Mavyret requires only eight weeks of therapy in the majority of treatment-naïve, non-cirrhotic patients regardless of HCV genotype (GT1–6)—positioning it favourably against Gilead's Harvoni (8–12 weeks of treatment for most GT1 and GT4 patients) and Epclusa (12 weeks of treatment for GT2–3 patients)—its unexpectedly rapid success cannot be explained solely by its clinical profile.
In acknowledgement of Gilead's dominance of the HCV marketplace, AbbVie has employed an aggressive pricing strategy in a bid to rapidly secure market share for Mavyret. For example, the list prices for eight-week and 12-week courses of Mavyret are $26,400 and $39,600, respectively—far below the 12-week list prices for Harvoni ($94,500) and Epclusa ($74,760). Even when hefty discounts are applied to these list prices for the Veterans Health Administration (VA), which treats a large proportion of HCV patients in the US, Mavyret ($19,400) still represents the most cost-effective option for patients eligible for an eight-week course of treatment, though Epclusa ($24,300 versus $29,100 for Mavyret) is less expensive when 12 weeks of therapy for GT2–3 patients is warranted.
So far, AbbVie's pricing scheme appears to be paying off, with Gilead noting in its first-quarter earnings release that competition from Mavyret has quickened the expected decline in its HCV revenue, particularly in the case of Epclusa, which saw US sales drop from $735m (Q1 2017) to $269m (Q1 2018)—well below the consensus forecast of $440m—due to stiff competition from Mavyret in GT2–3 patients. However, not all of Mavyret's success is at the expense of Gilead, as Mavyret's steep discounts have likely opened the door for some who were previously denied access to direct-acting antivirals (DAAs), such as treatment-naïve non-cirrhotics, to initiate therapy.
Given the current trend in the HCV marketplace, GlobalData anticipates that Gilead will have to explore adjusting its US pricing strategies for Harvoni and Epclusa in order to slow its decline in patient volume and maintain market share. Moreover, the company still possesses a potential blockbuster in Vosevi, which is indicated for treatment-experienced patients who previously failed certain DAA-containing regimens, so investing in this brand's commercial success will also be important for the future viability of Gilead's HCV business.
Related Reports
GlobalData (2016). PharmaPoint: Hepatitis C Virus (HCV) Therapeutics – Global Drug Forecast and Market Analysis to 2025, December 2016, GDHC129PIDR https://www.globaldata.com/store/report/gdhc129pidr–pharmapoint-hepatitis-c-virus-hcv-therapeutics-global-drug-forecast-and-market-analysis-to-2025/
For more insight and data, visit the GlobalData Report Store – Pharmaceutical Technology is part of GlobalData Plc.