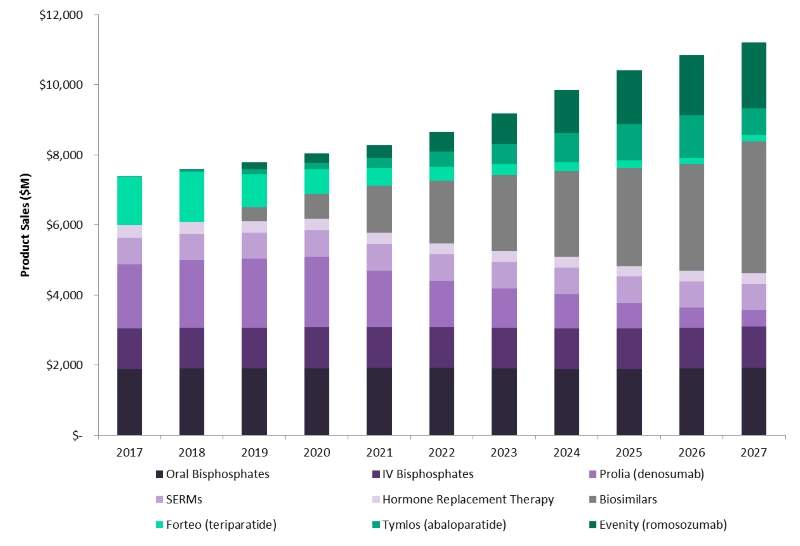 Despite being a market dominated by generic bisphosphates, the osteoporosis market is likely to undergo significant changes over the next 10 years, growing at a compound annual growth rate (CAGR) of 4.3%.
The launch of two key products will diversify physicians' anabolic arsenal, moving the use of these bone-forming agents up the treatment paradigm. The impact of these agents has already been noted with the launch of Radius Health's Tymlos (abaloparatide) in the US last year. By strategically offering its product at a 62% discount compared to the sole other anabolic agent on the market, Eli Lilly's Forteo (teriparatide), Radius Health has seen strong uptake of its product in the US, generating $14m during its short time on the market in 2017. Tymlos's impact on the market is likely to be dampened by its 'me-too' status to Forteo, its burdensome once-daily subcutaneous injection regimen, and its limitation to a maximum of two years of therapy within a patient's lifetime. With expansion into other markets forecast, GlobalData expects Tymlos to reach blockbuster status by 2025.
However, a greater game-changer in the osteoporosis market will come in the form of Amgen's novel sclerostin inhibitor, Evenity (romosozumab). Despite current setbacks with the FDA regarding potential cardiovascular adverse events, Evenity is forecast to enter the US and subsequent markets from 2019 onwards. Once on the market, Evenity will offer a much-needed alternative therapy with a more appealing once-monthly dosing regimen, novel mechanism of action, and strong efficacy profile. Evenity is forecast to become the leading branded product in the market by 2027, commanding a 17% market share (see figure).
Global (7MM) Sales Forecast by Drug Class for Osteoporosis, 2017–2027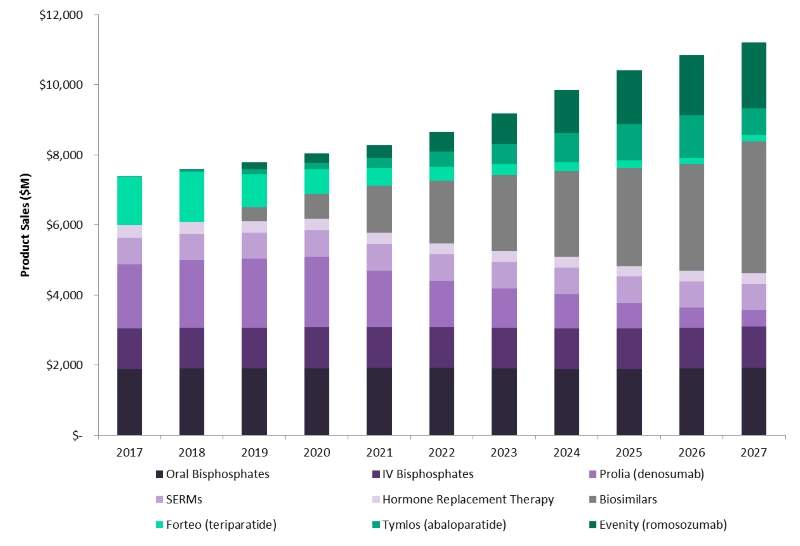 Source: Global Data. Color code: purple = anti-resorptive therapy; green = anabolic therapy. 7MM = seven major markets (US, France, Germany, Italy, Spain, UK and Japan); SERMs = selective estrogen receptor modulators.
GlobalData expects uptake of these new anabolic agents to be strongest in more severe patients who have or are considered at high risk of developing a fracture. For many years the only anabolic therapy on the market has been Forteo, which due to its high price tag has been restricted to the later lines of therapy and more severely-affected patients. However, the diversification of the anabolic offering is likely to increase competition within this space, driving down high price tags and potentially bolstering the use of these therapies up the treatment paradigm.
A further factor impacting the cost of anabolic therapy will be the arrival of biosimilars in the market, with Forteo due to lose exclusivity by the end of 2018, followed by the current market-leading branded product, Prolia (denosumab), in 2021. Biosimilars will present a new challenge and opportunity in the osteoporosis market. With no biosimilars currently available, suspicion around the use of these counterparts may arise; however, their increasing use in metabolic disorders and their attractive price tags are likely to quickly dismiss these fears and see biosimilars widely adopted in the osteoporosis market. As such, GlobalData expects biosimilars sales to account for a 33% share of the market in 2027.
The arrival of the new anabolic therapies and biosimilars to current market-leading branded products is likely to shape the osteoporosis market over the next 10 years, potentially moving treatment paradigms away from standard generic bisphosphate therapies. Despite the excitement around the launch of new anabolic agents, uptake of products will be hindered by Tymlos therapy's treatment limitation to a maximum of two years, continued poor diagnosis and treatment rates, badly perceived drug side effects among the public, and low compliance continuing to impact treatment.
Related Reports
GlobalData (2018): Osteoporosis – Global Drug Forecast and Market Analysis to 2027 (publication date: April 2018).